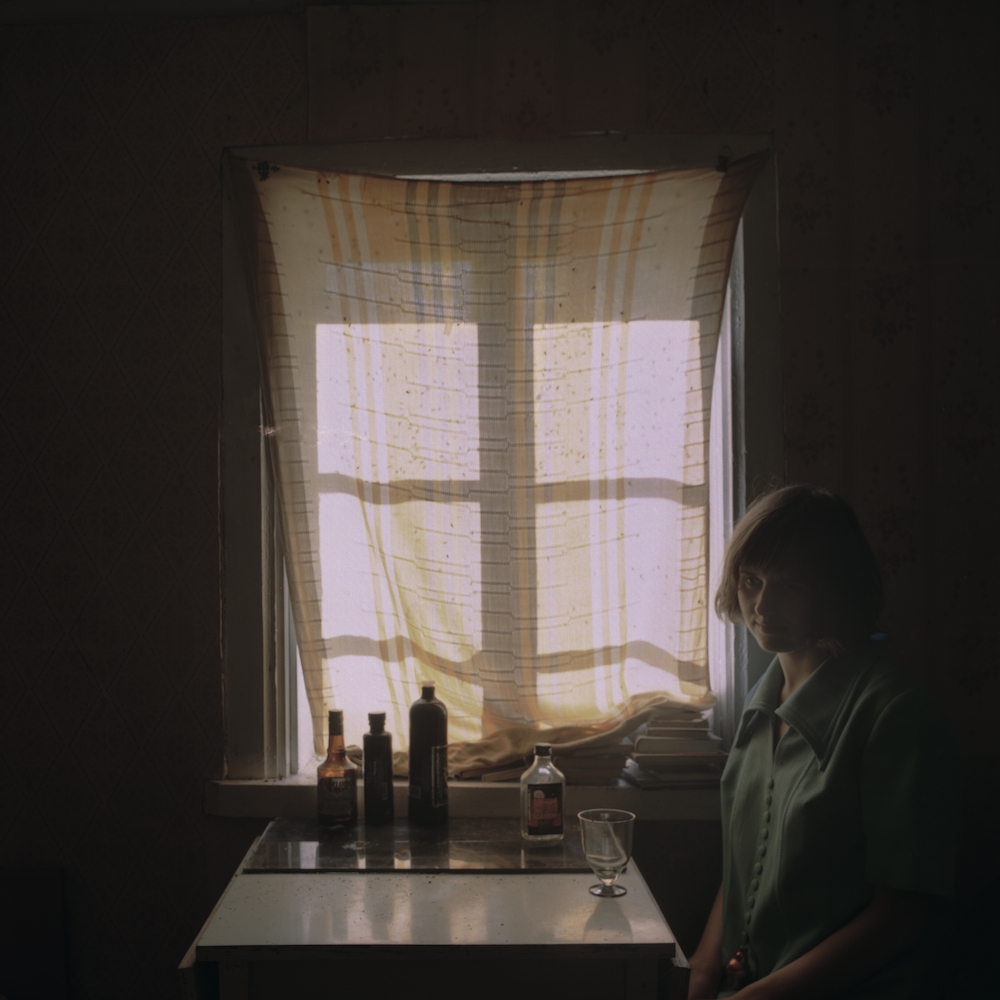 Kaunas Photography gallery is opening an exhibition "Dievs Daba Dabs" ("God Nature Toil") by artist from Latvia Vika Eksta on July 21st. The young photographer presents the women daily life in countryside of early XX century.
Name of the project comes from a trilogy written by a Latvian female author Anna Brigadere in early 1900s as a quite sentimental examination of life of the Latvian peasants narrated by a young daughter of rural servants. For centuries Latvian families lived in the individual farmsteads in the countryside and notions of nature, work and religion determined their life. Project consists of the photographs and documentary sound recording produced during an artistic research of an abandoned farmstead in Latvian country side conducted from 2013 to 2015. The house was already abandoned for a few years and began to merge with nature – birds, butterflies and flies have started to live there. Also plenty of belonging covered with dust remained. Furniture, kitchen utensils, jars, clocks, saws… and a wardrobe full of female clothes.
I studied this environment as a natural archive that was created by former residents and allowed to look at the life that once was there from a more personal point of view than by studies of the official historical records. I did not have and illusion of an opportunity to get a clear picture of this life because my "historical observations" mingled with personal childhood memories and present experiences without realizing when exactly this happens. Therefore this project is a subjective fiction that views possible life in this house in the context of its present conditions and researches specific temporal and spatial relations characteristic for this environment.[1] The character that I developed is a generalized character of a Latvian country woman based on the analysis of the wardrobe content and many of the country side women that I have met during my life including my two grandmothers. For shooting I used only available material (clothes, objects and light etc.) and myself as a model. This project has been exhibited for the first time in Ziemelblazma Art Space in Riga in June 2015.
Vika Eksta
[1]. In my opinion this farmstead is a chronotop or as philosopher Michail Machtin wrote place where time and space unite adopting qualities of each other and interacting in so concentrated way that the distance between the presence and past seemingly diminishes. Time compresses into a spatial form avaliable for a human perception and space saturates with physical manifestations of the flow of time.