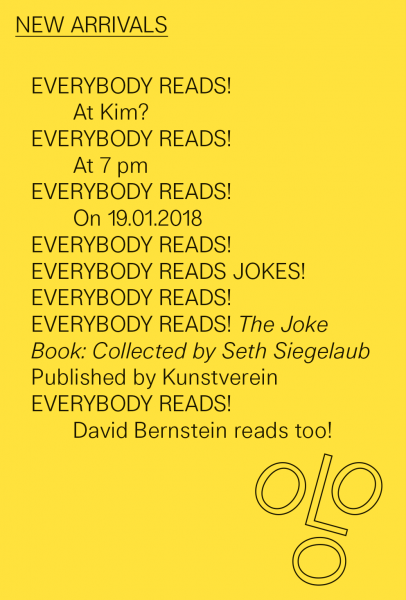 Kim? is starting a new series of events entitled New Arrivals*. For its launch Kim? and Kunstverein Amsterdam are happy to invite you to a night of readings: Everybody Reads [Jokes]! and the Latvian launch of The Joke Book: Collected by Seth Siegelaub at 7 pm, Friday, January 19th.
Everybody Reads […]! is a series of nights of horizontal readings that are inspired by both the slogan by Roberto Bolaño: "Reading is always more important than writing" and open structures like Anonymous Alcoholics or Speakers' Corner at Hyde Park. Everyone attending is kindly invited to read something according to a chosen topic of that evening. For Everybody Reads [Jokes]! night, please bring a joke, create a swearword, add a punch line, read your favourite poem or a text message you are about to receive to the event, which will occur at the same time as the launch of:
"The Joke Book: Collected by Seth Siegelaub"
The Joke Book Book is the first printed edition of the complete jokes & messages file that was found on Seth Siegelaub's computer by his partner Marja Bloem, and was published by Kunstverein. It contains jokes, quotes and pieces of advice that Seth Siegelaub collected since 1999 and regularly redistributed via email amongst his friends.
The incredible (and funny) David Bernstein will introduce the publication by reading his favourite jokes from the book.
Until then,
Kim? & Kunstverein
** "New Arrivals" is a new series of public events, lectures, performances, readings, screenings, etc. that may help us to experience the pulse of the ephemeral and fast forward moving art world but also will assist with creating new audiences and organising temporary communities.