On the opening day of Tom Lovelace's exhibition Repetition Room at Atletika Gallery in Vilnius, curated by Paulius Petraitis, we met with a London-based artist to talk about the new work developed over the last year for an unusual gallery space – a former school gymnasium. Repetition Room is the latest iteration of Lovelace's Living Pictures series, which explores photography and performance through immersive and interactive exhibition spaces. The exhibition will last until 30th July, with two remaining performances taking place on 14th and 28th July.
Geiste Kincinaityte: To start with, could you elaborate on the role of the body in your creative practice?
Tom Lovelace: To address this question, in the first instance, I will talk about my relationship with the legacies of minimalism, abstraction, architecture, and space. My work explores the ways in which we, individually and collectively, use the connected languages of abstraction and minimalism in visual culture and how we respond to time and space. I approach these questions in several ways. I attempt to create environments, which invite visitors to explore artworks through their bodies, as well as through the more traditional act of looking. The way I begin to approach this is always by using my own body and ontology. It is important at the starting point of a project, that I centre myself in terms of my own relationship with materials, matter, surfaces, and pictures.
However, what has become significant in my practice is making sure that the project is not simply rooted in my own experience, so I compliment my own personal research with collaborating bodies. I invite artists to converge and collaborate and it is important that they have the freedom and agency to explore the exhibition and pictures on their own terms. The good example would be from four years ago, when I had an exhibition in Manchester at Bankley Gallery. On the night before to this exhibition, I was driving up with artist Ibrahim Azab, who was participating in my work. A key artwork in that show was a yellow photogram, which could be easily removed from the wall and interacted with during the performance. During this journey, the Ibrahim asked me: 'what do you want me to do with it?' And my immediate response was 'you should do whatever you feel you need to do in that moment. Imagine, if we were to walk into a museum and the gallery invigilator would take the artwork off the wall and give it to us to spend some time with it, what would we do with it? Would you walk with it, dance with it, sit with it or sing to it? I still think about that conversation in the car and the importance of creating spaces where myself, collaborating performers and an audience can respond not only with their eyes but also with their bodies.
Geiste: This is an insightful overview and a glimpse into the beginning of the series entitled Living Pictures, which you have started some years ago.
Tom: Yes, that's been the focus within my practice during the past four to five years. The Living Pictures series is a collection of outputs where I try to create spaces where the image is malleable, the image is an object that has a life and significantly it can be interacted with. I try to disrupt passive and quiet interpretations of pictures and in turn present spaces where we can actively engage in thinking about our relationships with images and where people can feel comfortable to explore.
Geiste: How does the space you create interrupt passive viewing traditions? What is the role of touch in your work?
Tom: Touch is important because it directly links to the role of the body and the ways in which we explore, exist, and communicate in the twenty-first century. This is something that I think about a lot.
What I have come to realise, especially in response to the last few years of living within a pandemic, is that phenomenological spaces and encounters are important for me. If we can make any generalisations at all in contemporary art, in terms of what happened globally in recent years, then some artists are more attached to ephemeral and digital networked spaces that are accessible globally. However, you also have artists that have seemingly retracted back to more simple relationships with craft and materiality and haptic experience. I sit in the latter category.
During the early months of the pandemic in London, Maison Européene de la photographie commissioned me to make a short film after an event in Paris was cancelled. The resulting film has become an important moment in my practice. Trying to find inspiration, I went on daily evening runs around my local park. And one evening, I saw an elderly man who was dancing on his own because the dancing club was closed, due to social distancing restrictions. I stopped and had a conversation with him, but what I truly wanted to do is to dance with him. I couldn't touch or hug him, so I ended up making a film about dancing with his shadows. What emerged from this encounter was a film about the space in-between touch, materials and bodies.
Photography: Bon Alog, Paulius Petraitis, Laurynas Skeisgiela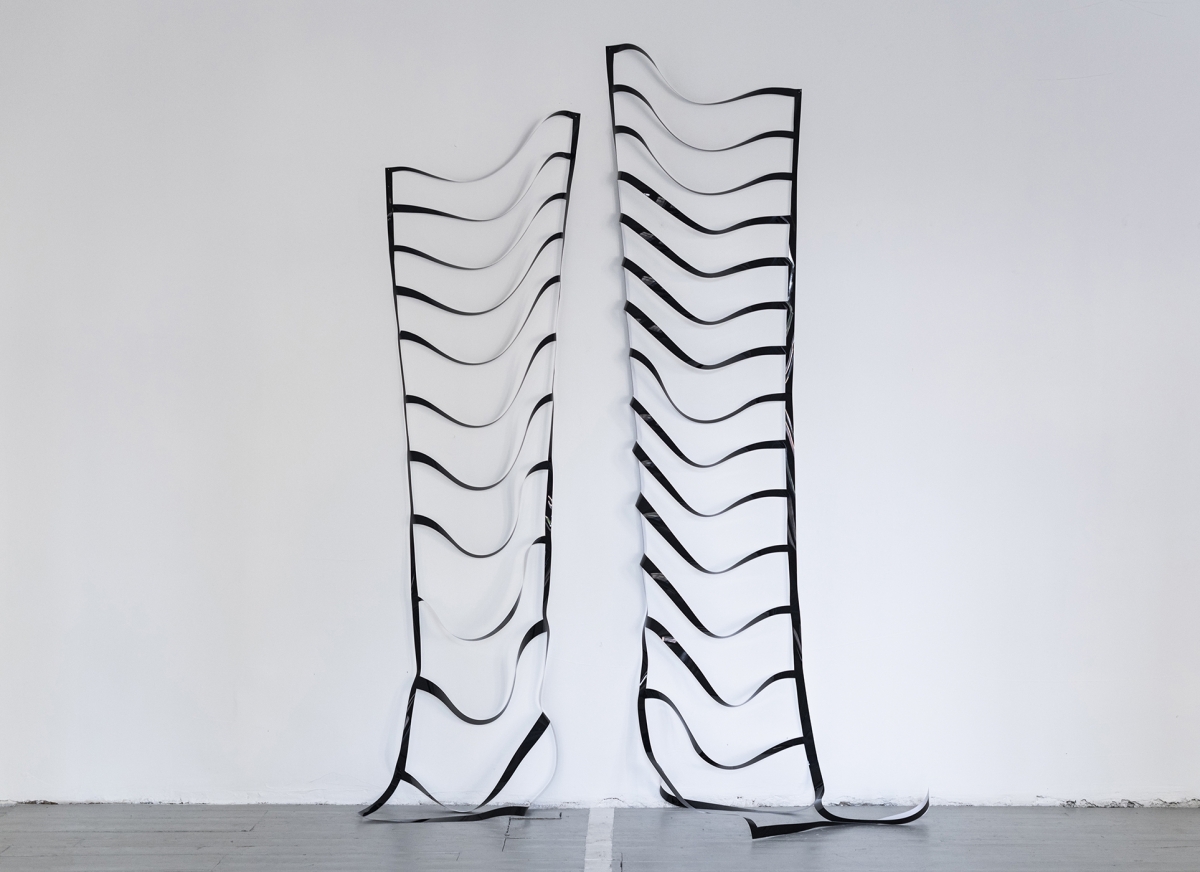 Geiste: Could you talk more about the works that make up the Repetition Room, such as the large-scale photograms, sketches, performances and a film? What kind of relationships emerge between all these different elements appearing in the former gymnasium space?
Tom: For Repetition Room, I have tried to create an exhibition that has two underlying themes. The first is to present the latest iteration of this Living Pictures series mentioned previously. The second theme relates to creating a pertinent response to the history of the gallery architecture. The building is a former Soviet school for children with learning disabilities. The older building of the school where the gymnasium was located, was designed and built around 1911 as a purpose-built orphanage. Later during the Soviet period, the newer part of the building was attached in 1974, but the entire Atletika gallery space is in the older building. Last summer, when the curator Paulius Petraitis and I started talking about the exhibition, the first thing we considered was the gymnasium as a space for community, a space for collective and individual movement, a space for exercise, and a space for expressing oneself with one's body. Therefore, I started to develop ideas about how the exhibition might respond to that, and significantly how performances might take inspiration from the types of movement and the types of activity one would normally engage with in a gymnasium space.
In the corridor, before entering the main gallery, there are two performance sketches, which I made when developing the performances. Then, in the main space where performances take place, there are five framed photographs hanging on the walls. These depict fragments of rehearsals that took place before the exhibition opened. They hang below the standard viewing height, which imitates a child's point of view, so adults will need to bend down to look at them. The pictures themselves gesture towards what has happened within the space before, what will happen in the future, and what you as a visitor could do now.
In the third space of the exhibition, visitors will encounter a new film, made in collaboration with filmmaker Adam Turner, using archival footage. This work is titled 'Trailer'. In the film, repetitive exercise movements and rhythms unfold.
Back in the main space, visitors will notice pictures on the floor – a set of photograms, which are made to reflect the shape and size of typical gymnasiums mats. These images are made by exposing paper to sunlight. After the exposure, a deep, dark, almost void black image appears. This process of cameraless photography has a long and interesting history in the context of abstraction. When engaging with these works, the image that unfolds is an image of oneself, because the paper surface is highly reflective and gloss. Dispersed alongside the black images, there are also blue abstract images. This colour is important as it references the type of electric blue that one might use in a gym. I photographed a fragment of a blue mat in my daughter's school in London and then simply enlarged the image so that they become ergonomic objects, hopefully inviting interaction. During the scheduled performance, these images start as slick, shiny surfaces, and eventually become surfaces marked by sweat, dust and scratches, transforming into a new image and trace of the performance.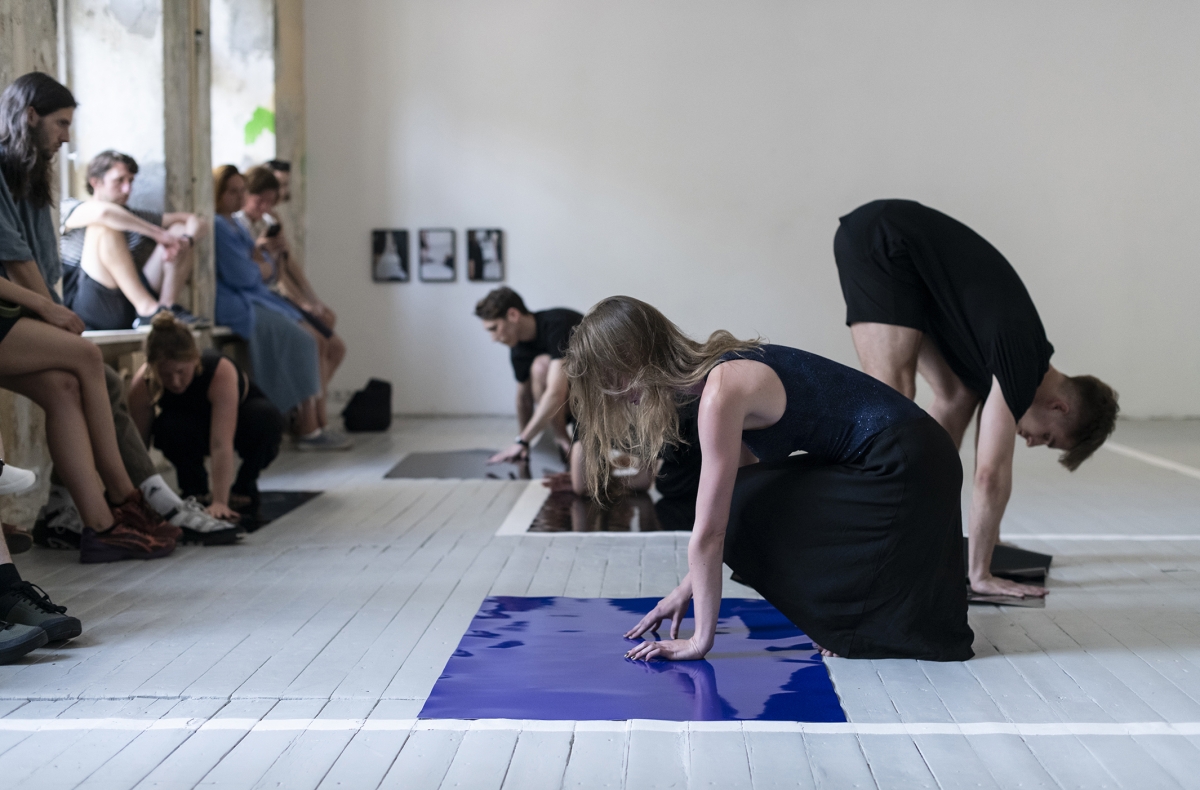 Geiste: Could you expand more on the meaning of repetition in this exhibition?
Tom: There are two things that played an influence in choosing the title. One is thinking about photography and its relationship to seriality, reproducibility, and the inevitably repeated that comes with this. Another aspect is thinking about the idea of repetition in the gymnasium and how various forms of movement pivot around repetition. I am interested in individual expression and nuances emerging from repetition. On a personal level, I find repetition as a physical and psychological activity and endeavour can be helpful in terms of mental health.
Geiste: Repetition also refers to a loss or release of energy. What role does it play in this exhibition?
Tom: There are two or three moments in the performances where resting and recuperation unfold. There are five, short chapters in the performances. At the end of each chapter, the performers sit on the floor to rest. We intentionally expose these moments of rest, where the sound breathing almost becomes a material. This leads me to thinking about theatre, which plays a big role in my practice. I am interested in the histories of theatre and the dynamics between the main stage and the backstage. I find that one can take elements of theatre and use these to interpret and reflect upon social behaviour. If you think about our relationship between the hidden and the public, for example, how I act in my bedroom before going out to the public, this transition marks the beginning of a performance. I am interested in trying to reveal some of those traditionally concealed activities, and one of those would be the idea of resting and recuperation that normally happens away from sight. Therefore, elements of exhaustion, which become visible at the end of the chapters are very important.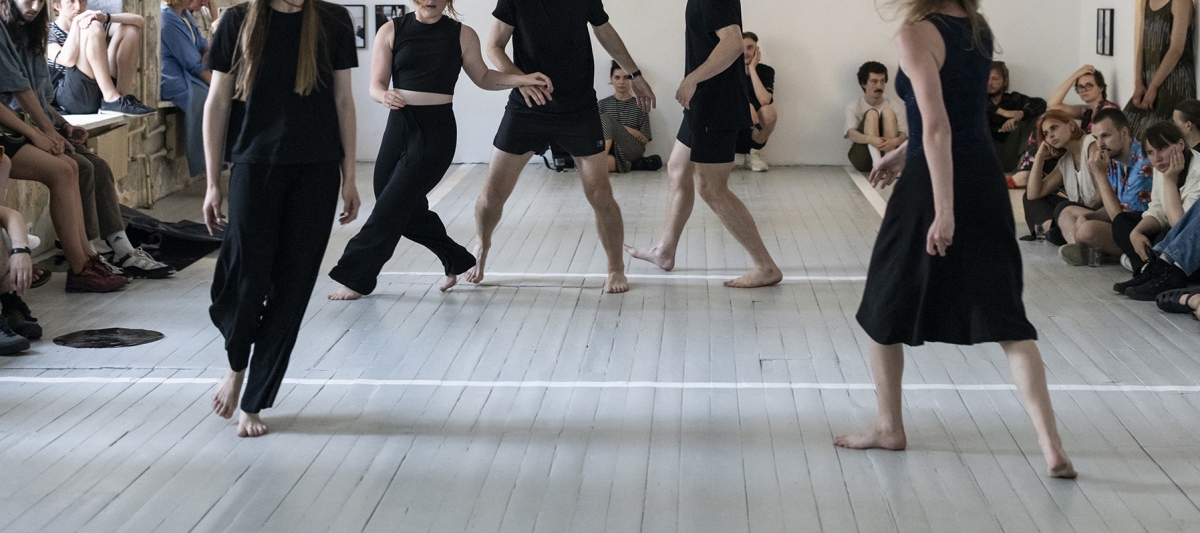 Geiste: Could you expand more on your practice as a collaborative process?
Tom: My collaboration with curators in the past ten years has been instrumental in the development of my practice. Regarding the relationship between myself and Paulius Petraitis for this exhibition, it's been a genuinely collaborative process, with Paulius contributing with ideas that have significantly shaped the display. In terms of creating the performances, then collaboration is pivotal. The rehearsal before the opening night of Repetition Room is a good example. When, in my mind, the performance felt finished and resolved, one of the performers expressed a desire for competition and play, elements which are key within gymnasium histories. So, the ending of the performance changed. As a result, now the performance ends as a game, a set of almost chaotic movements, which are all improvised. Lastly, the performance is developed around accessible movements. I hope that the audience, after watching the performance, feel comfortable to spend time in the space and explore it on their own terms and become part of this collaborative process.
Geiste: In a way performance becomes an invitation.
Tom: Yes, absolutely. I hope the performances present moments that people feel are compelling and want to watch, but ultimately, they are an invitation: the space, the pictures and the materials are now yours to explore!
Geiste: What advice would you give to those visiting the exhibition? What should they do to become performers in the space?
Tom: In the first instance, I would take time to watch the film 'Trailer', which was made as a trailer for something that's going to happen. It could be a performance or a visitor engaging with the space. My suggestion is to take time with the drawings, photographs, and the film, and if possible, spend time alone in the space. It is important to find time to explore the exhibition on your own terms, where you can express yourself, move without being conscientious about people watching you. Repetition Room is a space for people to express themselves in a playful way. Quite often there are expectations on how we suppose to respond and act in museums and galleries, so my advice is to forget about these expectations.