The post-conceptualist and minimalist Dénes Farkas[1] seems to be the present "it boy" of the Estonian contemporary art scene. His works are clean, pure and monochrome monuments in a quiet space locked in the frame of the photos. They are almost speechless but in the same time full of different meanings, interpretations that I suspect artist wants us only to multiply even more. This year more than ever Estonian thumbs are up for the 55th Venice Biennale Estonian Pavilion project "Evident in Advance" created by Farkas and second "it person" in the Estonia at the moment, Polish born "super" curator Adam Budak. Not to mention German architect Markus Miessen (Studio Miessen) and English designer Zak Kyes (Zak Group) which all together create powerful band on their way to concur Venice. The art project is dealing with the specifics, problematic and interpretations of the language in general using different author texts that by pure accident will also make a dialog with the head curator of Biennale, Massimilano Gioni exhibition "Encyclopedic Palace".
On the sunny noon of March 18 at KUMU museum café the team of the Estonian Pavilion have presented the project. Both Latvia and Estonia this year have international teams which put to question the identity of national pavilion. Yet the projects and strategies of each of pavilions differ. While Kaspars Podnieks's and Krišs Salmanis's art project "North by Northeast"[2] in hope for a bigger audience will be placed at the "Arsenale" exhibition hall, Estonian pavilion will follow a separate and independent rode exhibiting in the apartments located at the second floor of Palazzo Malipiero. Project organizer is the Center for Contemporary Art, Estonia with the Pavilion's commissioner, artist and curator Maria Arusoo.
Šelda Puķīte: You have an international team working together..
Adam Budak: The main actor on the stage is Estonian. If it was an artist from Israel or South Africa then you can say that project is international. Latvia this year has international team with curators from New York (Art in General) but both of the artists are purely Latvians. It's not a revolution. What Germans did together with Liam Gillick[3] or Polish with Yeal Bartana[4] was something. In the case of Estonia it's a regular business as usual.
Maria Arusoo: I like that the team is international. First of all the result will be something you will not expect because this team has not worked together before. It's a miracle that they collaborate so successfully and give something to each other. Also looking from side, working with such a team is valuable experience for the artist and for the Contemporary Art Center. The chemistry that is produced during the collaboration process is really interesting. When I myself applied for the job in the Contemporary Art Center I knew that one of my tasks will be the Venice Biennale. I decided that whatever the project in the end it will be a personal challenge for me. It is opportunity for me to work with this international, gigantic Biennale format which I have never done before. And it might sound naive but I really care about the Estonian art so I knew whoever will be selected I will work on it 100 percent and make it as smooth as possible. Of course in the end with the international team it turned out to be even more challenging.
Who started the project and what determined to choose these people for the Biennale?
A.B.: Dénes and I were the starters of the project. First he asked me to join the project[5] and then we talked about who could be our partners. Also we talked about what are the important elements. So the elements are literature, architecture, philosophy and the graphic design in the sense of the visual identity. And according to these elements the team was formed.
M.A.: Dénes approached Budak, Budak agreed and when the project was selected they invited Markus Miessen immediately. We met with Budak in October in London and discussed about the publishers. We decided to talk with Sternberg Press which was our first choice and luckily they said yes. After that we decided that Zak Kyes will be the designer.
Venice Biennale is in a way a competition of being noticed. At least this race still exists for East European countries which still linger in periphery. What do you think has to be showed in Venice? Which of the Biennale's target groups your project desires to get the most attention from?
M.A.: I think it's kind of hunting for the number of the visitors who will actually stay long enough at the pavilion to really experience the show. We are hoping for this knowledgeable viewer that cares and is not searching for entertaining show. This particular environment that we have planned will help people not to be distracted by other things.  But of course it is also important for people to know location of the exhibition to be able to visit the space. People involved have worked with this project more than one year and would want to have the audience to evaluate it.
What do you personally expect from this years' Biennale?
A.B.: I think there are some interesting representations of national pavilions. I'm looking forward for Czech pavilion. But I don't think there will be big surprises, controversies like Liam Gillick which we were all excited about. It was radical in terms of representation.
Dénes Farkas: For us it is actually a mission to make this exhibition but I want to say that we never thought of it as a pavilion. We want the exhibition to be created in a specific space. It's good that it's separate, not like an actual pavilion.
In the last Biennale Lithuanian pavilion project "Behind the White Curtain" talked about the power that curators and state has by accepting one artist or another. In the exhibition it was plaid out by letting audience select the art objects by becoming interpreters or curators. Project "Evident in Advance" is also talking about the world build up from randomly chosen and mixed pieces and getting lost in the translation of the world of interpretation when suddenly rules and objects are changed. How the works are planned to be exhibited and in what way will the communication with viewer or participant will be arranged?
D.F.: Every exhibition somehow is interactive. You can't deal with this exhibition like with paintings just decide that it is or isn't beautiful. I think the whole project is questioning the possibilities or impossibilities, communication and language but for me it's on a very basic level – it's about language, about words.
Is the book the central piece in this project?
D.F.: Yes, well, it's about the book and also about its absence.
M.A.: It will be in a way a surprise. There will be a catalogue designed by Zak Group (Zak Kyes). But then there is another book[6] which will be made by Dénes and will be a separate peace that will be placed in the exhibition. And then there is also the startup materials – a book  with which the team has been working all through the project and in a way is its base. There will be a totally new essay for the catalogue as well created by taking the sentences or extracts of the mentioned book. Duffys' novel "The World As I Found It" has never been reconstructed, visualized so it is really interesting. Dénes will be interpreting work of this novel, taking out the extracts and making different kind of "translation" in the language of architecture, visual art, design that all comes together in this one project.
A.B.: It's important to talk about universal issues. How to translate between what is particular and what is general. That's when we are talking about the language. What is the logic of the language, how is language being used, how words have been used, how they function and how they communicate? That is something you can also apply to, some kind of national specific of this country.
D.F.: For me it is interesting how different languages are working. But in this exhibition and at this moment of my life I'm more interested in language in general. Of course it's written in English and we are communicating with each other in English. Only one of us is native English speaking person. So I think it's quite interesting how we are listening and understanding the same things, same sentences and same words. But again, I don't know how the people will understand what for example I am saying.
More and more of the national pavilions are curated by inviting foreign artists or curators and this year will be no exception. Do you think that national pavilions still have representative function or do they entirely continue old tradition in a purely formal sense? Maybe it's just an art festival filled with a lot of little exhibition islands in the canals of Venice because there is no real consciousness of national art anymore?
A.B.: Venice Biennale definitely is a prestige event in the context of international level. It has the widest exposure but Venice of course is not the only one. There are also other very important international events as Documenta, Manifesta or San Paulo Biennale. Venice is one of the most controversial because it does not correspond with the world we live in that's why everybody questions it. What is it devoted to? How familiar is it? How can we work in but live out of it? On one hand you just want to escape it because you don't feel comfortable within this too tight costume of the nation but at the same time nations are represented in the Venice Biennale as solo so for that reason I think Biennale will never die. I think it is very interesting provocation to discuss what does national belonging means, how you can really make it contemporary, make it adaptable to the world we live in.
M.A.: I think there is always this criticism towards the Biennale. It has lasted since 19ths century so it's just natural that its form is very classical in a way.
Since year 1999 the Venice Art Biennale has another separate international exhibition made by one curator. The separated exhibition "ILLUMInations" in the 54ths Venice Biennale was curated by Bice Curiger. It accidently corresponded with the Latvian pavilion exhibition and its florescent paintings by the artist Kristaps Ģelzis. This year Massimiliano Gioni is curating an exhibition with the title "The Encyclopedic Palace" which this time goes along with the theme of the Estonian pavilion. Is it an advantage to have a similar vision or theme to the one of the head curators of the Biennale?
D.F.: It was a nice surprise but the idea about this project came earlier then Massimilano's announcement about this year's separate exhibition.
M.A.: Actually I think it is good. I was at Massimilano's project presentation when he was still not announcing the artists but presented the title and concept. I was smiling about this weird connection. There are some lines that connect with Dénes works. Nevertheless the works presented in "Encyclopedic Palace" are in this one exhibition and one frame, whereas Dénes work is independent. It does not directly comment on this main exhibition but has an independent link with this whole concept. It is interesting that it has this dialog in it. We know what will be in Estonian pavilion but we don't know what will be in Massimilano's show. I think it is always interesting with these gigantic exhibitions when their works or the pavilions start to have a dialog between each other which you can't plan before the Biennale because there are other 90 pavilions. I guess there is always something in the air. I just want to say that I'm not afraid of Dénes work being a reflection of something because it has developed independently itself and it has very strong presence. So I don't think it will look as mirroring some bigger subject.
This year the Estonian exhibition will be taking place at the Palazzo Malipiero. Is the State of Estonia thinking about the place of their national pavilion? Is the geography of the place taken into account or is the characteristics of the space more important for the sake of the art and not how many people will see it?
D.F.: The space was given to us.
A.B.: I think the decision made by the commissioner to be somewhere aside instead of Arsenale could be a financial thing. Talking about target, of course it's international. It's a challenge and a chance for the artist to be noticed in this international level because the Venice Art Biennale is a big art event. It provokes and brings some attention from the media, audience, professional audience and unprofessional audience so this is the best that can happen to the artist.
M.A.: To be honest it's a very practical issue. The place was chosen before the project so we had to work with the existing material. I think that this place matches Dénes's project because it's kind of independent, private universe and for his exhibition it really works. So I think Palazzo Malipiero apartment is handy for the project. Of course we have to think also how the people will get there because they won't just go because it's the Estonian pavilion. Who cares or think about Estonia? I am not naive about it. As our project is collaboration, I hope it will bring a larger number of people, not just the Estonian artists. We have also architect from Germany (Markus Miessen). I think Arsenale space would be too much for Dénes's work because there's a need for someone to walk into the space. You go upstairs and there you have your own world. I can't comment directly on the space strategy because I started to work at the Contemporary Art Center half year ago and I have not been involved in the processes of choosing the space but I really support the idea that you must move the pavilion space every time. We don't have to have one place.
Estonia has participated in Venice Biennale since year 1997. Does Estonians still consider Biennale as an important and prestige event that they must obligatory participate in and why?
M.A.: Biennale has been a priority for the state. I think the one and only so far. Of course last year there was Marge Monko and Visible Solutions at the Manifesta 9 and so on but I think this is a bigger chance to show our art and have international collaborations. I guess the Biennale is still the number one.
Project this year is really interesting so it deserves all the attention it can get. Dénes Farkas, Adam Budak and Marcus Miessen have successfully collaborated and the entire exhibition is really well done. I think the Biennale audience will see it too. Well, it will be a pitty if they don't because the project is really good.
[1] Artist was born in Budapest, 1974.
[2] For more information view their homepage: www.northbynortheast.lv
[3] Liam Gillick is a British conceptual artist who presented  German Pavilion at 53rd Venice Biennale
[4] Yeal Bartana is a Israeli video artist who presented Poland Pavilion at the 54th Venice Biennale
[5] Adam Budak has already collaborated with Farkas before. In 2010 Budak curate an exhibition of the contemporary photography "Beyond" at KUMU.
[6] Artist was inspired by the storylines of the American writer Bruce Duffys' novel "The World As I Found It" (1987). In this book is a mixture of fiction and reality where history, biography and philosophy are intertwined in a witty narrative of the lives of three philosophers, Ludwig Wittgenstein, Bertrand Russell and G.E. Moore.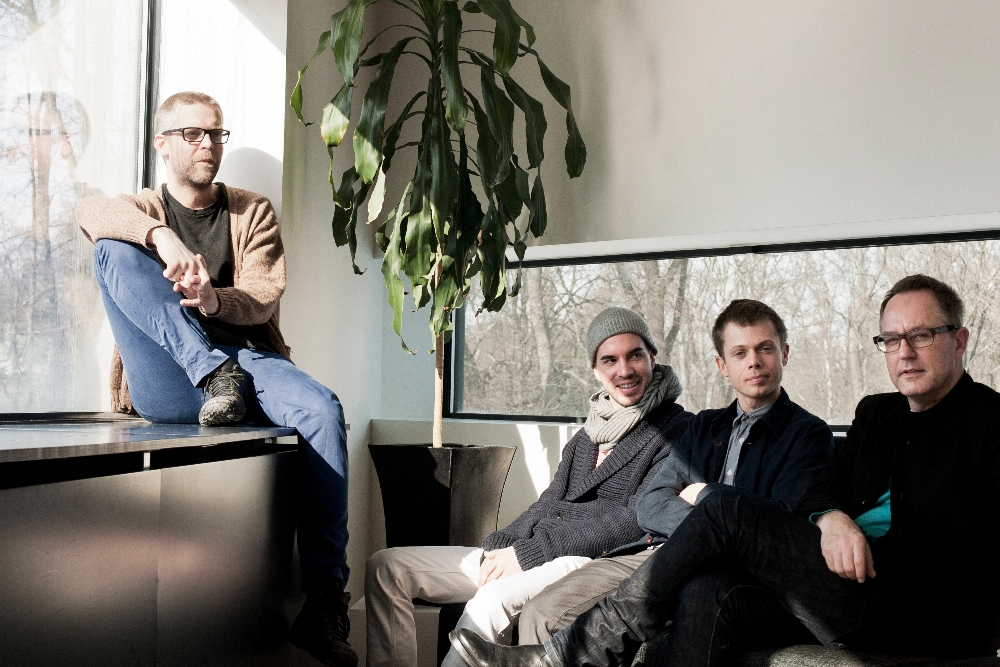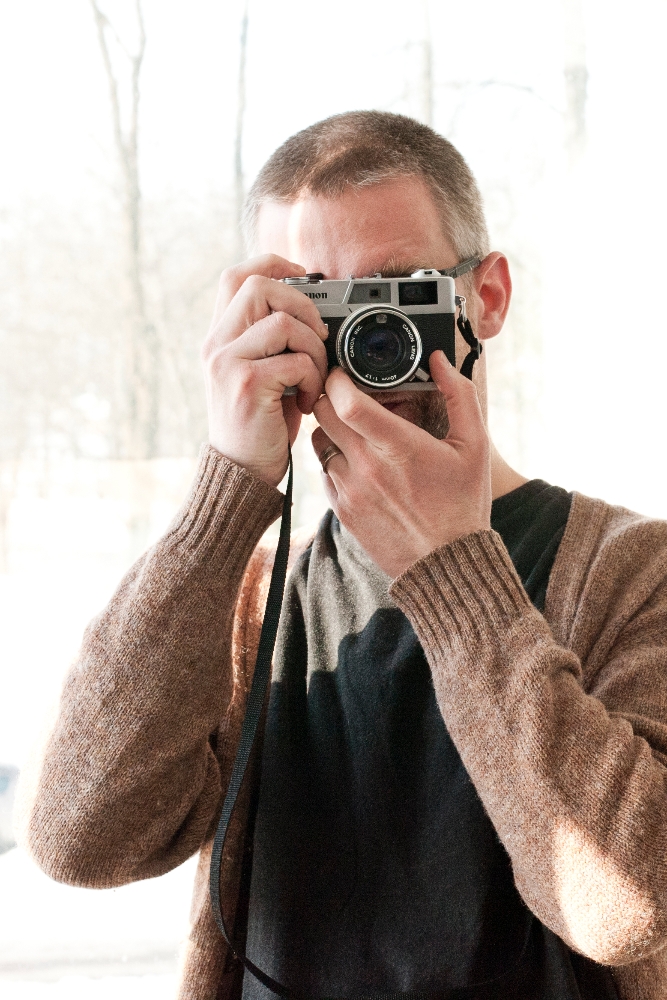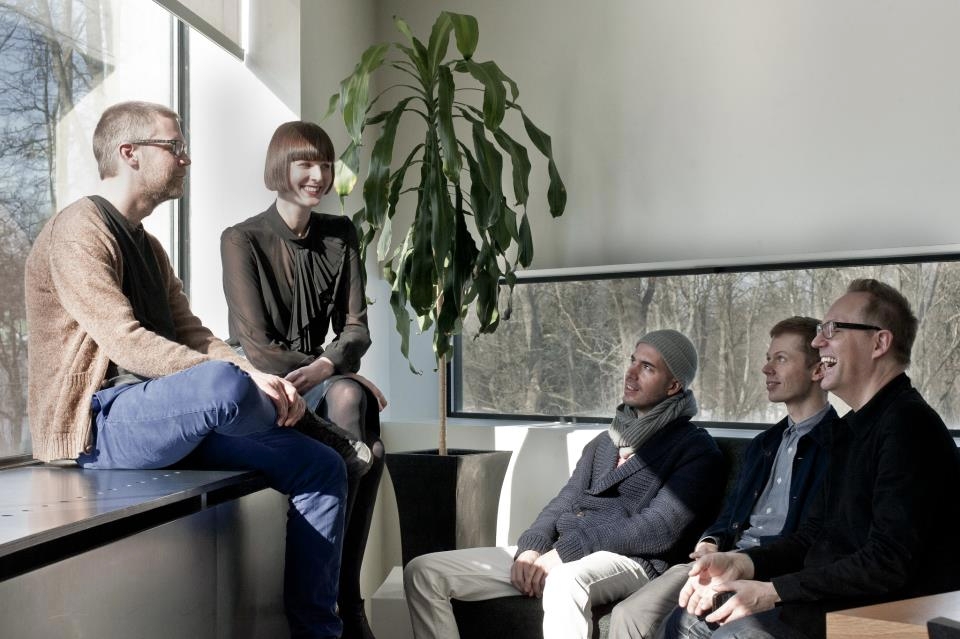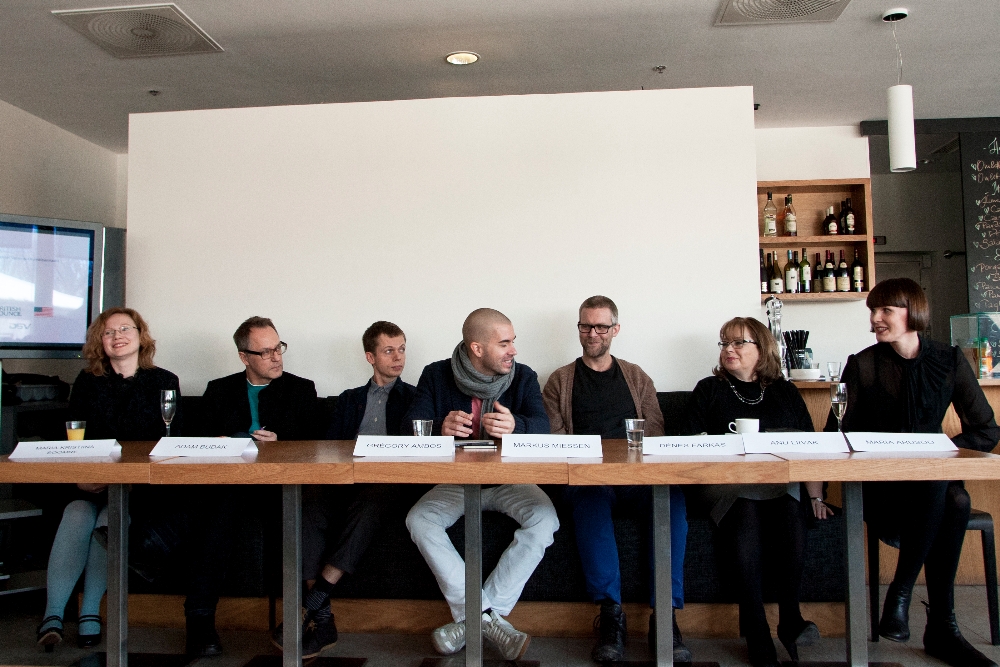 Photographs by Jarmo Nagel