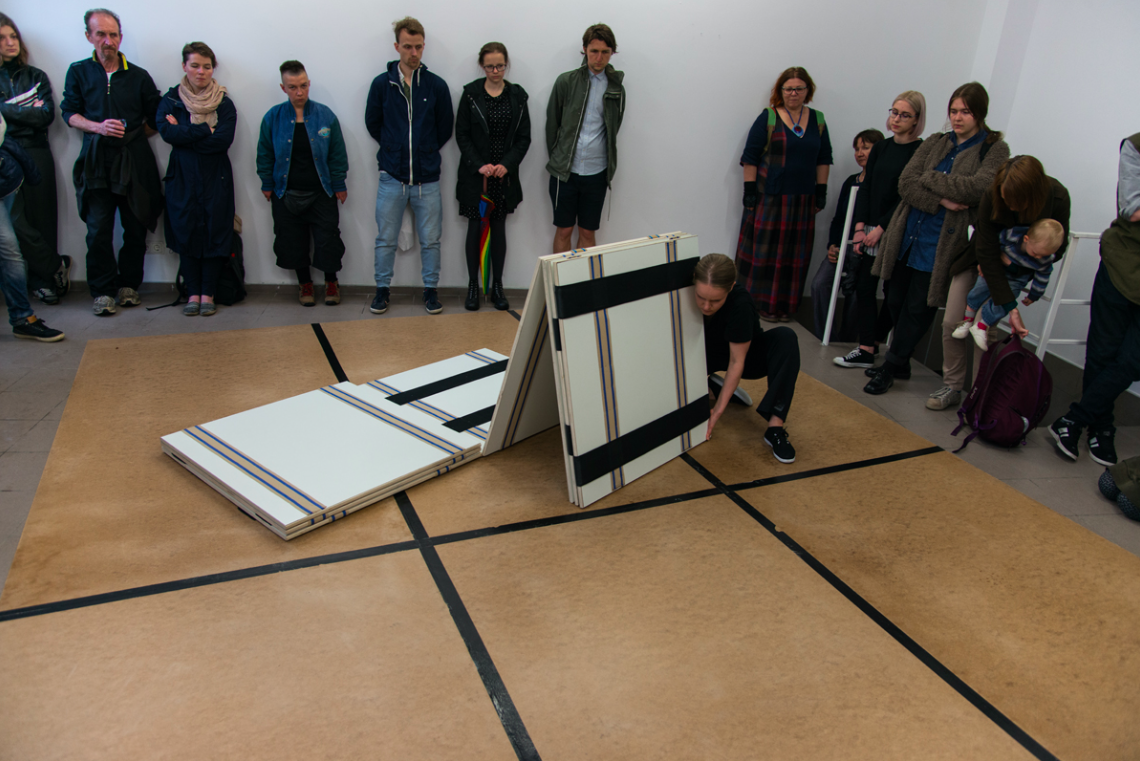 "back body / left arm" is based on the psychological notion of "affordance" – signifying possible functions and all action–possibilities latent in an object or environment. Butkute and Glockner share an interest in observing intertwined relationships between objects, human (presence) and space. In their artistic practice they translate this subject matter to media ranging from sculptural installations to performances and recorded video performances. This project brings two artistic approaches together in order to expose the potency of objects that choreograph human actions and to expand perceptive qualities within the exhibition space – by either inviting or (gently) forcing the viewer to get physically and mentally involved.
Ruta Butkute (born 1984, Kaunas, based in Amsterdam) studied at Vilnius Academy of Arts, Gerrit Rietveld Academie and the Rijksakademie in Amsterdam. She has exhibited at Fons Welters gallery, Gabriel Rolt gallery, Bradwolff Projects, Amsterdam, Kaaistudios, Brussels; Rietveld House Cordemeyer, Apeldoorn, CC Strombeek Grimbergen, Belgium, Teruhiro Yanagihara gallery, Osaka, Japan. Butkute has participated in several residencies such as Lower Manhattan Cultural Council (LMCC) "Swing Space" in New York, USA, Summer Coaching Program, Rosas P.A.R.T.S in Brussels and Arita Residency in Japan.
http://www.rutabutkute.com
Nina Glockner (born 1982 in Bochum, Germany, based in Amsterdam) studied art at the Sandberg Institute in Amsterdam (MA), Minerva Art Academy in Groningen (BA). Among others she was artist–in–residence in Akiba Tamabi 21, Tokyo, Japan, and at "The Fifth Season" at a psychiatric institution in Den Dolder, The Netherlands. Glockner's performances and performative installations were shown in various places inside and outside The Netherlands such as Akiba Tamabi 21, Arts Chiyoda 3331 Tokyo, BB15, Linz, Austria, Galeria Vermelho, Sao Paolo, Brazil. She is currently a participant at the Jan van Eyck Academy, a post–academic institute in Maastricht, The Netherlands.
http://www.ninaglockner.de
Exhibition dates
08–22 June 2017
Wednesdays to Fridays 3–7 pm or by appointment tel. +37065440590
Opening reception 7 June 2017, 6 pm, with two performances by artists Nina Glockner, Ruta Butkute (performer: Sigita Juraškaitė)
This event is organised by Lithuanian Interdisciplinary Artists' Association with kind support by Lithuanian Council for Culture and the Ministry of Culture of the Republic of Lithuania, and bar "Dėvėti".
Project space "Sodų 4"
Sodų Str. 4, Vilnius
www.letmekoo.lt/sodu-4
Photography: Laurynas Skeisgiela, Bon Bon