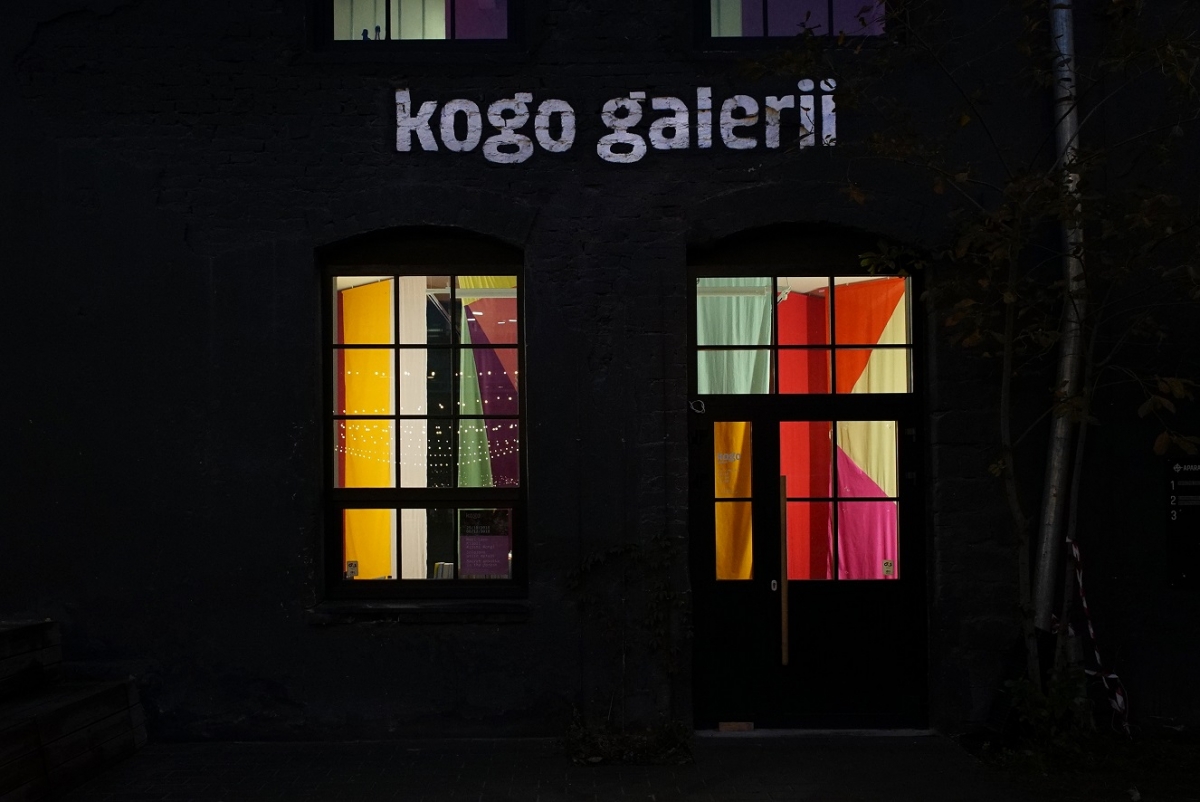 Kristi Kongi's and Mari-Leen Kiipli's duo exhibition "Secret whistle in the forest" The exhibition is inspired by light, shadow and the idea of blurring the boundaries between different life forms. Artists create a magical space where visitors can perceive life in itself, as a self-organized substantial network.
The painting installation by Kristi Kongi is a geographical labyrinth of light that grasps different places, from Mexican jungle to South-Estonian forests. Due to the metaphor of light, the borders between humans and plants become obscure. The forest grows into the source of utopian geometry and fear becomes equal with heat. The light turns people into plants in the process of post-humanist evolution. Kristi Kongi (1985) studied painting in Tartu, Tallinn, and Lahti, she currently lives and works in Tallinn. The central theme, material, and inspiration of Kongi's art practice is color. The visual language of her paintings, which are easy to define as examples of geometric abstraction, revolves around systemic studies of light and color, being in particular analytic and organized.
In her videos, Mari-Leen Kiipli perceives ways of standing between light and shadow, uncertainty and suspense. She explores blurred existential encounters between different forms of life and grasps the subject in the flow of relations with multiple others. Mari-Leen Kiipli (1988) studied photography in Tartu and Tallinn, did an exchange in Vienna and currently lives and works in Tallinn. Kiipli combines photography, video, and installation, she focuses on the cognitive qualities of spaces and situations. In her work, she closely observes her presence in specific environments and the functioning of the body's memory.
Kristi Kongi's and Mari-Leen Kiipli's duo exhibition "Secret whistle in the forest" is part of the architectural lighting design and light art festival Tartu Valgus | Tartu in Light satellite program.
The exhibition is supported by Cultural Endowment of Estonia, Tartmus, Tartu Art House, A. Le Coq, Saku and Pühaste Brewery.
The exhibition is supported by Cultural Endowment of Estonia, Pühaste Brewery, Saku and A. Le Coq.
Thanks to Tartu Art Museum, Tartu Art House
Photography: Kogo gallery
24.10.2018 – 08.12.2018
KOGO GALLERY
Kastani 42, 50410 Tartu
www.kogogallery.ee