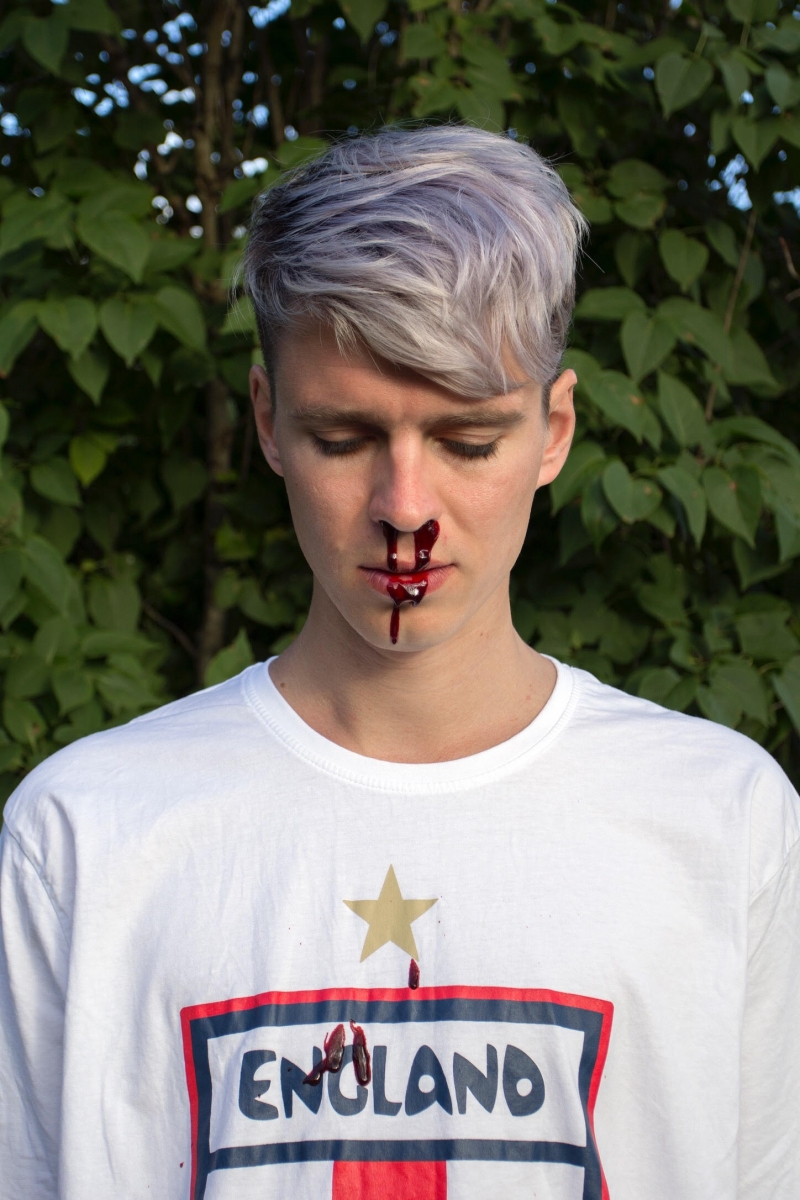 There are two types of people in the world: those who prefer to be sad among others, and those who prefer to be sad alone. There is something terribly romantic about loneliness. Perhaps it is only truly possible to love an object, subject or place when one has left it and can only love it … in romantic loneliness?
From the outside, metropolises are untouchable to strangers: one can visit them, but the only thing that is reachable is a facade, a silhouette (a two-dimensional representation of the outline of an object or scene represented as a solid shape of a single colour). All the while, the inner life remains untouchable to visitors. Being an Englishman in New York is always a walk on 'the wild side'. "Moving step by step towards an unreachable horizon, unknown environments distort my dimensions. Later on, before entering the reality zone, I am walking along some empty streets at dawn and feel an irresistibly strong feeling I would like to share with others", says Estonian artist Henri Hütt about his solo exhibition entitled Romantic Loneliness that grew out of his residency in Germany which continues his series of staged spaces.
There is the Spectator, the Spectacle, and always something in between. That something makes it impossible for the spectator to enter the spectacle no matter how hard the spectator tries. The two-story exhibition space of Hobusepea Gallery mirrors the duality of the invisible with the apparent. Filled with Henri Hütt's impressive collection of travel souvenir T-shirts, the first-floor entrance level of Romantic Loneliness reflects the desperate need to share his experience of romantic loneliness. Hütt proposes various questions with this work: why does anyone want to share; what actually happens when one shares with others; what do others get out of sharing; why could it seem wrong to share and, in the case of sharing, are we alone in our nostalgia?
As a stranger, I sit beside some large bright piles of packaged peanuts that fill the basement level of the gallery. I allow myself to get carried away with the neon lights covering the walls that flash playfully, whilst the shimmering city soundtracks fill my ears. In its complete anonymity, the metropolis surrounds me like a starry night. The stranger invariably accompanies the image of the city, as someone who comes to it from the outside. This co-existence between being there and the experience, nevertheless, of being outside, generates both sweet and sour feelings of tension especially when we are all strangers.
After some time, I close my eyes and the loneliness creeps in together with the frightening feeling of being lost. Hurriedly, I stand up and leave fearing I'll never be found.  Above the stairs I'm climbing, the LED panels on the window are blinking, but it is difficult to make out their exact words because the panels point towards each other in a weird pose of self-communication: F-ABULOUS and AMA-ZING are there – present but not apparent, representing the symbolism and impossibility of the act of sharing. There is no word for everything. All existing constructions for secret sharing schemes – souvenirs as symbolic objects and words as message-vessels do not do a great job as carriers of subjective concepts like feelings, and are both quite inadequate for one-to-one communication.  Everything seems to work only in its own context, and taken out of it, the meaning is totally lost. Bought during Hütt's travel to the Big Apple, his "I love NY" T-shirt in Tallinn seems meaningless, like an empty vessel. The same happens with a descriptive word like AMAZING when used to reply to the question of "how was it?" Where does the meaning of a word come from, and where does it disappear to?
With Romantic Loneliness, Hütt points to the difference between places and non-places. New York, London or Moscow are unique places within their contexts and are reachable only from within. Paradoxically, globalisation makes non-places like McDonalds incredibly shareable with others rendering them as not being so unique. "The city resonates around me. I am alone, accompanied by the familiar feeling of loneliness and that's how it should stay forever," says the artist. Maybe there are things out there that are not meant to be fully shared with others? But why is there the urge to share then? Perhaps, at its most basic level, without the validation of others, we get feelings of inadequacy and impersonality that make us doubt the existence of the very experience itself. So should we still try to reach out to share (despite knowing it is almost impossible) or should we just be our own Jesus staying alone within the divine intrapersonal communication model, in the status quo of loneliness, enjoying the silence while pretending it is romantic?
Henri Hütt's personality is an artwork in and of itself. The blue-haired Estonian artist could be said to be a lookalike of the Pop-art pioneer Andy Warhol. Henri is an artist who appreciates creative hybrids, including various forms of performing arts with technological dominance, sound plays, the development of the concept of a staged exhibition and the "cooperation with opportunities and impossibilities". Although Henri, who calls himself "a distant artist", graduated first as a dance and performance artist, and is rather well known in Estonia for his staged (dance) performances and sound art, Romantic Loneliness would seem to be his first solo gallery exhibition breaking into the city's art scene. But looks are not the only thing the artist has in common with the pop-art icon: the crowds gathered for the exhibition's opening broke Hobusepea Gallery's all-time attendance record, where a vast majority of people were queuing outside on the street, waiting impatiently for their turn to enter his exhibition.
Henri Hütt studied performing arts at the University of Tartu's Viljandi Culture Academy (BA) and the Estonian Academy of Arts (MA), dance art at the University of Nice Sophia Antipolice and has a Media Lab MA from Aalto University's School of Art and Design. He has taken residencies at PAF: Performing Arts Forum in St Erme (France), PACT Zollverein: Performing Arts Choreographisches Zentrum NRW (Germany). He won the Independent Dance Award in Estonia (2011) and Estonian culture endowment art prize for the group exhibition 100 Years of the MIMproject: The Life and Work of Manfred MIM, 1920-2020 (2013). Since 2005, Henri has been contributing to the MIMproject, a freeform creative association uniting artists interested in 'touchpoint' between technology, theatre, applied art, sound art and new media, and the MIMstudio, where workshop-based projects alternate with audiovisual installations and theatrical performances. Henri also coordinates the dance-art media-art network DAMA in Scandinavian and Baltic countries.
* Henri Hütt's exhibition Romantic Loneliness will remain open until October 9th, 2017 and is part of the gallery programme of Tallinn Photomonth '17 contemporary art biennial.
Idea and execution: Henri Hütt
Technical support: Taavi Suisalu
Sound composition: Mihkel Tomberg
Photography: Henri Hütt