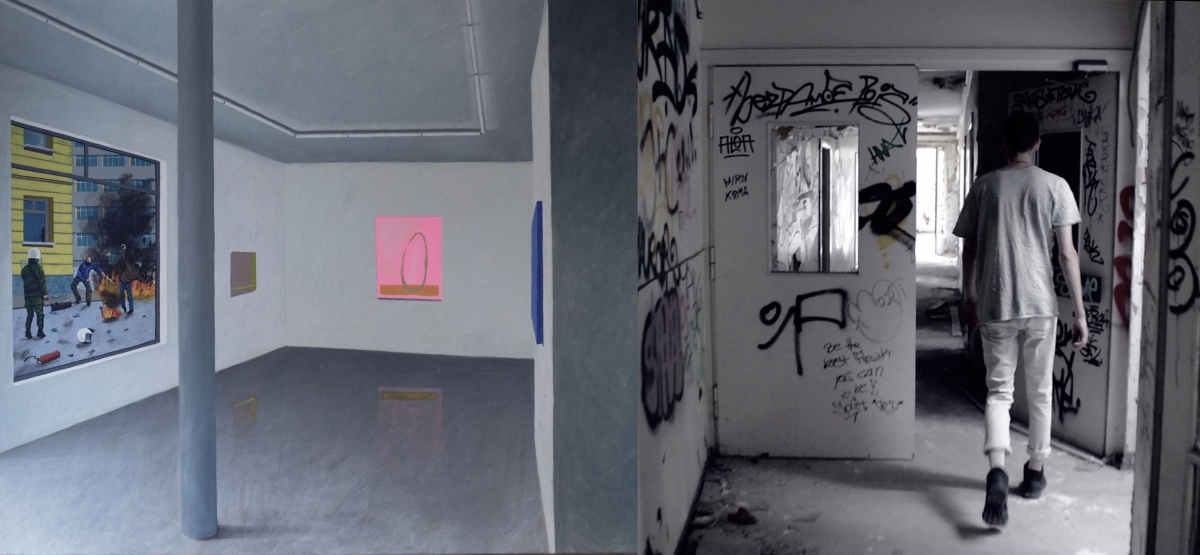 Artists, galleries and abandoned spaces.
2018.10.24 – 2018.11.13
In the given exhibition, few separate narratives, are colliding with each other taking a viewer into the world of absurd possibilities. Both video performances and paintings can be considered as an acts of intervention into the different realities, which are acquiring a certain similarity in the context of the given presentation. Mostly figurative paintings are playing the role of self ironical projections, staying yet faceless, with almost no recognition of the authors persona in them. In video works, the figure of artist is designated very clearly making him a protagonist of the play, staged in the world of consumerism and capital based relationships.
The inspiration for majority of paintings created during the stay in SomoS residency comes from contemporaryartdaily.com website, – the picture blog where world top galleries are posting their high level exhibitions every day. The shots are so white, ideal, symmetrical and fearfully clinical, that presence of any real life seems to be an excess. In the context of the show, photos taken from the website are painted and represented as a stage for the fiction situations underlining the lifelessness of art field professionalization, or opposite, bringing a life into it. In his book Inside the White Cube: The Ideology of the Gallery Space Brian O Doherty claims that "A gallery is constructed along laws as rigorous as those for building a medieval church. The outside world must not come in". Contemporaryartdaily.com can be viewed as an example of spiritual and humanistic qualities of art turned into impersonal shape of the commodity, the product, the concept western civilization based on.
Opposite to idealism of commercialized art world, the abandoned space appears as an antagonistic element of the exhibition narrative. Due to its difficult past and historical contradictions city of Berlin is full of decaying buildings, obscure monuments of socialist era. There are some weird similarities between a gallery and an abandoned place. Both stay invisible in busy city scape, only the interested one comes in. Both are quite, isolated and can be viewed as a platform for self expression: walls of an empty building are usually full of graffiti. Yet galleries are integral part of capital based relationships, abandoned places are out of the market play, being honest in their impracticality, as antithesis of forced practicality of marketable art field. Same as market interventions my personality and my choices, I intervention abandoned spaces with performative activity, using them as a tool of deconstruction of the cold logics of capitalism.
_________________
Alexei Gordin is the winner of the 2017 Young Painter Prize. Part of the prize was a August/September 2018 sojourn as Artist-in-Residence at SomoS in Berlin and solo exhibition at Gallery Pamenkalnis. In exhibition "Artists, galleries and abandoned spaces" Alexei is presenting new artworks from his Berlin SomoS residence period.