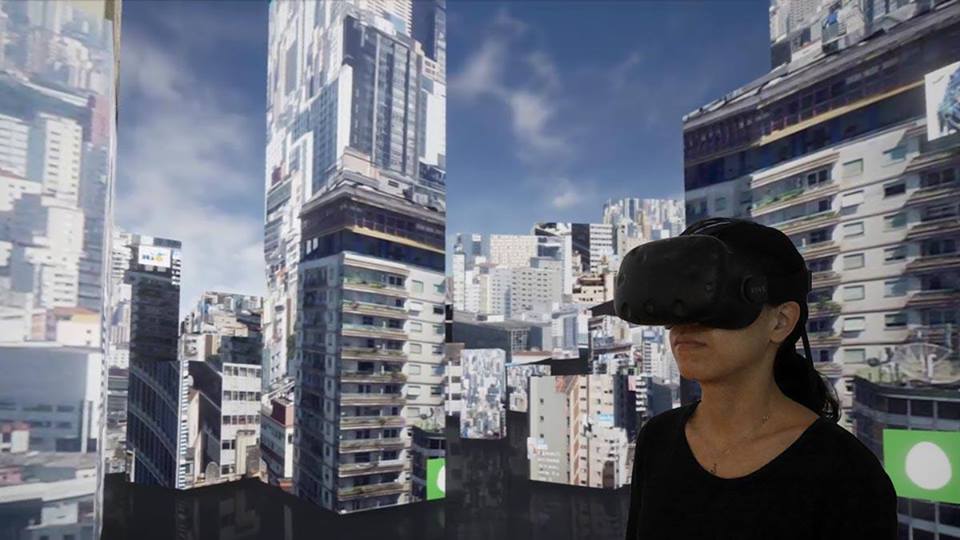 kim? Contemporary Art Centre in collaboration with RIXC invites to the opening of the new exhibition cycle that will feature two exhibitions – "Virtualities and Realities" and solo show "Stairway to Melon" by Viktor Timofeev.
October 20 – November 28, 2017
Venue: kim? Contemporary Art Center, Sporta iela 2, Riga
Opening – October 19, 2017, 19.00
VIRTUALITIES AND REALITIES Exhibition
______________________________________
in the framework of the RIXC Art Science Festival
25 international artworks that experiment with AR/VR, create immersive environments and explore complex relations between the "virtualities" and "realities" of post-media society with its networked communities and migrating cultures.
Curator: Raitis SMITS / RIXC
Artists: Marc LEE (CH), Jacques PERCONTE (FR), Juuke SCHOORL (NL), Brenna MURPHY (US), Hans BREDER (US), Clement VALLA (US), Matteo ZAMAGNI & Daniel BEN-HUR (UK/IT), Zane ZELMENE (LV), The Swan Collective / Felix KRAUS (DE), Annie BERMAN (US), Felipe CUCKER & Hector RODRIGUEZ (HK), Gunta DOMBROVSKA (LV), Martin John CALLANAN (UK/IE), Nina FISCHER & Maroan EL SANI (DE), Santa FRANCE (LV), Greta HAUER (UK), Martin HESSELMEIER & Andreas MUXEL (DE/AT), Raphael KIM (UK), Michal KINDERNAY (CZ), Christopher MANZIONE & Seth CLUETT (US), Andrew MCWILLIAMS (UK), Melodie MOUSSET & Naem BARON (CH/FR), Hanns Holger RUTZ (AT), Julia SOKOLNICKA (PL/NL), Danielle ZORBAS (AU/GR)
Working hours: Wed., Thu., Fri., Sat., Sun. 12:00–18:00 – admission 3 EUR / 1.50 EUR Tue. 12:00–20:00 / Opening (20.–22.10.) and Closing (26.–28.11.) days – admission free Saturdays, at 12.00 – guided tours. Tuesdays, Thursdays – guided tours for school groups (admission free), please book the tours in advance rixc@rixc.org, +371 67228478.
Exhibition is produced by RIXC Center for New Media Culture
Partners: EU Creative Europe's project RISK CHANGE
Contacts: rixc@rixc.org, +371 67228478, +371 26546776
http://festival2017.rixc.org/
Support: EU Programme Creative Europe, the Ministry of Culture of the Republic of Latvia, the State Culture Capital Foundation of Latvia, Riga City Council, Nordplus, LG Electronics Latvia, the Swiss Arts Council Pro Helvetia, Goethe-Institut Riga, U.S. Embassy in Latvia, Fulbright World Learning Specialist, Embassy of Canada to Latvia, the Mondriaan Fund, Capital, Reverie TG, Risk Change project, kim? Contemporary Art Centre, Latvian National Museum of Art, Art Academy of Latvia, University of Liepaja, Art Research Lab of Liepaja University, RISEBA, Studija, LSM.LV, Arterritory, Rīgas Laiks, ESSE, PK Riga Hotel, Caffein
Photo: "10.000 moving cities – same but different, VR" (2016-ongoing) by Marc Lee. Taken by marclee.io
STAIRWAY TO MELON
________________________
Solo show by Viktor Timofeev
"Stairway to Melon" is the second solo exhibition at kim? by Latvian born, Rotterdam based artist Viktor Timofeev. The exhibition comprises of paintings, wall drawings, generative video and a short text.
"You will see the designed space at the back, with its clear, delimited arrangement. Something similar to a waiting room where chairs line the surrounding walls, only here they enclose a different arrangement – two screens on free-standing mounts facing a single chair. An order that feels a bit too serious and slightly ominous, inapt in its density. Take a seat – research is being conducted and you are now part or it.
Viktor Timofeev (b. 1984, Riga) currently lives and works in Rotterdam, NL. He is a recent graduate of the Piet Zwart Institute Masters of Fine Art program. Recent solo exhibitions include Porcelain at Sydney, Sydney, Sazarus IV at Two Queens in Leicester (2017), S.T.A.T.E. at Drawing Room, London (2016), and Sazarus I at Jupiter Woods, Vienna (now Cordova).