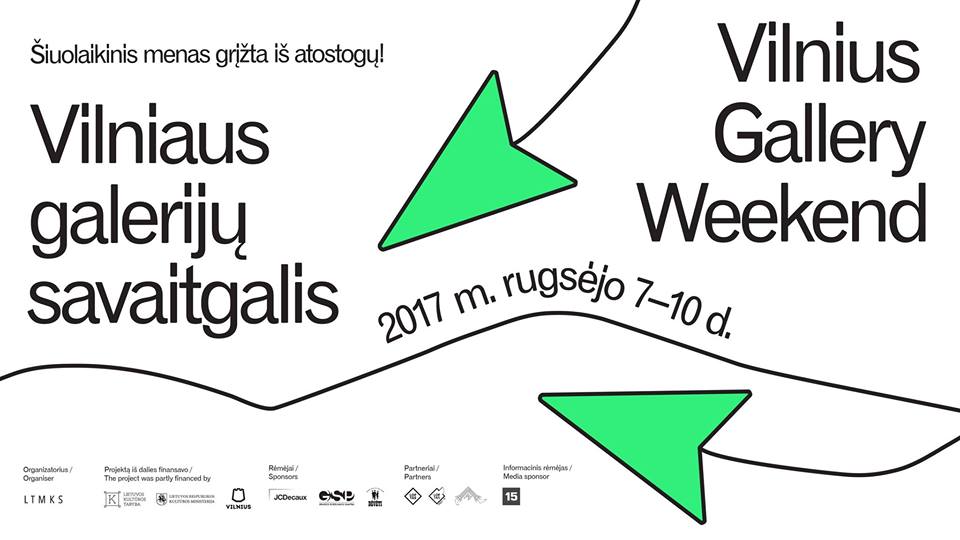 Gallery weekends have been happening across different cities in Europe and the World for decades now, usually taking place at the same time as first exhibition openings after summer, thus marking the beginning of the new season of arts in the city.
Lithuanian Interdisciplinary Artists' Association, celebrating its 20th birthday this year, is happy to invite everyone to Vilnius Gallery Weekend for the second time already – the event will take place 7–10 September 2017 in Vilnius and Lentvaris.
The second edition of the event will connect 26 galleries and art spaces across Vilnius – they will invite visitors to join for exhibition openings, open studios, educational programme and other art events. One of the main aims of this event is not only to introduce broader public to contemporary art processes and to artists in the city, but to help to discover as many galleries and art spaces as possible.
Vilnius Gallery Weekend art routes will lead to some of already well known galleries such as "Vartai", "Contemporary Art Centre" as well as some of the independent art spaces such as "Autarkia", "SHCH/ŠC", "Sodų 4". The event will also invite everyone to participate in "Vilnius Art Walk" tours, organised with an aim to encourage the exchange of ideas and art processes within larger audiences, as well as to get those who only rarely visit art spaces involved in conversations with artists, critics and curators.
This year Vilnius Gallery Weekend will have a special out of the city offer to visit art events in rural Lentvaris, thus contextualising smaller cultural centres in contemporary art processes. An exhibition titled "Depot" will be opened on 9 September across two spaces in Lentvaris' railway station building. This exceptional location will allow artists to present their most recent artworks, expanding historical context of the site, and to reflect on local narratives.
VILNIUS GALLERY WEEKEND PROGRAMME: http://www.letmekoo.lt/en/kvietimai/rugsejo-7-10-dienomis-duris-atvers-vilniaus-galeriju-savaitgalis/
Organiser: Lithuanian Interdisciplinary Artists' Association
Coordinator: Gabrielė Radzevičiūtė (gabriele@letmekoo.lt, +37062689230)
Info-point: Project space "Sodų 4" (Sodų Str. 4, Vilnius)
The event is supported by Lithuanian Council for Culture, The Ministry of Culture of the Republic of Lithuania and Vilnius City Municipality
Sponsors: UAB "JCDecaux Lietuva", UAB "Greita spauda", bar "Dėvėti"
Partners: art factory "Loftas", "Vilnius Art Walk"
Media partner: 15min.lt