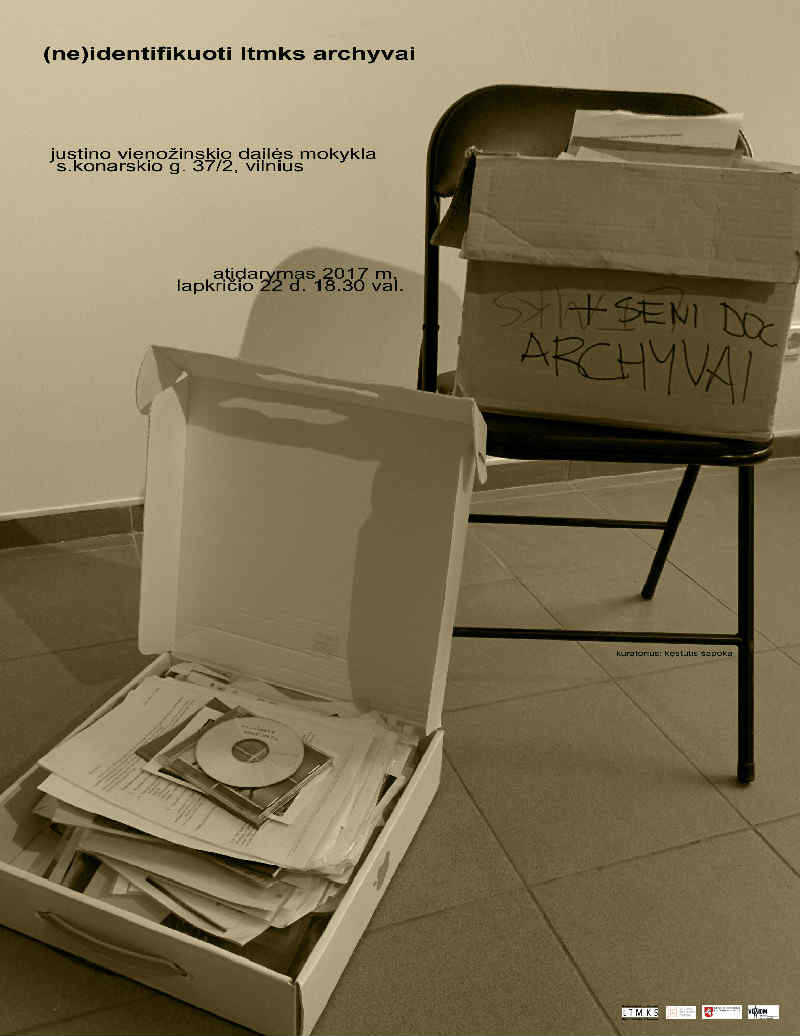 What? An archive of photos, texts, flyers, cv, project proposals, membership applications, various cds, slides etc. exists. A small part of this archive has been included in the first part of (In)dependent Contemporary Art Histories book, however the majority remained unidentified. This is an archive which includes material from around 1997‒2013, not all directly related to LTMKS. Some of it will just be displayed without making prior selection or providing any narrative.
Where? Justinas Vienožinskis Art School (S. Konarskio St. 37/2, Vilnius)
Why? During Soviet times the K. Konarskis adult evening school (currently Justinas Vienožinskis Art School) was slightly more liberal and relaxed than Art Institute and its official exhibiting system. "Silent modernists", who had more progressive views, were hanging around the evening art school then. Similar situation exists at present as many interdisciplinary artists are teaching at the more liberal Justinas Vienožinskis Art School. Thus it is a logic move to display this (un)identified archive here.
But still, why? Interdisciplinary artists' association was initiated as a symbol of resistance and survival in the environment of reactionary conservatism. Twenty years later interdisciplinary art is perhaps no longer on the verge of extinction. On the other hand, the definition of interdisciplinary art is losing its sharpness, its flavour of resistance and is devaluating.
The notion of interdisciplinary art as well as the status of LTMKS is changing. Most recent LTMKS projects remind of the "graveyards of interdisciplinarity" – they loose their exceptionality and become just like all other projects of all other unions. Thus the same question emerges again and again – why are such exhibitions needed and are they needed at all?
(Un)identified archive in this case is yet another attempt to respond to this perhaps rhetoric question, by going back to the (un)structured, (un)identified history.
Still, there is hope – before the opening as well as during the exhibition members of LTMKS and the general audience, willing to comment, to confirm or to criticise "interdisciplinarity" will be able to step in, to add old or new works, photos, documents to it or to contribute in other ways. (Un)identified exhibition archive will be collected, which might be used for the 40th LTMKS anniversary exhibition.
Curator: Kęstutis Šapoka
If you would like to contribute to the exhibition please email kestas.sapoka@gmail.com
If you would like to contribute after 22 November, please contact Kristina Stančienė  kristinastanciene@gmail.com, 864644872
Exhibition times:
Mondays to Fridays 10 am – 9 pm.
Saturdays 10 am to 4 pm.
The exhibition will be open until December 18th.