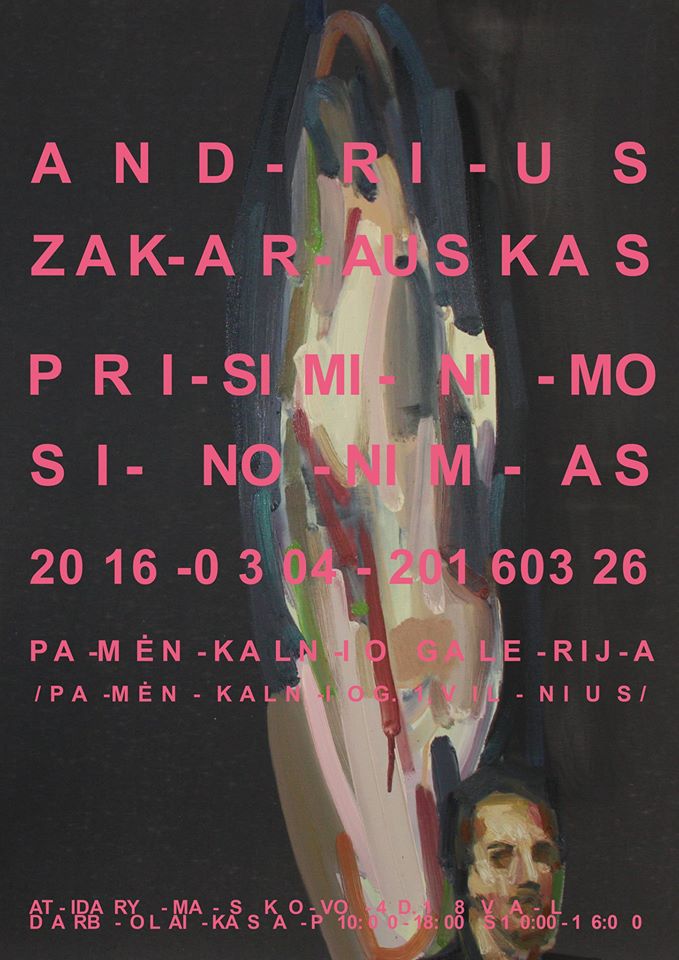 The synonym of reminiscense is what we remember but in other words. It seems to be the object of philology and it should point out the same or close meaning of words but ringing differently. The link between reminiscence and synonym enables visual shape in Andrius Zakarauskas' painting cycle. At first, reminiscences distinguish stability, clearance, defined limits, fixity. But what we remember it doesn't change, doesn't get new shape, link or unobserved affixes of reminiscences, the latter are characterized by clear flow, constant repetition, and we usually come back to what we remember and it appears to be not the news.
The tune of reminiscence and synonym points up constant balance of reminiscence, stability, difference and identity, changing stability and constant stability limit links in Andrius` pictures. Andrius tries to create, enable and reveal new meanings of reminiscences. In this case, importance in canvases depicts not only real reminiscence but liquid and elastic, flexible and melting, congealing and shredding, moving and varying Andrius` reminiscence. Andrius pours and mixes liquid of reminiscence and accessible views store liquid contents with new formation. It happens not only on mental level but in canvas as well. The material of reminiscence flows, gurgles or spots and moves indefinitely, slides or waggles in the shape of liquid paint of turpentine frozens sometimes becomes similar to face. Repetitive mass of paint and reminiscense creates movement-changing view, penetrating from one canvass to another and refilling with new paint mass.
What is the taste of reminiscences? It is neither bitter nor sour or sour sweeten? It is is more ironical. The painter wishes that the spectator would feel sourly sweet taste of turpentine. The painter doesn't want to reveal too much or leave space for personal interpretation- in this case – testing. By the way, writer Vidas Dusevičius proposes particular reference or directions in the" poem- instruction for A. Zakarauskas synonym of reminiscence".
Andrius Zakarauskas was born in 1982 in Kaunas. He currently resides and works in Vilnius and Kaunas. He studied at the Vilnius Academy of Arts from 2001 to 2005 and at the Miguel Hernández University of Elche in 2004. He graduated from the Vilnius Academy of Arts in 2010 with an MA in painting. The artist's work has been displayed in galleries throughout the world, including Schultz Contemporary, Germany; the Andreas Binder galleries in the Netherlands, Germany, and the USA; Galleria Traghetto, Italy; Galerie Römerapotheke, Switzerland; Studio d'Arte Cannaviello, Italy; Galeria MittelEuropa, Sweden, the Contemporary Art Centre, Vilnius, Lithuania; the ViennaFair and Hangar 7 art fairs, Austria, etc. He was awarded first place in the Young Painter Prize competition in 2009 and the Young Creator award by the Ministry of Culture of the Republic of Lithuania in 2011.