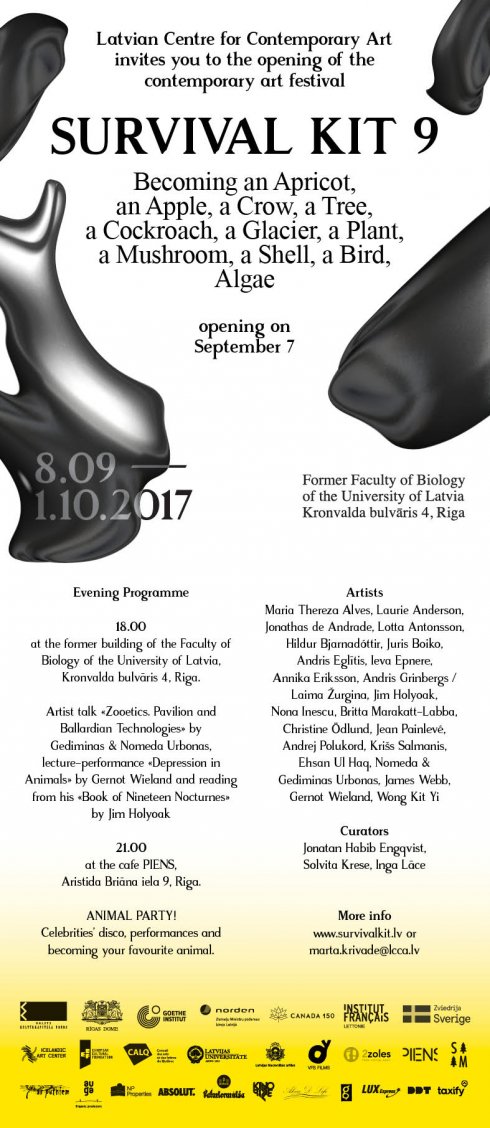 This year, SURVIVAL KIT 9, the biggest annual contemporary art exhibition in the Baltics, will be accompanied by a wide range of events which, like the exhibition, will be aimed at broadening the perception and learning from nature.
Throughout the duration of the festival, from 7 September to 1 October, there will be lectures and presentations by artists, art theoreticians and philosophers, film demonstrations, performances and readings, guided tours in the exhibition as well as exciting artist-led workshops for children. Special guided tours will be led by biologist Izāks Rašals and journalist Māris Olte giving the opportunity to look inside the former building of the Faculty of Biology of the University of Latvia and its Museum of Zoology, Museum of the History of Chemistry as well as the Botanical Museum, whose collections contain surprising, little-known treasures.
Full festival programme is available at http://www.survivalkit.lv/en/programme/
Events during SURVIVAL KIT 9 Opening Week
The official opening of the festival will take place on Thursday, 7 September at 18.00.There will be a lecture by SURVIVAL KIT 9 artists Gediminas Urbonas, director of the Program in Art, Culture and Technology at the prestigious MIT (Massachusetts Institute of Technology), and Nomeda Urbonas.  They will talk about ideas behind the interdisciplinary research platform Zooetics, which they've established in order to explore new ways of engaging human knowledge and research with other forms of life. The talk will be followed by artist Gernot Wieland's lecture-performance Depression in Animals dealing with the relationship between humans and animals and the mechanisms of power and control involved. Finally, artist Jim Holyoak will read a chapter from his work Book of Nineteen Nocturnes, exhibited in SURVIVAL KIT 9, which follows the wanderings of a monster made of wood, named Book, as she travels through a dream-like world, where the sun never rises. The festival's opening will continue with the Animal Night celebrity disco at the clubPIENS.
On Friday, 8 September artist James Webb will give a talk titled There Are Far Too Few Friday Nights Left in the World. It will be followed by a guided tour in the exhibition with curators Solvita Krese, Inga Lāce, Jonatan Habib Engqvist and artists. Finally, the most prominent event of SURVIVALK KIT 9 will be the lecture by one of the most internationally recognized art theoreticians, curator of leading contemporary art biennales and events, writer and researcher Sarat Maharaj. He is the author of several important publications dealing with the postcolonial condition of cultural difference and translation in art as well as knowledge production. In his talk, Maharaj will discuss the value of human, animal and plant knowledge. Does the fact that other living beings do not speak human language mean that they know less?
Saturday, 9 September until 1.00 AM there will be a special programme for the White Night, throughout which the entrance to the exhibition will be free of charge. It will include a theatre performance of absurd facts in collaboration with Homo Novus, potato print workshop, short film programme and excursions for the entire family.
Sundays are days for children's activities at festival SURVIVAL KIT 9, when together with grown-ups they will have the opportunity to spend two hours in vegetable print workshop with artist Henrihs Bināns and make their own gouache and watercolour pigments with conservator Evita Melbārde. Throughout the festival, activities for children will be available in the exhibition, with a family guide to locate them available at the ticket desk.
The festival's events can be visited with an exhibition ticket: standard price 3.00 EUR, school and university students and pensioners with a valid ID, as well as people with well-behaved dogs: 1.00 EUR. Family ticket: 4.00 EUR, while festival ticket for unlimited number of visits: 5.00 EUR.