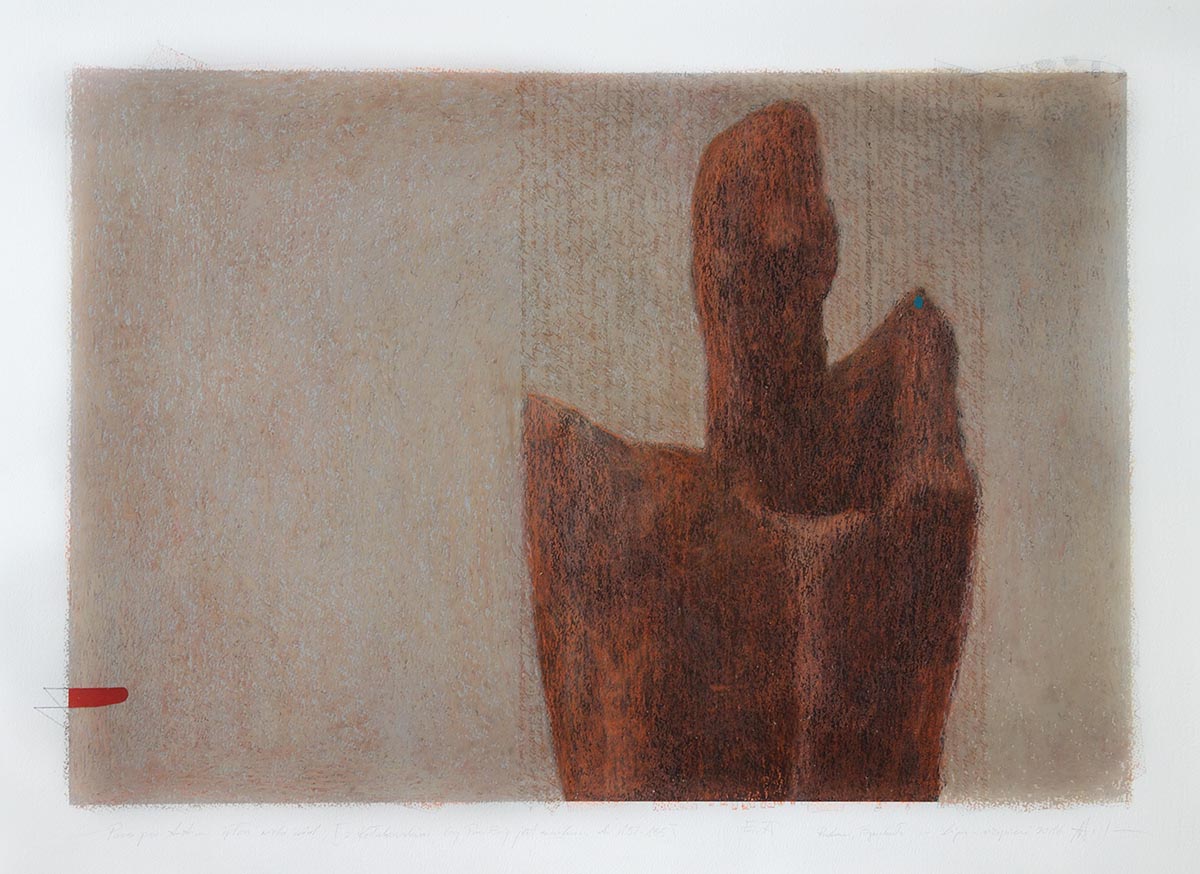 On January 31st (Wednesday) at 6 pm in gallery's "Meno parkas" (Rotušės a. 27, Kaunas) ground floor exhibition hall, will be held the opening of the exhibition "Pars pro toto … cont." (PL.: "Fragment za całość…cd.") by polish artist, professor and deputy dean at the Faculty of Arts at the University of Technology and Humanities in Radom, Andrzej Markiewicz. Curator of the exhibition: Edmundas Saladžius (graphics artist, illustrator, professor of Vilnius Academy of Arts).
The essence of my art is condensation of forms, which involves the synthesis and generalization of experiences and impressions up to a point when they no longer talk about their own unique existence but become representations of general ideas. As Leszek Brogowski puts it, 'it enables a shift from seeing to knowing, or even better: it helps to make seeing more judicious.'
Due to the techniques mentioned, the works, although created with the language different from philosophical discourse, approach the issues of existence, of what is general and personal, the dichotomy between material and immaterial, between physical and spiritual.
Let me summarize the deliberations referring to the problem of constructing artistic attitude towards situations and phenomena in the surrounding world by quoting Prof. Henryk Hoffman: 'Art is not science and investigating the essence of an artistic message might be extremely difficult to express in words. How can we tell Bach's symphony, explain, without trivialization, the poem 'Station' by Szymborska or accurately describe the special atmosphere of paintings by Nikifor? It is also totally impossible to convincingly demonstrate the link between an artwork and its practical usage of any kind.'
Nowadays we find it difficult to keep up with the rapid pace of drastic, convulsive and unpredictable change. In spite of this process, in which we constantly try to find our own place and many tendencies dangerous for art and culture, this is also the time of remarkable development of many artistic ways and attitudes. They may not happen in the spotlights of the great stage of life, which focus on totally different spheres, but truly remarkable accomplishments have always been and will be created, and the only sensible reaction is to show our respect.
'Between the shadows of the masters, between the visible and the invisible, between freedom and responsibility there is space where a new image of the world appears, where art is born.'1
Andrzej Markiewicz, translation by Dorota Durlik
————-
1 Andrzej Bednarczyk. There is no excuse for the lack of perfection [in:] Journal of Science and Arts, volume 4, ASP, Kraków 2002, p. 52.
Andrzej Markiewicz – born on 22.07.1956 in Skarżysko – Kamienna. He studied in the Institute of Fine Arts of Maria Curie-Skłodowska University (UMCS) in Lublin, graduated in 1986 with a Master of Art Education degree in Prof. Mieczysław Herman's painting and drawing studio and Prof. Stanisław Górecki's graphic arts studio. His interests lie in the fields of drawing, printmaking and painting. His works have been presented on 33 solo shows (Copenhagen, Kaunas, Łódź, Kielce, Zakopane, Radom) and 247 collective exhibitions in Poland and abroad (Denmark, Germany, Holland, Switzerland, the USA, Lithuania, Latvia, Hungary, Ukraine, Slovakia, the Czech Republic). Presently a full professor, deputy dean at the Faculty of Arts at the University of Technology and Humanities in Radom.
His works are included in the collections of: State Museum at Majdanek (Państwowe Muzeum na Majdanku). Museum of Contemporary Art in Radom (Muzeum Sztuki Współczesnej w Radomiu); Museum of Contemporary Drawing in Lubaczów (Muzeum Rysunku Współczesnego w Lubaczowie); Indiana River Community College,Virginia, Florida – USA.
Prizes and awards /selected/: The award of the quarterly magazine of art criticism Pokaz (Nagroda Kwartalnika Krytyki Artystycznej "POKAZ" ); 31st International Exhibition of Miniature Art, Częstochowa – 2nd Prize; Early Spring 24 (Przedwiośnie 24), Kielce – Grand Prix ,the Award of the Marshal of the Świętokrzyskie Province; 29 Early Spring – BWA Kielce – the Award of Sandomierz Town Hall; 26 Polish Exhibition of Art Teachers' Works – 1st Prize, Rzeszów, BWA; 29 Polish Exhibition of Art Teachers' Works – 3rd Prize, Rzeszów, BWA; Radom Cultural Award – nominee, Radom 2015; 9 International Exhibition of Miniature Art, Częstochowa – honorable mention.
Partners:
Vilnius Academy of Arts, Kaunas Faculty Polish, Institute in Vilnius
Exhibition will be opened till 24 of February.