Sophie Lapalu in conversation with former Nida Art Colony artist Albert Allgaier
The artist Albert Allgaier spent two periods as a resident at Nida Art Colony of Vilnius Academy of Arts (in 2014 and 2016). The last time the artist came to Nida to implement his Golf project. Albert juggles site-specific practices while focusing on everyday experience. His interest in Japanese studies often brings in elements from this culture, which Albert suggests as tools for experiencing a particular non-Japanese environment. This time, golf – an important part of Japanese life – came to Nida, albeit without a delineated playground and holes. The artist invited the participants on a journey along the route drawn by the clubbed ball.
The "site-specific" golf equipment used in the project can now be taken out from the Colony's library like any other publication. You are welcome to use it and experience Nida and its dunes. Go on a trip following the ball. In the meantime, you can read the French curator Sophie Lapalu's interview with Albert.
S.L.: We met in Vienna at the Kunsthalle 3000, a project by Thomas Geiger. I've learnt that you studied Japanese studies in Vienna and Yokohama, are an artist, deeply involved into the question of contextual art. It seems to me that the ordinary, the made invisible by its commonness, is exactly your field of action. Why are you interested in what does not seem to be able to be arrested in a spectacular way?
A.A.: Through my research in and about Japan I learned a lot about the notion of difference, to observe things from far away and really close up at the same time, finding words in different languages for similar things and the other way round. I like to think about ideas being realized in different contexts, different times and places.
S.L.: I realize how important the place is for you. None of your piece is autonomous. Do you think the space / place is essential to "dock" the thought?
A.A.: I like the challenge to work in different contexts and places. Sometimes the place is there before the actual work, because I like to go to unknown places, especially with no particular idea in mind, even in my neighborhood a street I never been to, like entering a  really obscure Cafe you  passed a million of times before you decide today is the day.
S.L.: A good example of your attachment to the place is "The Hole is in Your Head". It consists in a golf course without any holes on the peninsula of Neringa, in Lithuania.
A.A.: Looking at it from the perspective of google maps this strange strip of land called Neringa looks like a golf course, with its narrow shape, and the dunes at the end. And you have a lot of free time there. So I decided to make a golf course without any holes. I am quite sure that there will be golf course in Neringa sooner or later, because it's an easy way to turn public land into private property, I wanted to have the first golf course there.
S.L.: Why have you chosen a golf course? Golf is an ecological aberration, a very elitist game and a distinguishing feature of a social class.
A.A.: I think golf and golf courses are symbols of our time. A way to privatize land. I like the story how Castro and Guevara played a round of golf to make fun of Eisenhower. When I first moved to Yokohama in Japan I was checking my address on google maps and I saw a lot of green and I thought, wow, so many parks. After moving there I found out most of them are golf courses, I was really disappointed. I think the Curb your Enthusiasm episode where Larry David kills the swan of the owner of their golf club sums it up pretty well. At the same time I admire everyone who can put so much attention to details, where its only about the details suddenly – I mean everyone can hit a ball with a stick basically. Somehow the project was to liberate this simple act, hitting a ball with a stick, from all this symbolic baggage, re-installing the liberty of the individual to take something serious or not.
S.L.: I like the idea to play without any goals, any possibility to win. There is a liberty into the gesture made for noting. This is going against the profitability of our everyday life, against the neo liberalism idea which wants that everything we are doing should have a result and an aim. At the end, people who are playing are acting like a kind of artists who are doing gesture in order to take their time back. Even if it's for noting.
A.A.: I like to change small things in ordinary life and see what happens. Take the holes away from golf for example. How much can you take away from something until it becomes something else. You just change the music, and it's not the same anymore, like in a movie. The hole is sometimes really just in your head.
S.L. It's also make me think to Gilles Mahé: this french artist was found of gold, and Rudy Riciotti, a famous architect, payed him a subscription to play golf for free for one year. Mahé sent him postcards every time he went to golf, and wrote "Gilles Mahé is playing golf while thinking to Rudy Ricciotti".
A.A.: And in the same vein I like the idea of people playing golf in Nida right now, I am thinking of them. Imaginary people  playing imaginary games.
S.L.: The narrative part seems really important in your work. The way you're telling me all your stories seems to be the best way to diffuse them; you know, the story could be repeated, and so on and so on. Your actions are simple, reduces to the essential, easy to remember, easy to tell.Walter Benjamin wrote in 1936 "The Narrator". He said that the course of the experience felt; after the World War I, nobody could testify of what he had seen. A bit like in the movie of Alain Resnais, based on Marguerite Duras book, Hiroshima my love; the lover says "You saw nothing of Hiroshima". We do not have tools to testify such events. On the contrary, a very simple work, which does not need to be demonstrative or to assert the quantity of labor which it has represents, allows the experience. Thus the narrative can take place, the word can circulate and the sense be put back in movement. Do you think that we have to trust in art?
A.A.: I think trust in art is everything, to believe in it. I think there is not a big difference between religion and art at all, both are driven by the fear of dying, or just the anxious feeling of the limitation of our existence.
S.L.: You ask to the public to believe that there is something MORE, even if we don't know why. And you create a community of people who believe in it. Well, all the art system is build on this belief, and create a group of people who are "in".  Like a secret community; some are inducted into and other not. Why do you decide to act into the art field? How do you "join" this field? Do you produce pieces conscientiously against the way the art field is working? 

A.A.: I don't think too much of systems or communities, I rather focus on surfaces to work with. Recently I made a T-Shirt for the Hard Rock Cafe Pyong Yang, which obviously doesn't exist, and therefor is the perfect souvenir for our been-there-done-that society. If you wear this shirt, the whole public becomes the audience, and I had some interesting conversations with random people not about, but through that T-Shirt.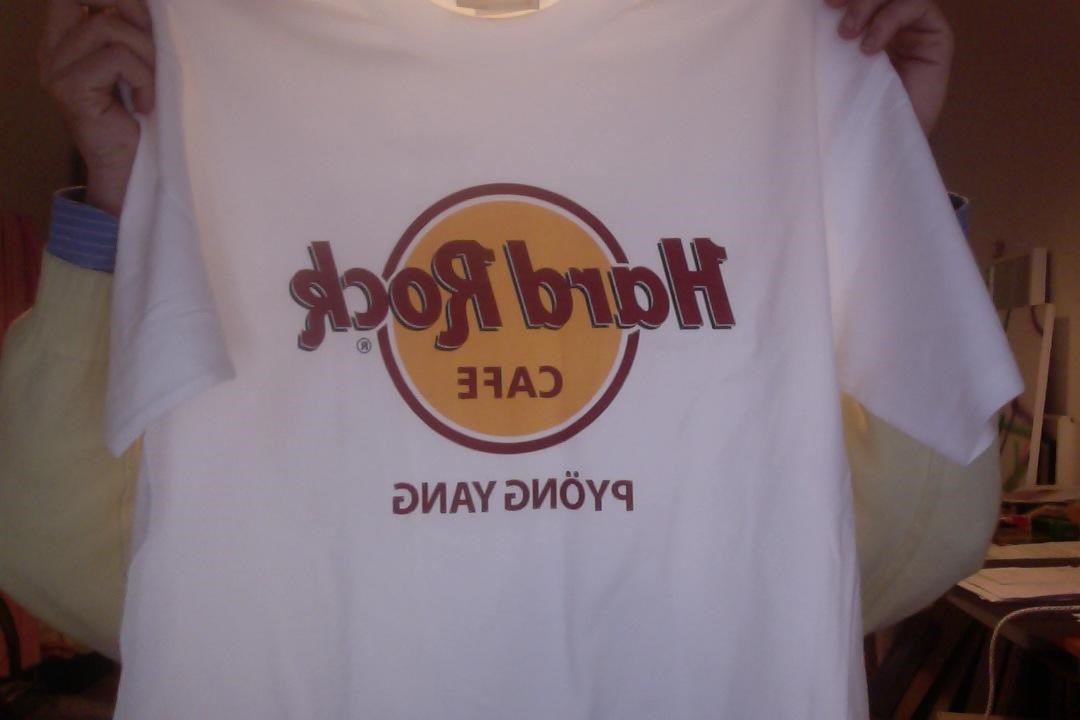 I think this border of art and not art is really interesting, at what point things get interesting. In almost every bar I go to, I ask if I the dj can play one song for me. It's this one:
https://www.youtube.com/watch?v=rSv3-lYg65U
Then I just sit and watch the people for their reaction. I like the thought that out of the few people who read this interview to the end, maybe only one person will actually type that url in their browser, and listen to the song. I want to say thank you to this one person, and please play it loud!