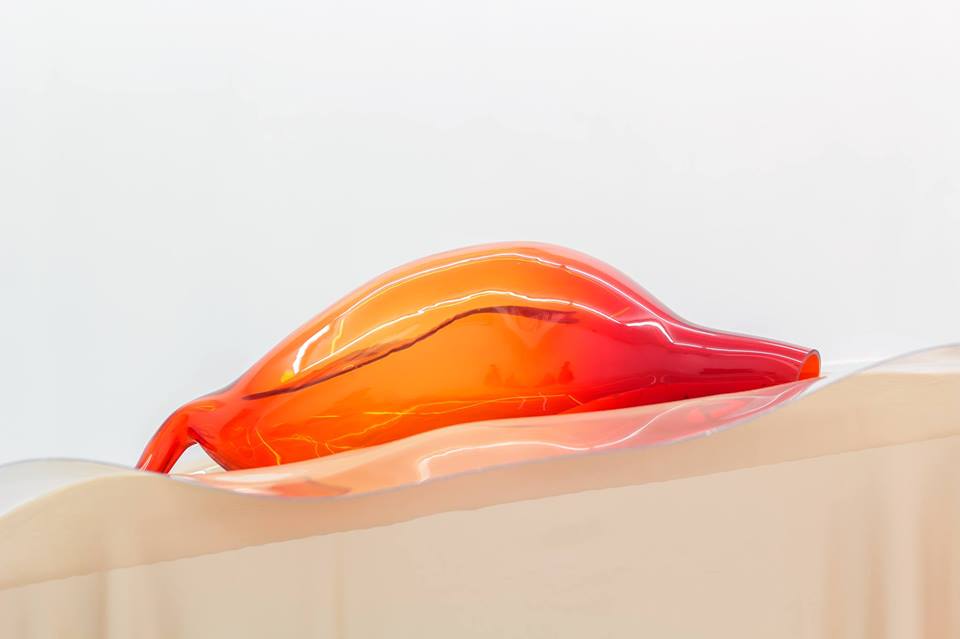 On the 15th of June at 7 pm L'Ascensore presents Pakui Hardware's solo show entitled "Outward".
The show will be open from 15th June to 15th July.
Yeast
A word you can't quite say
without itching, flinching; it's not easy
to ignore its squirming appetite, stay
your primal juddering. And yes, at
night, each microbe gurns in the salty sea
of gut and gullet, born again, boldly eats
as you ate it, brews its own queasy tea
of proto-raunch which it will quickly sate,
birthing wanderlusting vigors, as yet
unknown to microscience. They sashay, set
out for the toes or gape through your eyes at
your drooping lids, your fat bunch of keys, at
this internal motel's boss, bellhop, lackey, sat
in the throne of his slumber, a mercy seat.
BY RODDY LUMSDEN
Source: Poetry. Vol. 198, No. 1 (April 2011), p. 13
Bio:
Pakui Hardware (Neringa Cerniauskaite and Ugnius Gelguda) are based in Berlin and Vilnius. They work as a collaborative artist duo since 2014. The artists are represented by EXILE, Berlin
Their latest solo shows include Outward, L'Ascensore, Palermo, The Return of Sweetness, Tenderpixel gallery, London (2018); Creatures of Habit, Trafó Gallery, Budapest; SIC, Helsinki, and Artissima, Turin, IT; On Demand, EXILE, Berlin (all 2017); Vanilla Eyes, MUMOK, Vienna; Transactions, Podium, Oslo (both 2016); Lost Heritage, Kim?, Contemporary Art Centre, Riga (2015); The Metaphysics of the Runner, Contemporary Art Centre (CAC), Vilnius and 321 Gallery, Brooklyn, New York (2014). Among many others the artists participated in group shows at the 13th Baltic Triennial at Contemporary Art Centre, Vilnius; Kunsthalle Basel, CH; Muzeum Sztuki (Museum of Art) Lodz, Poland, Kunstverein Brauschweig and Kunstverein Freiburg, DE; Galerie Kamel Mennour, Paris; 20th Contemporary Art Festival Sesc_Videobrasil, Sao Paulo, BR; National Gallery of Art, Vilnius; Assembly Point, London; Zacheta National Gallery Showroom, Warsaw. Upcoming projects include solo exhibitions at EXILE, Vienna; at Museum der bildenden Künste Leipzig (MdbK), DE and at Bielefelder Kunstverein, DE, as well as group shows: L'esprit souterrain at Domaine Pommery, FR; Solar Bodies at Musee d'Orsay, Paris; Orient at BOZAR, Brussels; Low Form at MAXXI, Rome.
L'Ascensore
Via Principe di San Giuseppe, 14
90134 Palermo, Italy
lascensore.it
https://www.facebook.com/LAscensore/