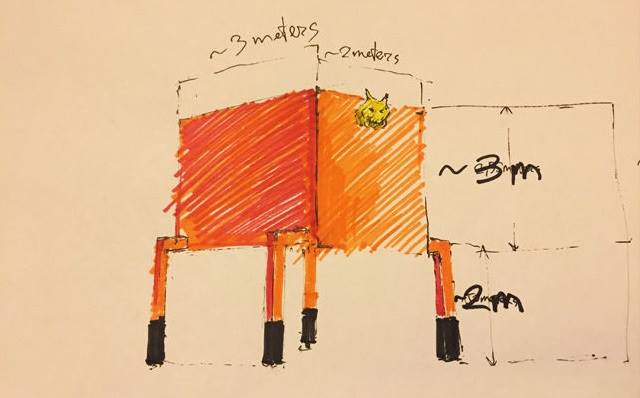 Augustas Serapinas is interested in the hidden places within public institutions and institutional structures. In his work, the overlooked shifts to the center and the details becomes the subject.
For his installation "Sigi" on the terrace of Kunsthalle Wien, an object from the office of the chief financial officer serves as a starting point. A found box that imitates the shape of a cat in a childlike manner is the model for his large-scale installation, which potentially becomes a space for teamwork.
In a humorous way, Augustas Serapinas draws attention to the fact that the work of the institution is built on social co-operation behind the scenes. The seemingly random object from an office space of Kunsthalle Wien is linked to a personal narrative, which the artist brings into public space in an oversized way. Visibly placed on the roof terrace, the installation becomes the temporary icon of the institution. The original cat-shaped box through Augustas Serapinas' translation turns into a workspace located within a container, that at times will be used for meetings.
"Sigi" directs consideration onto the activities behind the presentation. By constructing a space, which is both an object of art and a meeting place at once, he creates a humorous symbol for a way to work together.
Curator: Nicolaus Schafhausen
The artist will be present, with an opening speech by Nicolaus Schafhausen. Opening within the framework of the MQ summer opening.
As part of the Community College (a project of "How To Live Together") members of the Denkfabrik invite you to join them to create a cartography of Vienna. Collectively we will map the city while asking questions of learning, of solidarity and of empathy.
Where in Vienna have you learnt something? Where have you experienced situations of solidarity?
collective mapping
at the Kunsthalle Wien Shop
2 – 6 pm
How To Live Together
25/5 – 15/10 2017
Kunsthalle Wien Museumsquartier