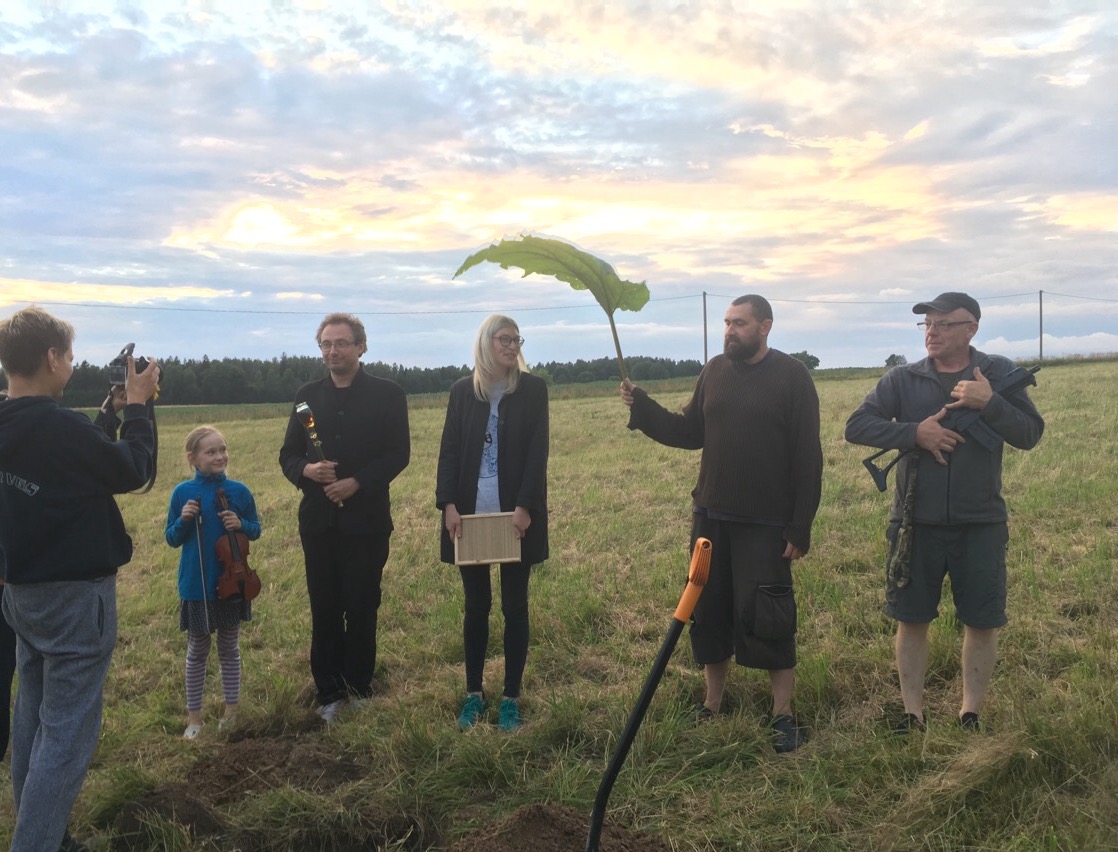 The article is written by Juozas Laivys and Aušra Trakšelytė
Almost every day we read curators' writings, short or elaborate, poetic or descriptive, that accompany exhibitions. However, in the long preparatory process for an exhibition, which is the job of a curator, discussions with the artist(s) are usually left out, or else they become personal anecdotes. The series of articles 'Curators' Conversations with Artists' seeks to raise (at least a bit of) the curtain, and thus to open up the processes of how artists and curators work together. This interview is the first in the series. Have a good read!
Juozas Laivys (J.L.): Since everything is constantly changing, and the only thing that does not change is the fact that everything is changing, it is obvious that defining inception simply as a concrete invariable is not at all simple. On 30 July 2018, according to agreement No DĮ 02-002, you acquired the identity of an actively creating artist for a year. Would it be fair to say that you are consciously not starting your career as an artist from the beginning, and does that change anything at all in your life as an art critic?
Aušra Trakšelytė (A.T.): In agreement No DĮ 02-002, I named the aspiration to live the life of an actively creating artist (Juozas Laivys) as 'a wish to expand the borders of my creative ability in the visual (and not only, but also in the verbal) field'. I would immediately like to note that I regard art criticism as a very creative activity. Also, 'art creator status' has been granted to me, as it has to many of my colleagues. However, of course, the possibility to obtain an (actively creating) artist's identity is quite a responsibility, and I see it as a mature event. I agree with you in calling it a conscious choice.
Because of this agreement, my identity as an art critic and an artist should not become multifaceted. Nonetheless, by temporarily acquiring an active artist's identity, or to be exact, by acquiring it from the artist Juozas Laivys, who himself has suspended his activities and is living the life of Paul Gaugin, as if the famous Post-Impressionist, having reached an honourable age, did not make world-famous paintings, I return to your initial idea that defining inception as a concrete invariable is not so simple. I want to ask, how you, who once consciously started a career as an artist, have been doing not creating (since 2015)?
J.L. If, in taking over the baton, I was to reply to you now that creating was easier than not creating, I would clearly be lying, and that would be wrong. At least in the fundamental sense that art critics have for creation, and which is acceptable to you. And also in the sense that I pass creation to you, as a boring, worn-out, overdigested process. My neogaugenic aim to survive without Post-Impressionism allows me to settle in a certain pursuit of certainty, which can easily be chosen, just like uncertainty.
Precisely in this easy uneasiness, I would like to form another question, to which it is not so simple to reply, because imagining art criticism which itself is not about art is rather difficult. In artistic practice, the existence of non-identic identities is possible, and somehow it distorts (lags) being. Does the formulation of this problematic suit you as an existing artist, as the artist?
A.T. A non-identic identity? Is it like a non-drawing (non-becoming) painter, or an architecture graduate who participates in an exhibition with his new paintings? But seriously, I think the identity crisis, or the search for one's identity, or even the unavoidability of non-identity, is common among most people. I remember what Liutauras Pšibilskis said in his talk with Lolita Jablonskienė about creating 'your own self' in the 1990s, and looking at customs and traditions from the outside. According to the curator, that transitional-state time was favourable for individualism: then you do not associate yourself with the past or past regimes (any more), but you have not yet adopted the other (Western) model either. The latter transitional or non-identic state of being accurately defines (my) generation, with which, I will not hide it, I sympathise. So this question is relevant not only to the artistic sphere, but also to the sphere of life's problems. Did I understand your question properly?
J.L. 'The answer can be wrong if the question was wrong.' It would probably best be written in this way, if a socio-mathematical formula was valid here, and in which each answer was regarded merely as an answer. I am glad that our conversation does not end here, and does not go in that direction. I will allow myself to comment on your idea, and say that you have almost answered a question which I have not yet asked you. Maybe we'll get to that from another angle later, but now, the fifth question, which will have to be answered as the third one in a row.
In the middle of the first decade of this century, Raimundas Malašauskas asked Juozas Laivys in an interview: 'Would you be able to debate with an Invisible man?' ('Klausimai menininkams: nėra dviejų vienodų atsakymų' (Questions to artists: there are no two identic answers, Literatūra ir menas, No 3017). My question to you is this: how would you, as an artist and with the right to correlate the answer through time, expand on it fourteen years later?
J.L.'s answer in 2004: 'The answer is unclear. If the invisible man is talked about as if it was a metaphor, then, of course, yes, J.L. debates Invisible men each day. However, if the invisible man was actually real, then it would initially be necessary to find out what kind of person he was. That is because I do not feel the need to debate with every visible person.'
A.T. J. Laivys's answer to the fifth question is subtle (as usual)! I thought about it a lot last night. I wouldn't want to categorise, because then only two answers would be possible: yes and no. Unfortunately, I don't want to correct your answer, it is capacious enough in itself. Whereas if Raimundas was to ask this question now, I would reply that it happens, as I am not sure of the visibility of some people I meet.
J.L. Okay, because I opened the Pieva (Meadow) Gallery today, where four artworks are laid out like corpses that will officially be buried in the Artwork Cemetery tomorrow, I have a blitzquestion for you, about creating.
How would you, since you are at the beginning of your creative path and know the context of the art field, answer the question that Virginija Januškevičiūtė asked J. Laivys during a CAC interview in 2005: 'What kind of viewer is important to you?'
A.T. I remember that interview, but I cannot remember if we had met by that time …
To answer your question, I am considering whether I should have made at least one artwork to be able to show any pretention towards the viewer. The book 'How to Write about Contemporary Art', which both of us have read, advises us to imagine the particular person to whom you are writing while writing. Maybe I should adapt this view to when I am creating my first piece.
And still, the viewer is a transitional link, whose importance cannot be refuted. To me, an important viewer is the one who is interested, eager, and maybe a bit sensitive to the environment. The kind who looks forward to autumn at the end of summer (as it is now), because (s)he simply cannot imagine how trees look after they have lost their leaves.
On this occasion, I would like to congratulate you on the opening of the Pieva Gallery, as well as with the newly buried artworks that complement the others in the Artwork Cemetery. How many has this project fostered yet? Six?
J.L. Personally, the book How to Write about Contemporary Art did not tell me much about how to write. Ironically, the tips 'how to write' appeared more like 'how to read' reference templates. I thought about it again yesterday as I was issuing the ninth full certificate of burial in the Artwork Cemetery.
Another question will sound something like this: have you already created your mobile signature, do you use it, and would you allow someone else to use it for an honorable intention?
A.T. Now I feel too that the book mentioned is actually more about reading than about writing. Good point. We'll discuss it more some time…
I have the mobile signature because it was necessary at some point: I wouldn't say I use it, though! I feel the mobile signature and that sort of thing to have certain 'non-identic identity' loopholes, with which I sympathise, as I said before. Talking about honorable intentions, it's difficult to say, because in many cases I find that the kind of person is more important to me than the intention itself.
J.L. Since I can feel the limits of privilege that reluctantly appear when I am in the questioner's position, I have decided not to torture you with anticipation for the next question, so I have further enlisted the remaining ones, and, in all sincerity, leave you the opportunity to choose individually a question to which you may not answer. Thus, the sixth question will be this. What is your creative choice in this situation (knowing all the questions): to answer them one by one, or to answer after acquainting yourself with them all?
A.T. I'm almost sure that my creative choices do not differ from other made or unmade life choices. We're going further, in succession…
J.L. Let's imagine that, taking into account the ever-decreasing disciplinary requirements in the sphere of contemporary art, more and more refugees-emigres emerge from other disciplines. For example, in 2014, the Swiss curator Benoit Antlle suggested I select artworks for the exhibition Mon tan dun, and I, as a curator, chose Vincent Fournier's works, because the fact that he played in the highest-level Swiss football league for Sion's team seemed interesting to me. Later, he moved completely into the art world, and thus has become a well-known artist who makes contemporary artwork. It would be difficult to find a famous contemporary artist who later had a professional career in football. And my own decision to be a curator is also related to certain migrations. The question sounds like this: how many refugees can the art field cope with? And maybe artists who are solidly settled in a creative sense should be paid for their creation because of the invasion? What do you think?
A.T. That's interesting. You remind me of the artist Darius Mikšys, who learnt to play cricket during an art residency in London, and later set up Abdul Aziz's Cricket Club in Lithuania, which made him one of the first to organise the game.
My friend and I once thought of organising an exhibition in which we planned to present the works of artists who did not regard themselves as artists. We even had a folder where we gathered some relevant information. This idea remained unrealised. If I remember rightly, we didn't want to incorporate these people into the 'art field' format (to institutionalise, colonialise them). But the art field you mentioned has room for refugees and deserters. The invasions themselves are not necessarily migrations; the attainment of different roles and the switching of activity modes provide the field with innovation, which can become a force for constant transformation. And about the subsidies, of course they could be initiated. I would approve of that!
J.L. Always, and this time too, as we finish something, and as the summer has not yet ended, I want to return to the ever-present question: what is/was this all for? What will it be for? From that same something that was worth starting from. After realising that the end has infiltrated into the beginning, as into unavoidability, I would like to ask at this exact point, while the interview is not over: maybe there is something that you would like to keep to yourself before we end the conversation?
A.T. I will leave an open answer to this question, because there is always something, as you say, which is worth starting from, and which it is appropriate to keep to oneself …
J.L. Thank you for the frank conversation.
A.T. Thank you for the interesting questions.
Aušra Trakšelytė is an art historian, critic and curator. She holds a PhD in art theory from the Vilnius Academy of Arts. She is interested in site-specific art and theory, exploring it in the formats of contemporary art exhibitions, public discussions and publications.
Juozas Laivys is an artist whose work comprises a wide spectrum of different genres. His works grasp the flow of everyday proceedings without glorifying them too much.  In 2015, J. Laivys suspended his individual artistic practice for the upcoming 14 years in order to turn his life into a work of art. The artist is currently a doctoral student in Vilnius Academy of Art. He lives in Narvaišiai (Plungė region). In 2017, A. Trakštelytė was one of the first people to participate in J. Laivys's Artwork Cemetery project, and in July 2018, according to an agreement No. DĮ02-0023, she took over the life of an actively creating artist (J. Laivys) for one upcoming year. In the conversation, J. Laivys asks A. Trakšelytė – who has just started her creative path – about the beginning of her (new) creative path, about identity, migration in the field of art, the importance of an art spectator and the uncertainty of inception.
Illustration at the top: a picture from Aušra Trakšelytė's collection.