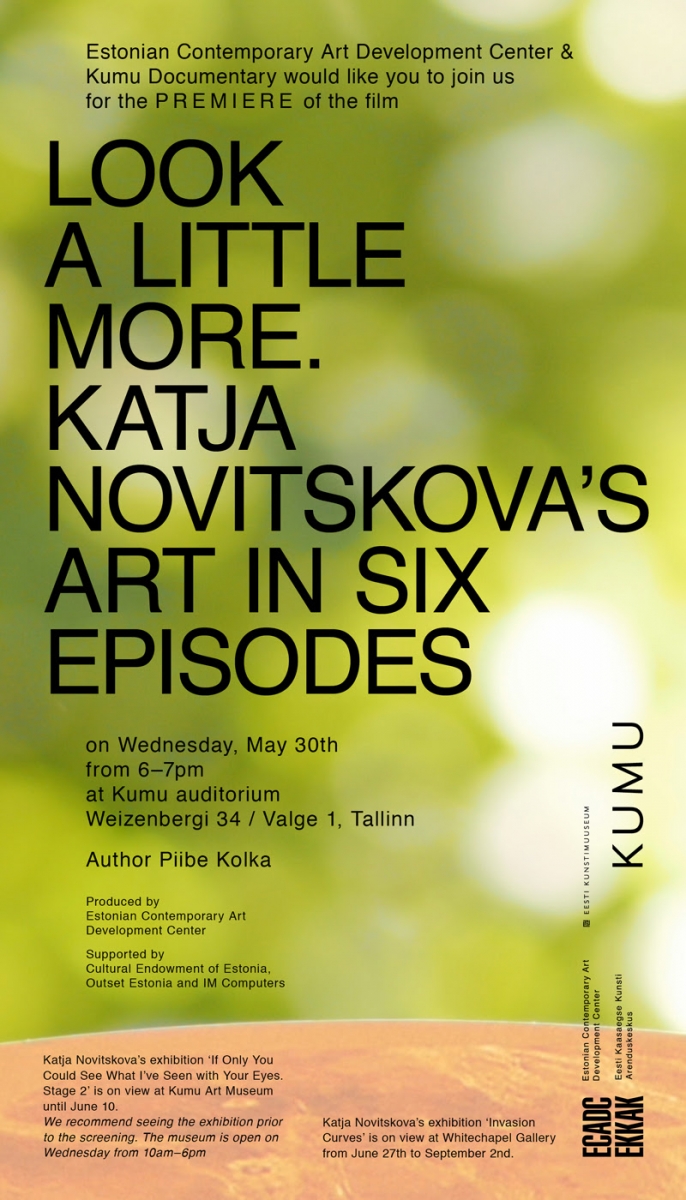 On Wednesday, May 30th at 6pm Piibe Kolka's documentary film "Look a Little More. Katja Novitskova's Art in Six Episodes" will premiere at the Kumu auditorium.
The experimental documentary offers an unparalleled look into the practice of internationally-known artist Katja Novitskova. The two-year filming period covers the time when the artist prepared and presented her most ambitious projects to date, including her first solo exhibitions in Europe, North-America, and Asia such as "Dawn Mission" at Kunstverein in Hamburg, "Earth Potential" at City Hall Park in New York, and "Loki's Castle" at the Cc Foundation in Shanghai.
The camera and the filmmaker, microphones, and voice recorder create alternative perspectives lasting for seventeen seconds, which is the measured average time spent viewing art. How do installations and sculptures relate to the physical and conceptual contexts? What is happening inside of artworks, between them, and in relation to other – mechanical, animal, and human – bodies?
The Kumu screening will be the only one in Estonia prior to film premieres in London and Berlin.
Katja Novitskova's exhibition "If Only You Could See What I've Seen with Your Eyes. Stage 2" is on view at Kumu Art Museum until June 10. We recommend seeing the exhibition prior to the screening.
The film is in Estonian and English with subtitles. Length 45 minutes.
Producer: Estonian Contemporary Art Development Center
Supported by Outset Estonia, Cultural Endowment of Estonia and IM Computers
More info:
Kadri Laas
Estonian Contemporary Art Development Center
kadri@ecadc.ee