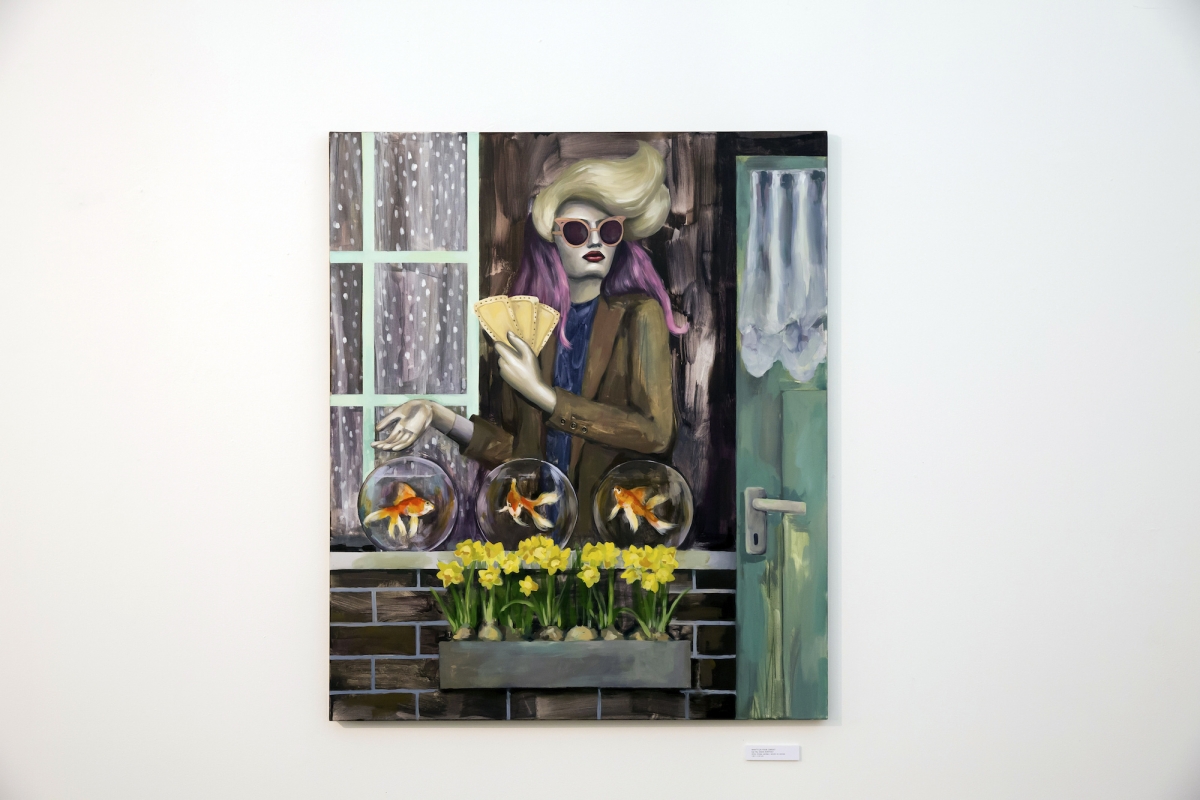 In her solo show WHIPPED CREAM WITH PEPPERS, Gabrielė Šermukšnytė returns to the life's pivotal points as a mandatory lottery and flirts with this notion in a charming, sweet but also bitter manner, as though unexpectedly finding a pepper in a tiramisu mood. This feeling of a fatal coincidence lingers in the air as inevitability, or a ringing silence covered in glittery confetti appearing after a feast at the main hall of Vilnius Academy of Arts.
If in her previous work the author explored scenarios of the overarching reality and its simulacra, here she immerses herself in introspection about the lost inner pompoms. The new exhibition exposes personal hopes and dreams, late realizations and unanswered questions – the inner ones, although familiar to many. Through these personal reflections the exhibition follows the inside-out stitches of the art world, shattering its illusions and the glossy facade. Which move is right, which one is accidental, and could one anticipate it, or is it actually enough to drum nail-polished fingers on the table and wait for the lucky number? Who would dare to leap from a platform into a pool without knowing whether it's full or empty?
The reality hanging in the intermediate state is based on the dual opposition that underlines the creative work of the author and is seen in this exhibition. Red berries and pink peppers only, or poisonous berries and hot peppers only? New beginnings or an ending that is always the same? Going forward or backwards? The romanticised facade of Gabrielė's works hides the deeply-rooted anxiety mechanisms that dictate or rather question – do the right turns happen only in the right place on the right time, and do wishes ever come true – even under the Christmas tree?
Gabrielė Šermukšnytė (b. 1990) is a figurative painter of the youngest generation, known for her distinctive style. The artist explores the wrong sides of the pop culture, ironically criticises the decadence of contemporary society and shows its merciless reflection. She has gained BA and MA in Painting at Vilnius Academy of Arts. Member of Lithuanian Artists' Association since 2016. Presented several solo exhibitions in Lithuania, took part in more than ten group exhibitions in Lithuania, Georgia, Poland, India, and the Netherlands.
Text by Vaida Stepanovaitė
WHIPPED CREAM WITH PEPPERS
Gabrielė Šermukšnytė
2018 01 12  – 2018 02 02
Pamėnkalnio gallery, Vilnius
Photography: Vytautas Paplauskas, Marius Žičius