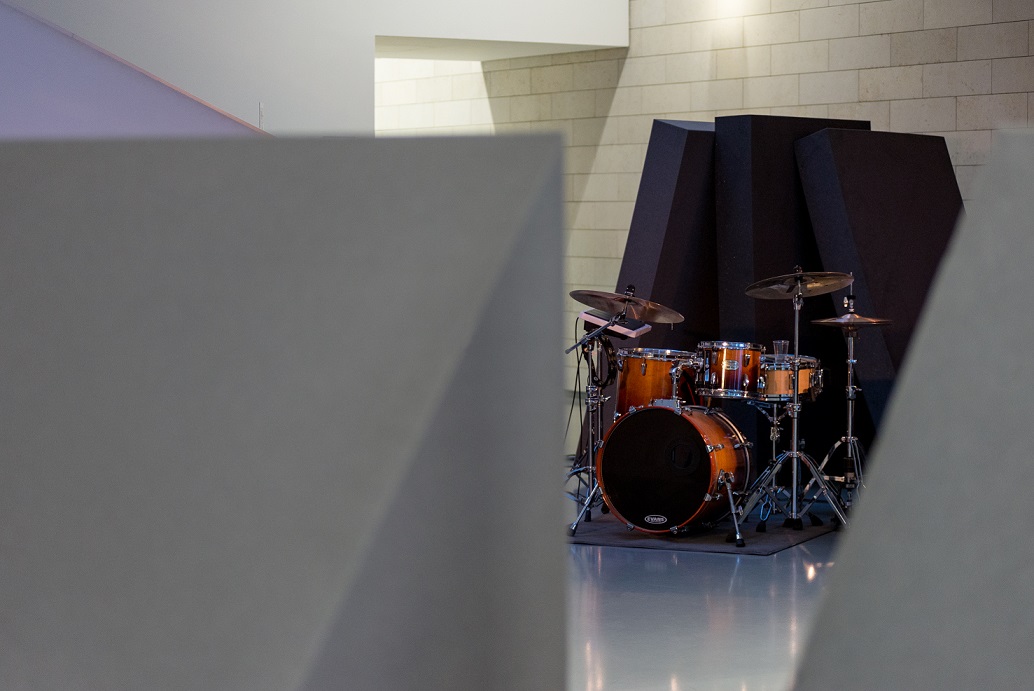 Contemporary artist Kristina Inčiūraitė in collaboration with the students of Vilnius Justinas Vienožinskis Art School and ColdTrane Spirit, a jazz band of Vilnius Balys Dvarionas Music School led by the jazz virtuoso, saxophonist Kęstutis Vaiginis, presented the musical performance Orchestra of Holes. The project has been implemented by Jonas Filmanavičius (drums), Saulė Komžaitė (vocal), Aistis Kondratas (double bass), Aistis Narušis (trombone), Domantas Slėnys (piano), Vakaris Verbickas (saxophone alto)
What sounds are produced by the ghostly buildings looming over the city's busy streets?
The students of the Vienožinskis Art School are fascinated by the abandoned buildings in the central part of Vilnius, among which the Vilnius Palace of Concerts and Sports stands out. In the project, the graffiti on this building are transformed into roll captions of words in the video projection, thus generating a new narrative about the city and its residents – "urban tracers", mentioned in one of the tags on the building. The architectural elements of this abandoned palace – the "conductors" between the inside and the outside, i.e. windows or holes – in the project turn into three-dimensional objects, among which the members of the music school jazz band are seated. Using their imagination, the young musicians create a pulsating musical improvisation. This collaborative art and music project is a kind of unending creative experiment, and "non-hierarchized" music, when all participants become creators, is a subtle reanimation of the "run-down" place in the city.
Kristina Inčiūraitė (b. 1974) lives and works in Vilnius. She makes photographs, objects, performances and sound projects, focusing mainly on videos, video installations, and experimental and documentary films. During the last decade her works have been presented in art institutions such as the National Art Museum of China in Beijing, Oi Futuro Cultural Center in Rio de Janeiro, the National Art Museum of Ukraine in Kiev, the Kalmar konstmuseum, the Laznia Centre for Contemporary Art in Gdansk, the ar/ge kunst Galerie Museum in Bolzano, the Kumu Art Museum in Tallinn, the Muzeum Sztuki in Lodz, the Mucsarnok in Budapest, the NGBK in Berlin, the Casino Luxembourg – Forum d'art contemporain in Luxembourg, the Pori Art Museum in Finland, the Fondazione Sandretto Re Rebaudengo in Turin, and others. For more information: www.inciuraite.lt
Orchestra of Holes
2018 03 15
Kristina Inčiūraitė in collaboration with the students of Vilnius Justinas Vienožinskis Art School and ColdTrane Spirit, a jazz band of Vilnius Balys Dvarionas Music School the National Gallery of Art, Vilnius (Konstitucijos Ave. 22, Vilnius)
Project organiser: Kristina Inčiūraitė's Studio
Project partners: Vilnius Justinas Vienožinskis Art School, Vilnius Balys Dvarionas Music School, National Gallery of Art
The project is supported by the Lithuanian Council for Culture
Photography: Evgenia Levin