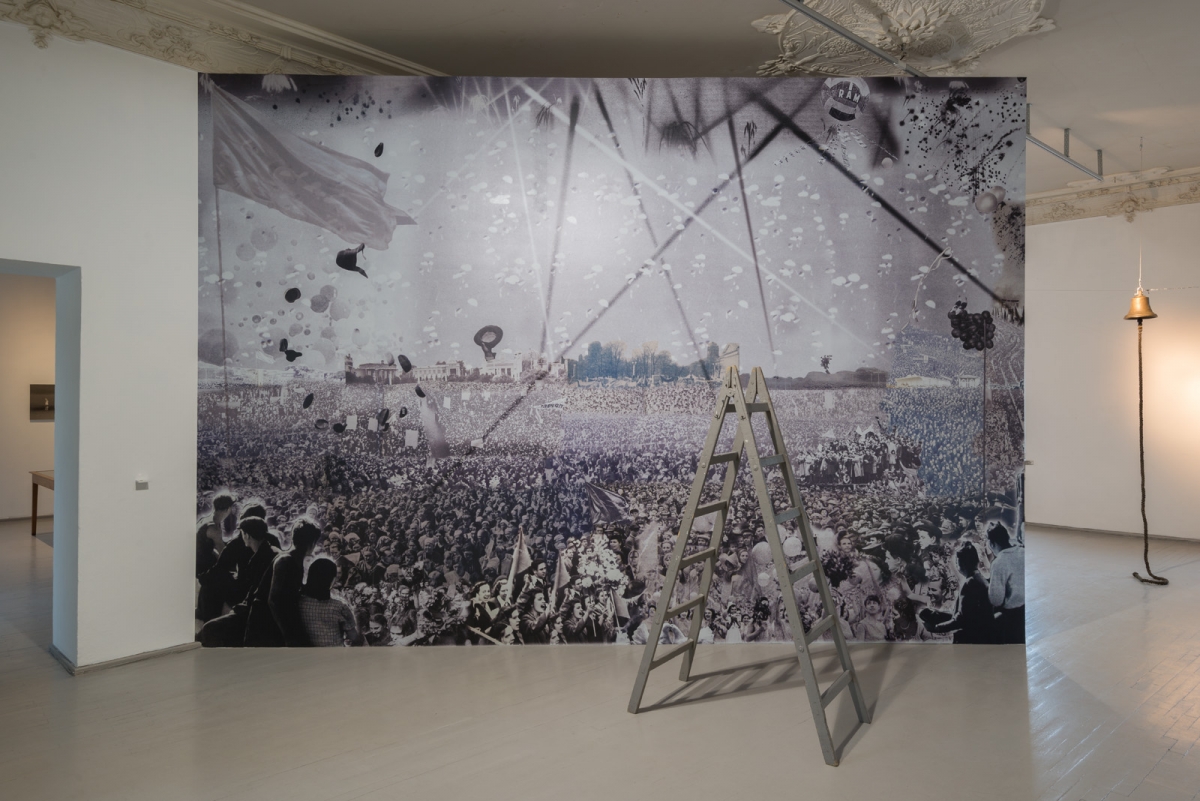 The time and title of Jānis Avotiņš's solo exhibition refers to the centennial of the Baltic states. Not long ago, holiday celebration was a powerful manipulation tool in the hands of Soviet authorities. Just as everything else that was forced upon people in the name of ideological goals, the mandatory character of people's manifestations tended to destroy instead of foster a sense of togetherness. "Who organized this ovation?", Stalin was supposed to have said after he found out about the long applause with which Anna Akhmatova's fans commended her reading in a filled-to-the rafters cultural center in Moscow. Spontaneous and voluntary expressions of communal spirit were a threat to Soviet power and therefore undesirable.
The relationship between people's demonstrations and art tend to be complicated nowadays as well. The Lithuanian artist Deimantas Narkevičius thinks that through the spontaneous and fervent actions during the time of National Awakening, when various Soviet-era monuments, symbols of the totalitarian regime, were dismantled in the Baltics, their meaning was altered. In his opinion, these gigantic sculptures were desacralized. Is it, however the case that, in the mind of society, these monuments have become simple art objects to be freely transported, stored and exhibited in public as the visual heritage of the era of their provenance?
Over the course of many years, the Latvian artist Jānis Avotiņš has gained inspiration and motifs for his work in the visual legacy of the recent past, including photographs found in state and private archives, retouched Soviet-era press illustrations and city guidebooks. Avotiņš delves into this legacy not only for building blocks for his creative output but acts as a careful archeologist, attempting to free his paintings and drawings from unnecessary semantic layers and often erasing indications that would place his figures in a particular space-time. The artist moves images of the past to a different universe, a dimension of time characteristic only of a work of art, the "now" of art. His monochromatic figures become solemn memory images surfacing to our conscious from a distant or more recent past. Avotiņš's work is characterized by special intimacy and viewers are invited to supplement it with their own motifs from personal experience. At the same time, they are open to the widest possible perceptions and interpretations, so that each viewer can fill in the blanks and together with others form a uniting, collective memory.
Expressed in common memory images, the art of Jānis Avotiņš acts like a festive celebration in that it proffers what unites us. The German philosopher Hans-Georg Gadamer suggests that we consider the form of existence of a work of art through this important shared experience: celebration. In Gadamer's opinion, celebration is the most complete form of communal experience, though which people regain their co-existence. There is the everyday life and the holiday, which arrives. In this context, celebration is art and holidays and art have their "now time", which is imposed on us. Celebrating a holiday is also characterized by common intentionality of all people and, in the case of a work of art, a common direction and concentration. The esthetic qualities of Avotiņš's work thus also become crucial. According to Immanuel Kant, the esthetic shared feeling also fosters "sociability", with individuals experiencing desire to communicate with other people; helps form social bonds and unite people in cohesive society. In order to feel united, it is not necessary for thousands to join hands. A shared experience of art may serve this purpose just as well.
The organizers of the exhibition invite every visitor to participate at the artist's interactive installation and symbolically ring the bells that herald the time for art and festivity thus re-experiencing unity and celebrate centennial of the Baltic states together.
Māris Vītols, curator
'Šventė'
Jānis Avotiņš
Curator: Māris Vītols
2018 02 13  – 2018 03 23
Galerija VARTAI
Photography: Arnas Anskaitis