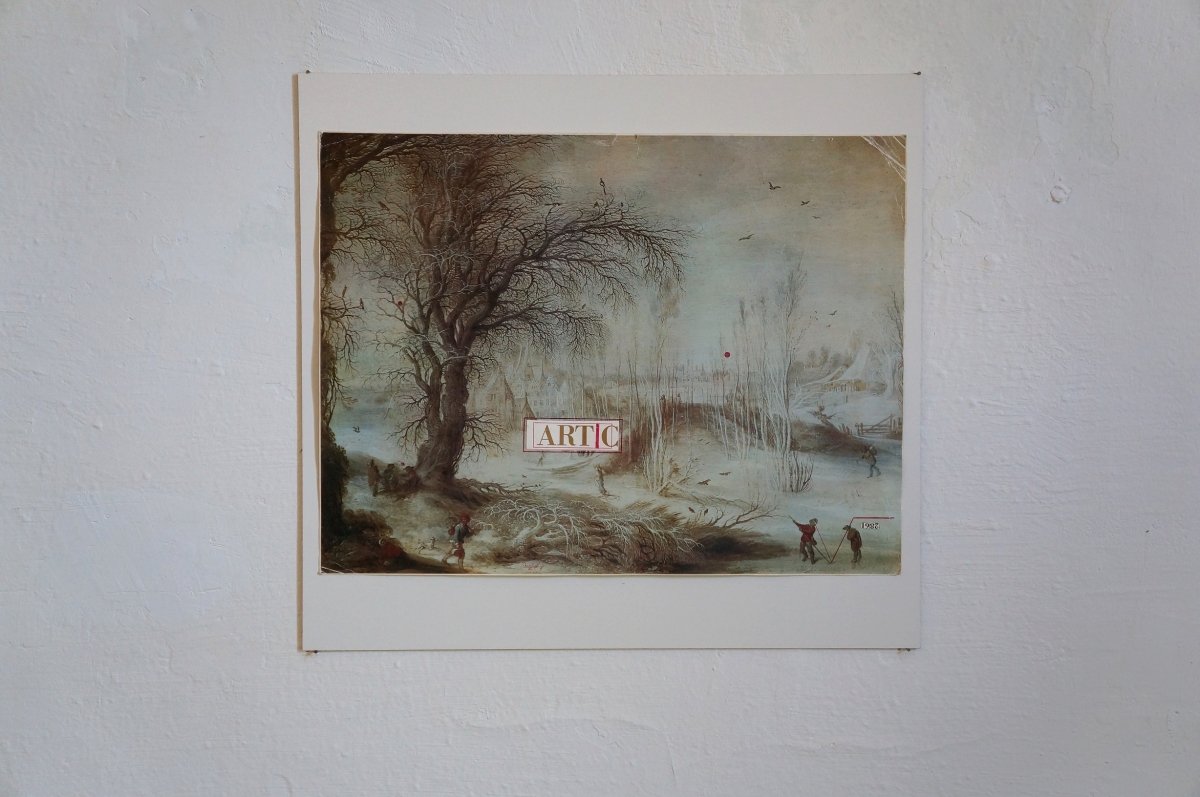 Until 9th of June at the gallery [si:said]  (Daržų str.18, Klaipeda, Lithuania) runs an retrospective exhibition *Žym Žymas by Ramūnas Paniulaitis.
Bearing in mind the alternative offered by Lithuania's "silent modernists" (who had by the 1970s and 1980s become almost the same as the existing officialdom of art-ideology), it would be hard to include Vilnius among the clusters of the avant-garde that existed at the time. However, it is becoming clear that at the beginning of the 1980s, an environment of separate groups had been formed in which young artists were creating and that could, after all, be linked in context to the larger and more serious clusters of the avant-garde of the time. For our "conceptual break" at the beginning of the 1980s, including a few others, there are two additional artists of note: Česlovas Lukenskas, who came into the visual arts from music and Ramūnas Paniulaitis (b. 1957‒ d.1982).
Ramūnas Paniulaitis stood out because he was able to create his own socio-aesthetic system of "conceptualization" over a comparatively short period of time – over one or two years (1980‒1982). Of course, at that time, with the exception of a few of his closest friends, there's probably no one who would have dared to call it a "system".
Looking at the collages, it is very clear that Paniulaitis was able to "break" the traditional relationship of the creative process and the work itself, having "analytically" begun to shake the structure of the understanding of a creation. As a result, in his creative process, just as in classic cases of conceptualism, the means for creating were reduced to a minimum, the significance of a formal medium were reduced – the artist found "secondary" raw materials, the "cheapest", least pretentious and those most suited towards a "concept" – cutting, a collage technique.
Nevertheless, all of the above named features are present in Paniulaitis' works but in more hidden form. An especially intense inner change, maturation, a re-thinking of the trends of Western avant-garde ideas (including collective), even as the result of a painful personal experience, Paniulaitis had reached a point where he could call anything his creation.
In this "conceptual/spiritual system", the collages also reflected an ever-changing and already changed relationship with the process of creating and the art work itself. In part, it was a tactic for appropriation and deconstruction  because the artist often directly cut something out of magazines or art albums, reproductions of works of art, cut them again, used them as raw material, but sometimes did not even change them too much (just the fact of the appropriation of the reproduction's "authorship" by cutting it and sometimes signing it was enough), although he did sometimes paste on a small, barely visible additional detail by drawing a line of some kind with a red pen7, box in a geometric form of some kind (usually a round one) with a ruler, outline a detail of a reproduction or simply place a red dot "in a certain spot".
Ramūnas Paniulaitis committed suicide in 1982.
* it was the favourite saying by Ramūnas Paniulaitis, willing to express worry and depression
Curators ‒ Česlovas Lukenskas and Kęstutis Šapoka
Photography: by organizers