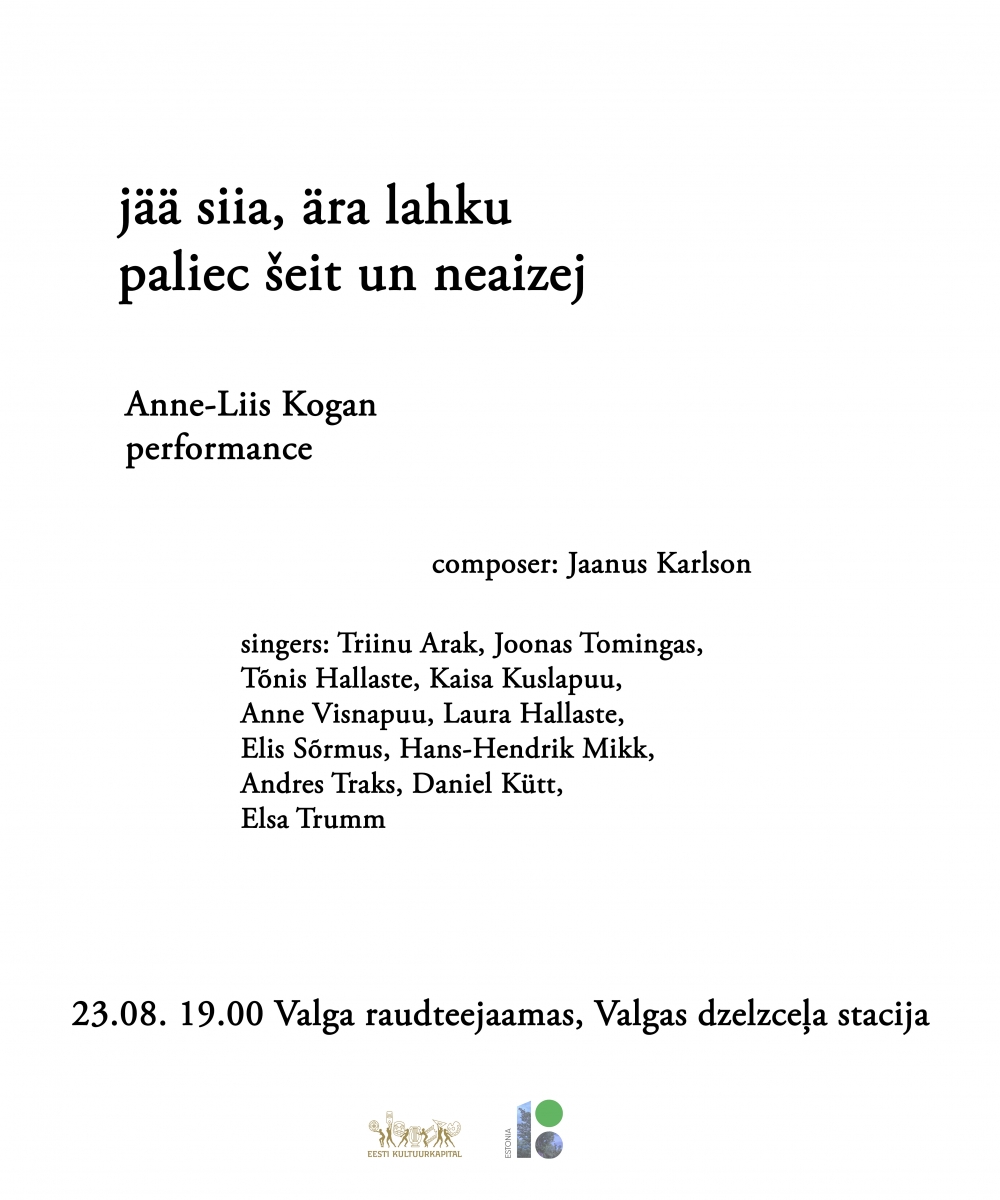 DON'T LEAVE… STAY
1. Piir
2. Meie Linn
3. Impro
Performance at Valga train station 23. august at 7 pm
Composer: Jaanus Karlson
Singers: Triinu Arak, Joonas Tomingas, Tõnis Hallaste, Kaisa Kuslapuu, Anne Visnapuu, Laura Hallaste, Elis Sõrmus, Hans-Hendrik Mikk, Andres Traks, Daniel Kütt, Elsa Trumm.
Thanks to Hanna Samason, Tanel Rander and Uldis Muizarajs.
The starting point of this work is the song of Uldis Muizarajs "Meie linn – Our city". Melody written in the 1960s and words added later in 2005. Words in Latvian by Anna Abena, Aia Abena and Vitalis Lozda. A local song, about unifying the two cities Valga and Valka across the border.
"When I heard the song for the first time I was astonished as Estonian and Latvian language was used together in one song. At times the two languages overlapped.
This was directly connected to one of my previous performances where I created a feed of language, translation and memory through spoken word. Based on a diary excerpt from Estonia during the Second World War from my great grandmother, the sound performance created through my voice and my multiple languages dissolved and altered the written story.
The song of Uldis gave me similar impulse of it being a historical symbol or fact that could be as relevant today as when it was when it was composed. His strong engagement in unifying the two parts of the cities and belief of borderlessness through music relates strongly to my Estonian identity and the choir and singing traditions from my childhood.
Therefore my work "Jää siia, ära lahku" / "Don't leave..stay" has departed to search out connecting lines between the song of Uldis and the contemporary composition together with composer Jaanus Karlson and our ensemble of singers. I aim to activate the song in Valga/Valka border context and to suggest a new anthem to the unified city. The new composition also comments my own endeavour towards being in between cultures and nationalities."
The performance will take place at Valga railway station. Place of departure and arrival.
The materials of this perforamance can be seen in the exhibition "A mole, larger in size than ever seen before", open from 22.08. to 16.09. in Brivibas galerija (Vabaduse 14, Valga). The event is supported by Nordic Culture Point, the Center for Contemporary Arts Estonia and their Estonia 100 art program "Comers, Goers and Stayers – the histories of Estonian communities", as well as by the Cultural Endowment of Estonia.
Anne-Liis Kogan (1984) is artist with Estonian-Russian origin. Being born in Tartu, she has lived in Norway since 1997. Her work explores notions of identity, displacement and community. Her actions are characterized by negotiating borders and participation, as well as dealing with misunderstandings and incomprehension. She often searches for connecting lines between historical objects and the present society. She works with performance, sound and video as well as community and relational projects. More info: https://www.anneliiskogan.com/