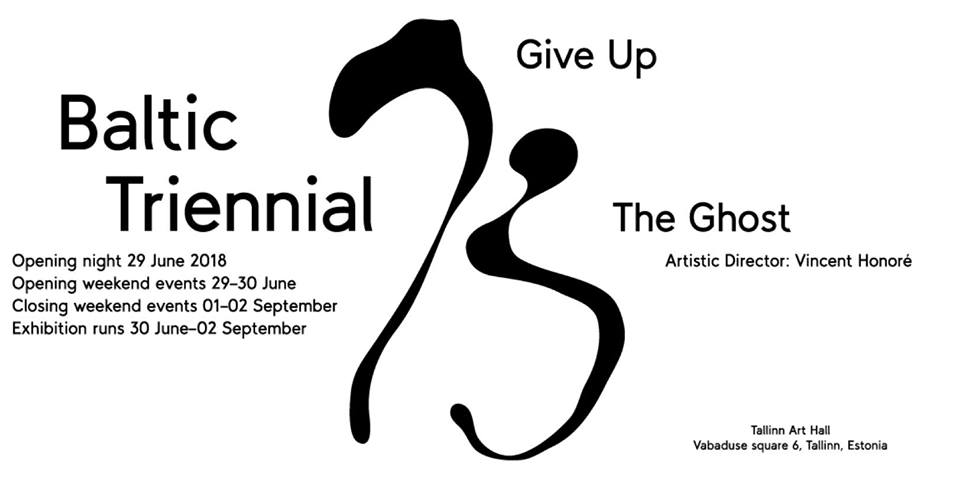 Join us for the opening of the second chapter of Baltic Triennial 13 – GIVE UP THE GHOST at Tallinn Art Hall on Friday 29 June from 6 PM. Exhibition continues until 2 September.
The opening celebration will include a weekend of performances on Friday 29 June and on Saturday 30 June including by Adam Christensen, Merike Estna, Lina Lapelytė, Paul Maheke, Young Boy Dancing Group and Young Girl Reading Group (Dorota Gawęda and Eglė Kulbokaitė).
FRIDAY, JUNE 29
6pm Public opening
6.15 pm Opening speeches by Vincent Honoré, Maria Arusoo, Taaniel Raudsepp
6 – 9pm (ongoing) Performances by Adam Christensen, Merike Estna, Young Girl Reading Group
7pm Performance by Paul Maheke
8pm Performance by Young Boy Dancing Group
11pm Official afterparty at Sveta bar (Telliskivi 62)
https://www.facebook.com/events/1792320364196368/
SATURDAY, JUNE 30
12 – 3pm Open studios at Estonian Artists' Association (Vabaduse väljak 6/8)
pre-registration avatudateljeed@cca.ee
Tours in English at 12 and 1pm.
https://www.facebook.com/events/153392052195307/
2pm Baltic Triennial 13 Tour by Vincent Honoré and Dina Akhmadeeva
3pm Performance by Lina Lapelyté
Artistic Director: Vincent Honoré
---
Open Studios
On Saturday, June 30th at 12 – 3pm, ten artists at the Estonian Artists' Association's buildings on Freedom square, where the Tallinn chapter of Baltic Triennial 13 is held, will open their studios to visitors.
Participating artists: Marju Bormeister, Sirja-Liisa Eelma, Kai Kaljo, Raivo Kelomees Tiiu Kirsipuu, Kristi Kongi, Tarrvi Laarmann, Tõnis Saadoja, Liina Siib, Mare Vint. The event is organised by Center for Contemporary Arts, Estonia as part of the opening weekend of Baltic Triennial 13 – GIVE UP THE GHOST at Tallinn Art Hall.
Please note that it is important to pre-register via e-mail avatudateljeed@cca.ee or +372 53947169.
There will be three guided tours:
12pm Tour I (in Estonian)
1pm Tour II (in English)
2pm Tour III (in Estonian)
The maximum size of one group is 15 people.
Participating artists:
MARJU BORMEISTER
As a daughter of two artists, Marju Bormeister (1945) has lived in the Tallinn Art Hall building for half of their life. They are interested in nature and the structures found in nature. Bormeister has also been engaged in various charity art projects.
Together with students and textile artist Kersti Villand everyone is welcome to join a small monotyping and silk painting workshop.
SIRJA-LIISA EELMA
Sirja-Liisa Eelma (1973) is a painter, who in their latest projects has been dealing with the idea of emptiness as something achievable through the medium of painting. In 2016 Sirja-Liisa Eelma was awarded with Konrad Mägi Prize.
KAI KALJO
Kai Kaljo (1959) is among the best-known and internationally recognized names in Estonian video since the 1990s. Positioning themselves as an outsider, someone not liked at home, but never more than an observant stranger elsewhere, is an inherent part of Kaljo's self-image. In recent years Kaljo has engaged with the topics of aging and personal histories.
RAIVO KELOMEES
Raivo Kelomees (1960) is an artist, critic and a new media researcher. They hold a PhD in art history. Kelomees has been published in main cultural and art magazines and newspapers of Estonia since 1985. As an artist they have participated in various international video and new media art festivals and exhibitions.
TIIU KIRSIPUU
Tiiu Kirsipuu (1957) is a sculptor whose body of work ranges from coins with a diameter of a few centimeters to eight-metre long wood sculptures. They have used both a realistic as well as an abstract approach to form and worked with a wide range of different materials. They have created multiple famous sculptures in public spaces all over Estonia.
KRISTI KONGI
Kristi Kongi (1985) emerged on the art scene during the 2010s. They are an Estonian painter and installation artist whose work focuses on colour, light and space, often in paintings which take the form of installations and are created for specific settings. In their most recent projects Kongi used colour and light as a way to collect and preserve memories, by creating immersive, colourful spacial installations. Kongi was awarded with Konrad Mägi Prize in 2017.
TARRVI LAAMANN
Tarrvi Laamann (1973) is one of the few virtuoses of woodcut technique in Estonia whose colourful prints reference to reggae culture and its bright colours, smells, tastes, warmth, rhythms. Laamann's works are positive and happy; it is their way of improving the world.
TÕNIS SAADOJA
Tõnis Saadoja (1980) is a painter, mostly working with photo-realist format. They are often been interested in site-specific artworks, memories and urban landscape. In 2015 they were awarded the Konrad Mägi Prize.
LIINA SIIB
Liina Siib (1963) is a visual artist who lives in Tallinn, Estonia. In their photo, video and room
installations, the artist explores various topics, ranging from femininity and social space to different representations of people's everyday practices and daily routines, work and leisure time, systems and subjectivity. In 2011 Liina Siib represented Estonia with their project A Woman Takes Little Space at the 54th Venice Art Biennale at Palazzo Malipiero. Since 2015 Liina Siib is the professor of graphic art at the Estonian Academy of Arts.
MARE VINT
Mare Vint (1942) is a graphic artist whose work mostly focuses on the depiction of "ideal landscapes," in an attempt to capture a perfect synthesis between nature and man-made structures. Mare Vint's emergence in the late 1960s coincided with changes in the strict political regime which also brought about a shift in the artistic group 'ANK'.
---
BT13 in Tallinn includes works and performances, including new commissions, by Carlotta Bailly-Borg, Nina Beier, Hannah Black, Miriam Cahn, Adam Christensen, Jesse Darling, Michael Dean, Merike Estna, Daiga Grantiņa, Derek Jarman, Jamila Johnson-Small, Lina Lapelytė, Kris Lemsalu, Klara Lidén, Elīna Lutce, Paul Maheke, Pierre Molinier, Ieva Rojūtė, Ülo Sooster, Achraf Touloub, Ola Vasiljeva, Young Boy Dancing Group, Young Girl Reading Group (Dorota Gawęda and Eglė Kulbokaitė).
For the first time since its foundation in 1979, Baltic Triennial 13 is being organised by and taking place in all three Baltic countries: Lithuania (May 11 – August 12), Estonia (June 29 – September 2) and Latvia (September 21 – November 18). The three distinct exhibitions act as different chapters to form the Triennial.
Baltic Triennial 13 and each of its chapters are informed by a shared concern: what does it mean to belong at a time of fractured identities? The fluctuating notion of belonging, which can be understood to exist within the conceptual and formal framework of a relationship, allows us to think beyond identity as something fixed, self-contained and essentialised.
The exhibition in Tallinn will centre on sensuality and intimacy as parameters to take into account when reflecting on belonging. This chapter of the Triennial will address notions of the moving body, the fragmented body, the organic body, the political body and the desiring body.
The exhibition will be accompanied by a special programme at Kanuti Gildi SAAL performing arts space on 1 and 2 September.
The Tallinn chapter of Baltic Triennial 13 is co-produced by Center for Contemporary Arts, Estonia and Tallinn Art Hall.
___________________________________________________________________
For media inquiries please get in touch with Kaarin Kivirähk:
kaarin@cca.ee
More information: https://www.baltictriennial13.org/
___________________________________________________________________
Organisers:
Center for Contemporary Arts, Estonia (CCAE), Tallinn, EstoniaContemporary Art Centre (CAC), Vilnius, Lithuania
Kim? Contemporary Art Centre, Riga, Latvia
Curatorial Team:
Dina Akhmadeeva, Canan Batur, Neringa Bumblienė, Cédric Fauq, Anya Harrison
Exhibition installation:
Valge Kuup
Designer:
Tadas Karpavičius and Jan Tomson
Supported by: Estonian Cultural Endowment, Ministry of Culture of the Republic of Lithuania, Embassy of the Latvian Republic in Tallinn, Institut Français in Estonia, Estonian Embassy in London, The British Council in Estonia, Outset Estonia, The Swiss Arts Council Pro Helvetia, KulturKontakt Nord, DSV Global Transport and Logistics
Partners: Embassy of the Lithuanian Republic in Tallinn, arterritory.com, Raadio 2, Borealis Healthcare, Nordic Hotel Forum, Vivarec, Estonian Artists' Association, Estonian Contemporary Art Development Center
The Triennial celebrates the Centennial of the restored Latvia, Lithuania and Estonia.