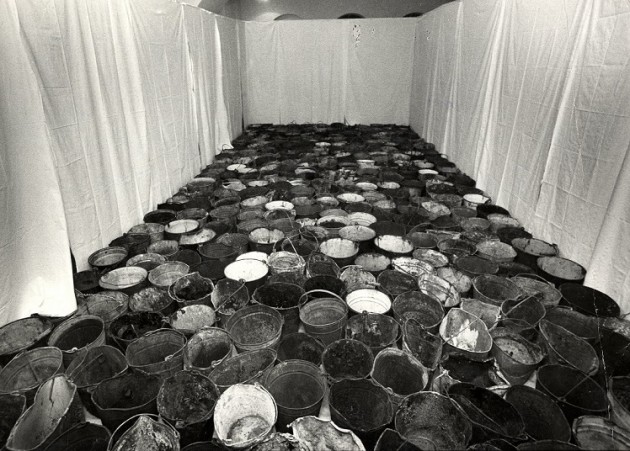 On 7 July, the third and final exhibition of Latvian Centre for Contemporary Art's exhibition cycle Divdabis was opened at the Latvian National Museum of Art featuring artists of two different time periods Oļegs Tillbergs and Jānis Filipovičs.
Curators of the exhibition Divdabis. Oļegs Tillbergs / Jānis Filipovičs Solvita Krese and Diāna Popova reveal that in terms of scale and materiality this is the largest and most ambitious duet of artists. Oļegs Tillbergs is the internationally best known Latvian artist of the 90s, one of the generation of "trespassers" of the time, who is characterised by a brave search for new forms of expression, using unusual objects in his monumental installations – Soviet warplanes, excavator buckets, whale bones and others – turning them into socio-political as well as poetic statements.
In the early 90s, while making the installation Flood, Tillbergs gathered hundreds of rusty buckets during his roams through Riga allotment gardens. Now he has done it again, this time using social networks and inviting residents of Latvia to take part in the gathering of buckets. In the work, countless rusted buckets, surrounded by white sheets, become a testament to individual and collective experience, drawing reflections on people's destinies and the flow of time.
Artist Jānis Filipovičs makes his works in ironic interplay with Tillbergs' creative work, fooling around with linguistic pirouettes and DIY approaches, imbuing everyday and usable objects with new image and functions.
"Jānis Filipovičs' works stand out with sparkling humour and lively imagination. In making witty objects from everyday sources, he also weaves in political and social critique.  By analysing the drastically changing political situation in the world, the escalation of military conflicts and simultaneously the start of the grilling season in our latitude, in one of the installations the artist will develop the subject of frying," tells Krese.
Oļegs Tillbergs (1956) and Jānis Filipovičs (1978) in their creative careers make installations, work with objects as well as making ironic and provocative comments on the society of their time. Oļegs Tillbergs is known since the late 80s with his multi-layered, poetic large-format installations, he is also one of the most visible "trespassers" of the time, who began working in the genre of installation at a time when it was neither a recognised nor appreciated form of artistic expression in the institutional art scene. Meanwhile artist Jānis Filipovičs, who graduated from the Department of Visual Communication at the Art Academy of Latvia, convincingly demonstrates the ability to combine irony and wordplay in various ways, creating new meanings of words and symbols in visually striking solutions.
The exhibition will be on view in the 4th Floor Exhibition Halls of the Latvian National Museum of Art from 8 July to 6 August.
The main financial supporters of the exhibition are State Culture Capital Foundation, ABLV Charitable Foundation and Riga City Council.