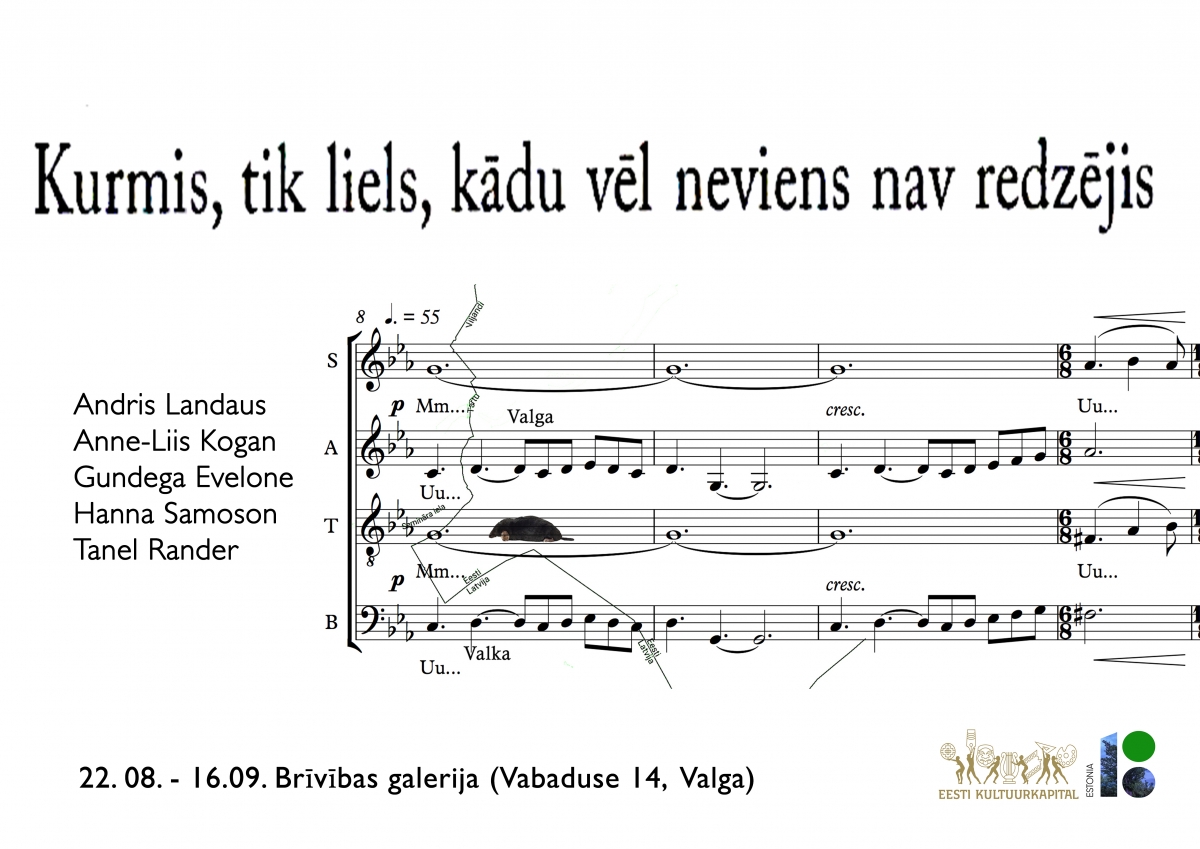 On 22nd of August the exhibition "A Mole, Larger in Size Than Ever Seen Before" will finish the two-year collective research "100 poplars", guided by Tanel Rander in Estonian/Latvian border town Valga/Valka. The exhibition brings together the works of Andris Landaus & Gundega Evelone, Anne-Liis Kogan and Hanna Samoson and points towards the possibility of miracles in the world that doesn't want to accept miracles. The exhibition also brings up a few of them – for example, the song written by Latvian music teacher Uldis Muizarajs in the 1960s, that speaks about love and friendship of nations in a border town; as well as the story of the borderline between two towns, drawn by British colonel Stephen Tallents. Besides this, the exhibition also faces the drives that generate peripherality and provinciality that form the context, where miracles would co-exist with rejection and abjection. The exhibition is curated by Tanel Rander.
On 23rd of August there will be performance "Don't leave…stay" by Anne-Liis Kogan in collaboration with composer Jaanus Karlson and choir singers. The performance is based on the song by Uldis Muizarajs and will take place at Valga Railway station.
The exhibition info is the following:
A MOLE, LARGER IN SIZE THAN EVER SEEN BEFORE
artists: Andris Landaus & Gundega Evelone, Anne-Liis Kogan, Hanna Samoson
22.08. – 16.09.2018 Brīvības galerija, Vabaduse 14, Valga
Performance "Don't leave…stay" by Anne-Liis Kogan, on 23rd of August, 7 PM at Valga Railway station
According to human logic, the size of a mole could be determined on the basis of size of molehills. Still, a molehill is just a small fragment of mole's activities, being unable to open any of these complicated systems that are hidden underground. Because of this irrelevant and unimportant fragment – especially, when they appear on a nicely trimmed grass – many moles lose their lives. As if a molehill, a miserable handful of dirt is everything that a mole would leave on this planet. Actually these handfuls are just made of exceeding soil, left from the process of creating underground burrows, complicated systems that have character and identity. After all, isn't it paradoxical that a molehill is simultaneously a hole and a mountain?
The text above is not the concept, theme or content of this exhibition. It is just a moment of thought and possible viewpoint to this show and its environment, i.e. Valga/Valka, Estonia, Latvia, Baltics, East Europe – small places and big regions, often found provincial and peripheral. Trying not to contribute to such stigmatization, but also, trying not to deny this, I herewith introduce you the actual contents of this exhibition.
In the 1960s a music teacher from Valka – Uldis Muizarajs – wrote a melody, a piano piece that spoke about a love story on the border, as well as about the friendship of nations. In the year 2005 lyrics were written for this song and later it was released on CD. Since last year Anne-Liis Kogan has been traveling between Oslo and Valga, researching that song. Lately she has been rehearsing an interpretation of this song in collaboration with composer Jaanus Karlson and choir singers Triinu Arak, Joonas Tomingas, Tõnis Hallaste, Kaisa Kuslapuu, Anne Visnapuu, Laura Hallaste, Elis Sõrmus, Hans-Hendrik Mikk, Andres Traks, Daniel Kütt, Elsa Trumm. On the 23rd of August at 7 PM Anne-Liis Kogan will present her performance "Don't leave…stay" in Valga Railway Station. The exhibition shows the documentation of this work.
Gundega Evelone, who curated the group exhition "The Place, where Everything is Better" in 2017 in Valga Museum, has come back to Valga together with her partner Andris Landaus. They have worked on a fictional documentary about the borderline that divided the town according to colonial traditions, driven by the hand of British colonel Stephen Tallents. This borderline still exists in the minds of local people. The artists also bring up the importance of railway that is used by Tallinn and Riga to impact and change the peaceful life of the periphery.
Hanna Samoson spent the most of July 2018 in Brivibas galerija that she used as her own studio. There she made a lot of paintings that were driven by unconscious impulses and external influences. These works can be seen as organic and autogenous, widely interpretable materials that originate from the exhibition site.
Tanel Rander – the one who writes this text here – is the curator of this exhibition. Since early 2017 he has been running his collective research project "100 poplars" and this year he also opened Brivibas galerija. As the current exhibition is the last one from the whole project, he wishes to make the following statement that also opens his own aims and motifs:
"Those, and I am one of them, who find even a small ordinary sized mole disgusting, would probably have died of disgust if they had seen the giant mole that a few years back was observed in the neighborhood of one of our villages, which achieved a certain transitory celebrity on account of the incident. Today it has long since sunk back into oblivion again, and in that only shares the obscurity of the whole incident, which has remained quite inexplicable, but which people, it must be confessed, have also taken no great pains to explain; and as a result of an incomprehensible apathy in those very circles that should have concerned themselves with it, and who in fact have shown enthusiastic interest in far more trifling matters, the affair has been forgotten without ever being adequately investigated."
From 23.08. to 02.09. the exhibition is open from Wednesday to Sunday 12.00 – 17.00.
In September the exhibition open only in the weekends, with a few exceptions (12.00 – 17.00).
The exhibition is supported by Nordic Culture Point, the Center for Contemporary Arts Estonia and their Estonia 100 art program "Comers, Goers and Stayers – the histories of Estonian communities", as well as by the Cultural Endowment of Estonia.
Anne-Liis Kogan (1984) is artist with Estonian-Russian origin. Being born in Tartu, she has lived in Norway since 1997. Her work explores notions of identity, displacement and community. Her actions are characterized by negotiating borders and participation, as well as dealing with misunderstandings and incomprehension. She often searches for connecting lines between historical objects and the present society. She works with performance, sound and video as well as community and relational projects. More info:
https://www.anneliiskogan.com/
Gundega Evelone (1988) is a multidisciplinary artist and curator. Although she holds an MA in Sculpture from the Art Academy of Latvia, her practice spans various mediums that are called upon as required in order to create an ever more encompassing staged version of reality that strives to wholly involve and influence the viewer. Andris Landaus (1971) is more popular like exhibition set designer, but working in art by himself he focus on conceptualism, searching paradoxes and irony. Both artists often work together and mix their different artistic methods to create entirely new art forms.
Hanna Samoson (1987) has studied in Baltic Film and Media School and graduated from the photography department of Estonian Academy of Arts. She has worked as press photographer and in television. She is a trickster-type of artist, her interests are related with risky and manipulated situations, as well as with staging such situations. Her work may seem to have auto-aggressive connotations. Lately she has been focused on painting.