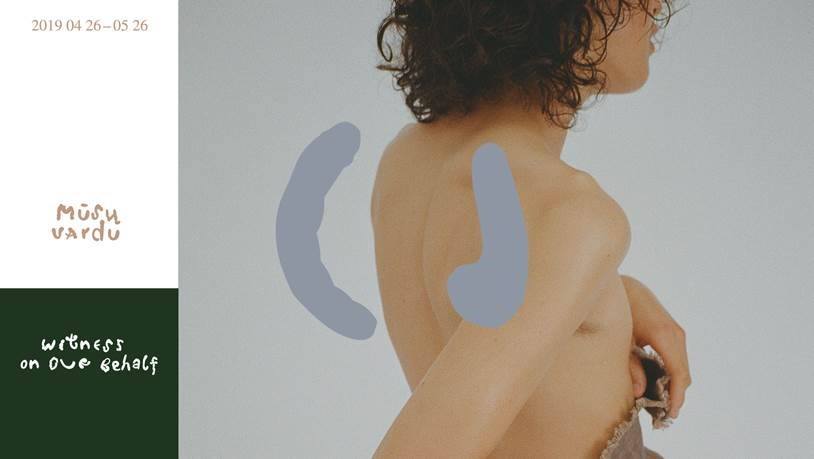 In her practice, Marija Olšauskaitė employs various modes of collaboration and explores the themes of relationships, openness, intimacy and belonging. To participate in a show Witness on our behalf she has invited friends, artists and other creators, in an attempt to create a space in which intimacy, affinity and privacy are exposed, and passers-by become guests. Curated and staged occurrences and events are experienced alongside continuous and out-of-control situations. Small talk, gossip, and bragging take place in full vulnerability and sharing, or the state of honesty and truth, becomes a given responsibility. As the participants exchange their ideas, authorship is no longer important. In the words of the artist, "Like a kiss between five people, you don't feel whose lips are whose, but it's definitely a kiss".
Participants in the show: Ms. Carrie Stacks, James Massiah, Eglė Budvytytė, Tomislav Feller, Carolyn Lazard, Elena Narbutaitė, Steve & Samantha, Dodomundo, Antanas Lučiūnas, Maria Tsoy, Ieva Kabašinskaitė, Raimundas Malašauskas, Jonas Žakaitis and others.
04.26 01:00
Larry B
04.27 19:00
James Massiah
04.28 15:00
Simonas Nekrošius
05.01
Eglė Budvytytė
Tomislav Feller
05.03
Dodomundo
Antanas Lučiūnas
05.07-12
Carolyn Lazard
05.18
Dragon Day
05.22-26
Common Dandelion
05.25
Steve & Samantha
and further appearances
Curator: Asta Vaičiulytė
Graphic design: Monika Janulevičiūtė
This exhibition has been supported by the Lithuanian Council for Culture. We are grateful to our sponsors UAB "Lonas", the mattress and bed furniture manufacturer, for generously donating soft furnishings and UAB "Arclights" for their kind loan of lighting equipment for the photoshoot.
Special thank you to Elvita Brazdylytė, Giedrė Kabašinskienė, Martynas Kazimierėnas, Jurgis Paškevičius, Jonas Žukauskas, Jurga Daubaraitė, Aleksandra Krivulina, Viktoras Spartakas Jugaj, Mykolas Olšauskas, Donatas Jankauskas, Nick Bastis, Antanas Gerlikas, Audrius Antanavičius, Almantas Lukoševičius, Ilona Virzinkevič, Ivanas Vilkoicas, Viktoras Musteikis, Antanas Dombrovskij, Visvaldas Morkevičius, Aurelija Juškevičienė, Marta Lekavičiūtė, Akvilė Zakarauskaitė, Raimondas Zigmundas Šibakovskis, William Kim, Beatričė Brėdikytė, Julija Steponaitytė, Miglė Vyčinaitė, Dorota Gawęda.