Lithuanian Pavilion at the 58th Venice Biennale
'Sun & Sea (Marina)'
Lina Lapelytė, Vaiva Grainytė, Rugilė Barzdžiukaitė
08 May – 31 October 2019
Marina Militare, Fondamenta Case Nuove 2738c Venice, Italy
(Map: https://bit.ly/2uY43me)
Opening Events:
Vernissage: Friday 10 May, 4pm
Opening Talk: Daisy Hildyard *
Opera-performance during the opening week: 8-12 May, 10am-7pm
Later the performance will take place on Saturdays from 10am to 6pm
The beach installation is open on Tuesdays-Sundays
Curator: Lucia Pietroiusti
Commissioner and Producer: Rasa Antanavičiūtė
Honorary Commissioner: Jean-Baptiste Joly
Organiser: Nida Art Colony of Vilnius Academy of Arts
Imagine a beach – you within it, or better: watching from above – the burning sun, sunscreen and bright bathing suits and sweaty palms and legs. Tired limbs sprawled lazily across a mosaic of towels. Imagine the occasional squeal of children, laughter, the sound of an ice cream van in the distance. The musical rhythm of waves on the surf, a soothing sound (on this particular beach, not elsewhere). The crinkling of plastic bags whirling in the air, their silent floating, jellyfish-like, below the waterline. The rumble of a volcano, or of an airplane, or a speedboat. Then a chorus of songs: everyday songs, songs of worry and of boredom, songs of almost nothing. And below them: the slow creaking of an exhausted Earth, a gasp.
'Sun & Sea (Marina)' is a contemporary opera-performance by Rugilė Barzdžiukaitė, Vaiva Grainytė and Lina Lapelytė, which takes place on an artificial beach. More than 20 participants and singers in colourful bathing suits are lying next to each other on a sandy ground, while the audience observes them from above, as though from the point of view of the sun.
* Daisy Hildyard is a novelist and academic. Hildyard has a PhD on early-modern scientific literature. Her first novel, 'Hunters in the Snow' received the Somerset Maugham Award and a '5 under 35' honorarium at the USA National Book Awards. Her latest book, 'The Second Body', is an essay on the Anthropocene.
The Lithuanian Pavilion at the Venice Biennale is presented by the Lithuanian Council for Culture and the Ministry of Culture of the Republic of Lithuania
Patrons: JCDecaux, Lewben Art Foundation, The Momentary
Supporter: MailerLite
More info:
Home: www.sunandsea.lt
Facebook: operasunandsea
Instagram: @sunandsea_lt

Latvian Pavilion at the 58th International Art Exhibition
"Saules Suns" by the artist Daiga Grantiņa
Curators: Inga Lāce, Valentinas Klimašauskas
Organized by: Kim? Contemporary Art Centre, Latvian Centre for Contemporary Art- LCCA
Project "Saules Suns" is a multi-centred landscape that unfolds around several suns, several sources of light traversing manifold materials and shapes. As if the scene of some cosmological dawn, it opens itself up as a site and moment for the generation of possibilities. Our sense of these possibilities, which is mirrored in the diversity of the shapes that appear across the landscape, in the range of their spatial and physical attributes, is strengthened by the multitude of possible perspectives and paths through the installation.
The organizers of the Latvian Pavilion 2019 would like to express their gratitude to the general supporters of the project – The Ministry of Culture of the Republic of Latvia (Latvijas Republikas Kultūras ministrija), Jānis Zuzāns, SIA Alfor and Galerie Joseph Tang – as well as to the supporters of the exhibition: Magnetic Latvia, Delfi.lv , Arctic Paper Latvija, KRASSKY, Mousse, BTA Latvija and Pēteris Viņķelis.
More info:
Home: www.latvianpavilion2019.lv
Facebook: LVPavilion2019
Instagram: @latvianpavilion2019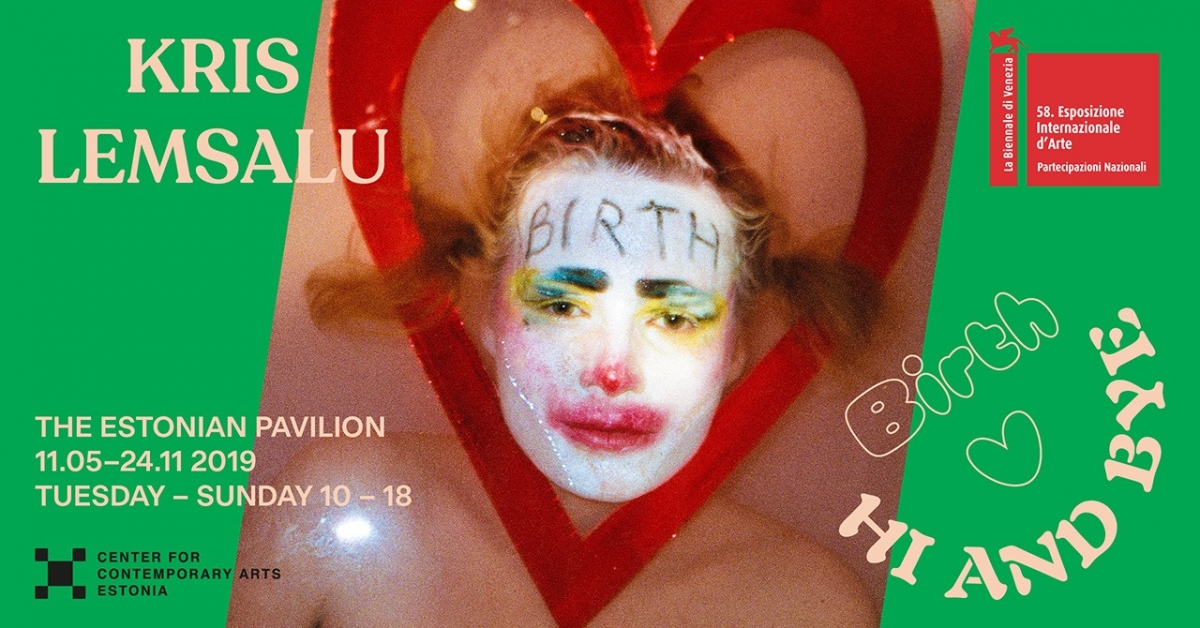 Estonian Pavilion at the 58th Venice Biennale
Kris Lemsalu "Birth V – Hi and Bye"
Estonian Pavilion address: c/o Legno&Legno, Giudecca 211, 30133 Venezia (vaporetto stop Giudecca Redentore).
The inauguration of the Estonian Pavilion at the 58th Venice biennale will be on 10th of May at 17 with Kris Lemsalu's solo show "Birth V – Hi and bye". The exhibition opening will be accompanied by a performance by Kris Lemsalu, Roman Lemberg, Michael Kleine, Kyp Malone, Michiko Takahashi, Carola Caggiano.
Kris Lemsalu was born in 1985 in Tallinn, Estonia, and lives and works between Vienna and Tallinn. She creates mixed-media sculptures, installations and performances with unexpected materials. Lemsalu's pieces evoke the bestial side of human beings and civilizations and are often underscored by feminist themes. Lemsalu has shown at Goldsmiths' CCA (2018), Secession Vienna (2018), as part of Performa 17 (2017), DRAF performance night (2017), Bunshitu Gallery, Tokyo (2015), Ferdinand Bauman Gallery, Prague (2015) and is represented by Koppe Astner, Glasgow and Temnikova & Kasela, Tallinn.
Among the writers, artists, curators and friends Lemsalu invited collaborate with her on the exhibition include Andrew Berardini (1982, based in Los Angeles) a writer of quasi-essayistic prose poems about permeability between fiction and reality; Sarah Lucas (1962, based in London)—artist, friend and a mentor of Kris Lemsalu; Irene Campolmi (1987, based in Copenhagen) whose curatorial research focuses on various performative endeavours that think through postcolonial, queer and feminist theories, and Tamara Luuk (1952, based in Tallinn) who has been Kris´ friend and collaborator for a long time, currently working as the contemporary art curator at Tallinn Art Hall.
The Venice biennale is the oldest and biggest international art even. Estonia has participated with national pavilion since 1997. The 58th International Art Exhibition will happen from 11.05 – 24.11.2019, the curator of the exhibition is Ralph Rugoff, director of Hayward gallery in London.
The Estonian Pavilion is commissioned and organized by Center for Contemporary Arts, Estonia and supported by Estonian Ministry of Culture.
Team
Commissioner: Maria Arusoo (CCA)
Communication manager: Kaarin Kivirähk (CCA, kaarin@cca.ee)
Production managers: Evelyn Raudsepp, Sten Ojavee (CCA)
Production assistant: Aleksandra Kiskonen
Designer: Aadam Kaarma
Head of installation team: Tõnu Narro
Partners: Eesti Kultuurkapital, COBALT Advokaadibüroo, DSV transport, Outset Estonia, Silber Auto, Eesti Kunstnike Liit, Elusia, Bekker, Leffe, Temnikova ja Kasela galerii, Koppe Astner galerii
Exhibition
Solo show by Kris Lemsalu "Birth V – Hi and bye" at the Estonian Pavilion at the 58th International Art Exhibition – la biennale di Venezia
Location: The Estonian Pavilion, c/o Legno&Legno, Giudecca 211, 30133 Venezia
Open: 11.05.2019 – 24.11.2019 (press and professional preview 8. – 10.05)