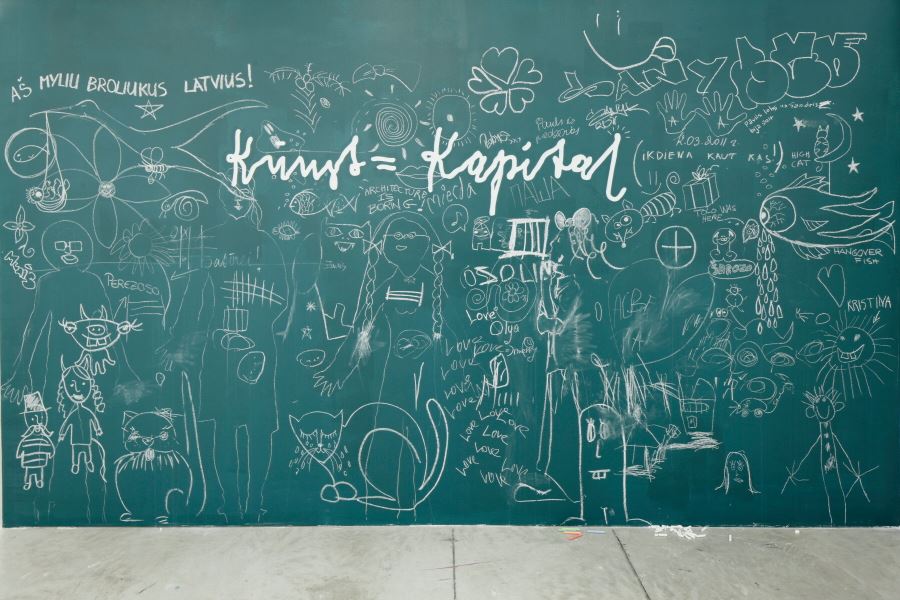 With a large dose of self-irony, whereby the title alludes to the possibility that the first season will be followed by at least one more, the artist presents a retrospective of her work over an 11 year period. The works and cycles of works on view in the exhibition were created during the period from 2005–2016. The most significant and personal of these include the intimate Investigation and Kunst > everyday nothing, which was acclaimed overseas and traces the change in the artist's signature style, her searches for a different form, and transition from works on a plane created in the multi-layered silkscreen medium to her interest in the interaction of space, the work of art and the viewer.
There is a similarity between the artist's long-term work and a series, whose composition is comprised of mutually unrelated episodes interwoven by a certain style. Crucially, the inner dynamics of the story can only be understood after watching all the episodes. Thus, on this occasion, I will assemble works that, until now have only been on view in individual episodes, in the hope of obtaining new experience working with a bigger and more complex form.
LI BOND (Liena Bondare) was born in Alūksne, Latvia in 1980. She received her MFA and Vilhelms Purvītis grant for her diploma work from the Art Academy of Latvia in 2006. To date, Liena has had nine solo exhibitions, including solo shows at gallery "Māksla XO" (2013), the Riga Art Space INTRO Hall (2011) in Latvia and Kulturspiecher Dorenthe during Munsterland Festival Part 4 (2008) in Germany. She has also participated in numerous group exhibitions, residencies and projects in Latvia and abroad, including shows at KUMU Art Museum in Tallinn (Estonia), Gallery Vartai in Vilnius (Lithuania), Novas Gallery in London (UK), Horst Janssen Museum in Oldenburg (Germany) Contemporary Art Gallery in Opole (Poland) and MOCAK – Museum of Contemporary Art in Krakow (Poland). Since 2004, Liena Bondare has participated in several international printmaking contests, including the 13th and 15th Tallinn Print triennials, International Print Triennial – Krakow 2012 and BIECTR in Quebec. In 2012, Liena received an honourable mention from "22 Premio Internacional de Gráfica Máximo Ramos 2012" Centro Torrente Ballester in Spain for her work Kunst >everyday nothing and 3rd prize at the 1st International Printmaking Biennial in Kaunas.
Liena Bondare was one of the organizers and the main curator of Latvian part "Et nuit illumina la nuit" of the exhibition "EXPOSITION D'ART CONTEMPORAIN BALTE" in Cite Internationale des Arts in Paris, France (2008) and contemporary printmaking exhibition "Power and man" in Novas Gallery, London, UK (2006). She has been the curator of 12 other exhibitions in Latvia and abroad.
Since 2005, Bondare has taught drawing at the Riga School of Design and Art and from 2006 – 2009 she was a lecturer in silkscreen at the Art Academy of Latvia. Her works can be found in the collection of Frans Masereel Centrum (Belgium), the Latvian National Museum of Art and Daugavpils Mark Rothko Art Center (Latvia).
Liena Bondare lives and works in Riga, Latvia.
For more information, please visit: http://lienabondare.lv/
Šiualiai Art Gallery
Vilniaus St. 245, Šiauliai
Lithuania