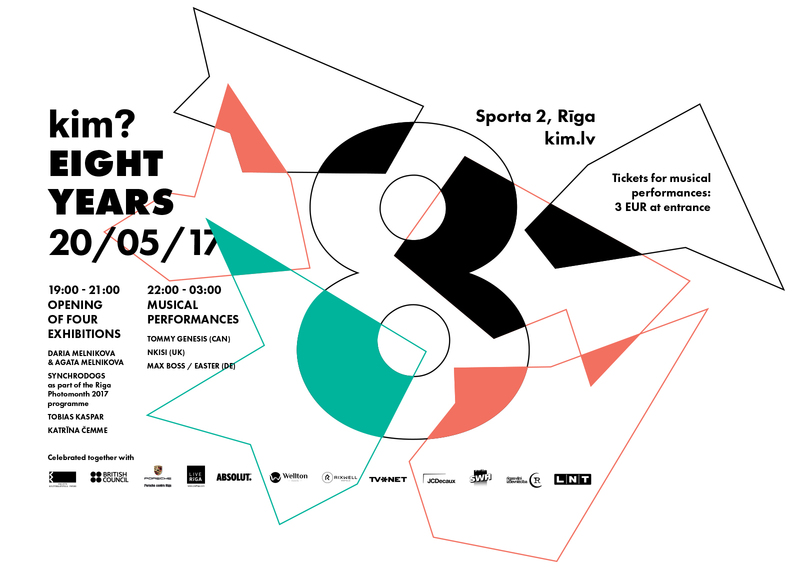 kim? Contemporary Art Centre is turning eight this year!
Since opening our doors in the summer of 2009, we've organised more than 160 exhibitions in Latvia and abroad and have attracted and welcomed more than half a million visitors to our events across the globe.
To celebrate the accomplishments of our past years and mark our prospective horizons, we are thrilled to invite you to the biggest party we've thrown yet – our birthday celebration on May 20th.
Packed full with musical performances & dancing till the sun rises; to toot our own horn, it will be the amazing season centrepiece!
19:00 – 21:00
VERNISSAGE
DARIA MELNIKOVA & AGATA MELNIKOVA
"Dancing Specularity"
Synchrodogs
"Back to Nature"
as part of the Riga Photomonth 2017 programme
TOBIAS KASPAR
solo show
KATRĪNA ČEMME
"What is Lost is Lost Forever"

22:00 – 03:00
MUSICAL PERFORMANCES IN THE COURTYARD
TOMMY GENESIS (CAN)
NKISI (UK)
MAX BOSS / EASTER (DE)
Tickets: 3 EUR at the door
More info to come.
Celebrated together with:
Porsche Latvija, LIVE RīGA, Valsts kultūrkapitāla fonds, British Council Latvia, ABSOLUT, Piens, Wellton Centrum Hotel & SPA & Rixwell Terrace Design Hotel, Izdevniecība Rīgas Viļņi, Pastaiga, JCDecaux, Radio SWH, Tvnet.lv