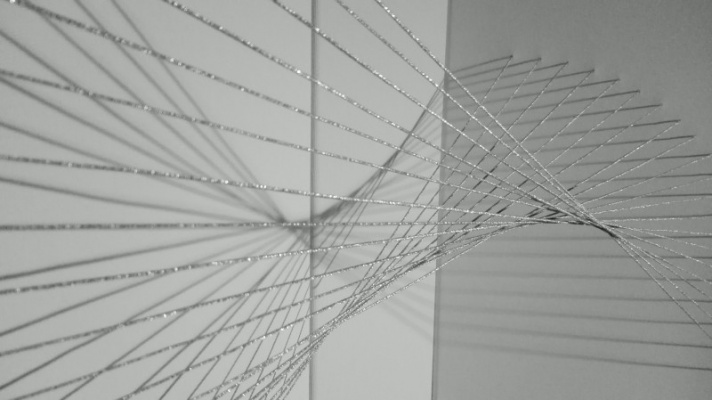 On September 14th (Friday) at 6pm in gallery's "Meno parkas" (Rotušės a. 27, Kaunas) ground floor exhibition space will be opening of exhibition "Spacetime" by Polish artist Katarzyna Tretyn-Zečević.
The search for individual artistic path of Katarzyna Tretyn-Zečević oscillates around the workshop experiment. She sees the future of art in new technologies, which should, however, derive from tradition. Therefore, her workshop is based primarily on the broidery tradition. By embroidering on canvas (mostly large format), she intertwines the tradition of painting, applied art and science.
In 2015, she began cooperating with the Foundation of Aleksander Jabłoński and the Astronomical Observatory in Piwnice near Toruń (Poland). This collaboration resulted in artistic projects created at the interface of two areas: science and art.
The idea of spacetime project manifests in the observation of the invisible or what we are not yet able to see. The title itself refers to Einstein's theory, which has intertwined a gravitational field into one structure, time and space (space-time).
In her work, she raises the problem of the search for identity by a modern man. She wonders – who we are and where we are, where we come from and where we are going. She also looks at the language of communication and interpersonal relations. Her art describes the world through images, soundtracks and art objects, installations.
Katarzyna Tretyn-Zečević born in 1983, Włocławek lives and works in Toruń and Bydgoszcz, Poland
More about the artist: http://kt-z.pl/en/
Exhibition time: 14 09 2018 – 05 10 2018