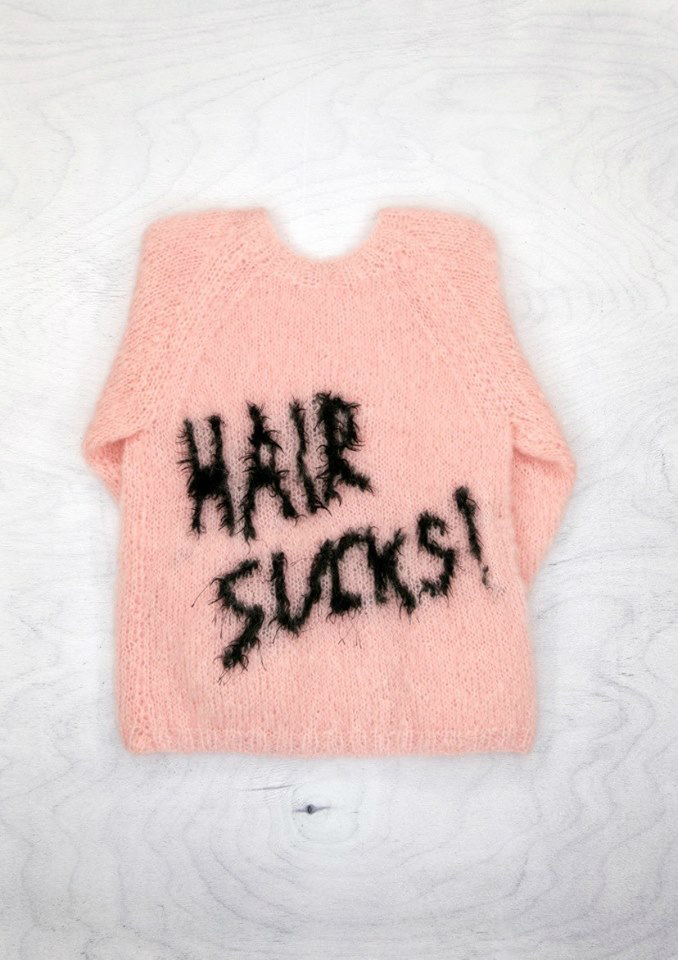 The Hair Sucks Sweater Shop exhibition is a pop-up boutique for admiring, experiencing and purchasing a wide selection of knitted wool sweaters with patterns based on graffiti tags extracted from urban environments.
The images and text used in the patterns originate from the streets of Tallinn and other European cities and probe the topic of sexuality and queerness. All sweaters come with the original location of the graffiti marked on the label, reflecting the artist's subjective experience of urban space.
This hybrid exhibition intentionally seeks to blur the border between art and design. Instead of being elitist, art pieces shown in the gallery on this occasion are accessible and ready for quick consumption. Turning the gallery space into a retail shop should not be read as a critique towards consumerist practices. On the contrary, the gallery as a space of consumption feels less intimidating and opens itself up to a new set of visitors. The main aim of the exhibition is for the sweaters to leave the gallery and continue the exhibition outside the space with the help of everyone who purchases a sweater to wear in public.
The Hair Sucks Sweater Shop exhibition is accompanied by a catalogue / DIY manual published by Lugemik with a book presentation at the opening.
Knitters: Anu Schotter, Mare Tralla, Olja Shapovalova, Epp Hõrak, Kitti Einseln, Mari Prekup, Katarina Meister, Raune Kobin, Johanna Rõigas, Inga Prokotjeva, Kirke Kangro, Anna-Magdaleena Kangro, Maret Sirkel, Anu Mulla.
Exhibition project manager: Jaanika Okk
Exhibition design: Argo Peever
Photos: Anu Vahtra, Madis Luik
Technical team: Pille Jüriso, Johannes Säre, Villem Säre