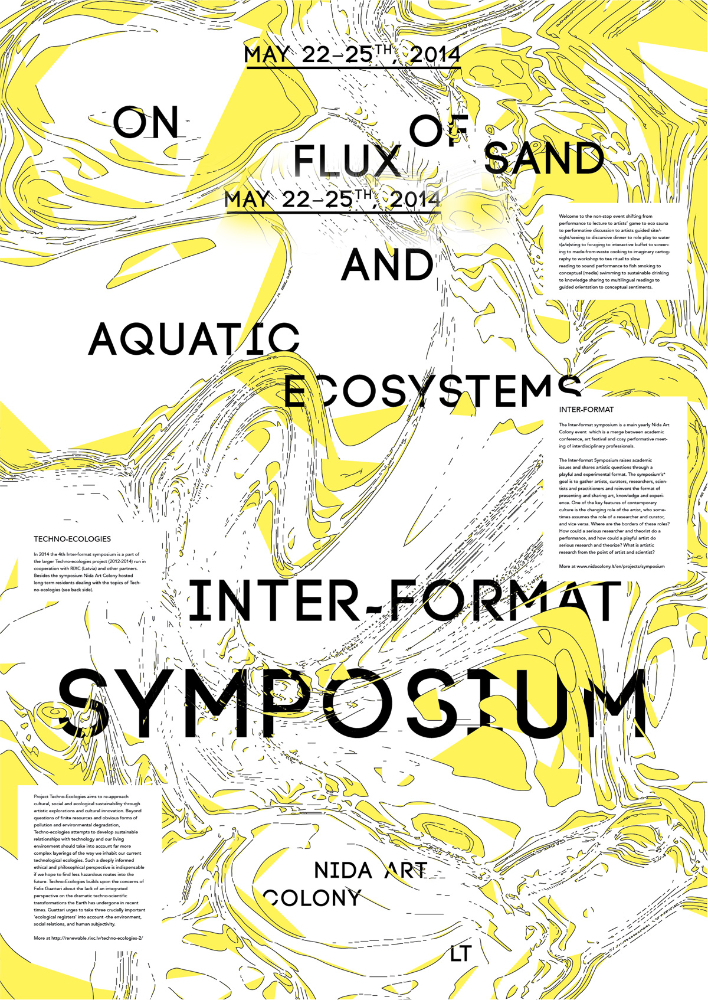 Welcome to the non-stop event shifting from performance to lecture to artists' game to eco sauna to performative discussion to artists guided site/sight/seeing to discursive dinner to role play to water t(a/e)sting to foraging to interactive buffet to screening to made-from-waste cooking to imaginary cartography to workshop to tea ritual to slow reading to sound performance to fish smoking to conceptual (media) swimming to sustainable drinking to knowledge sharing to multilingual readings to guided orientation to conceptual sentiments.
The Inter-format symposium is a main yearly Nida Art Colony event which is a merge between academic conference, art festival and cosy performative meeting of interdisciplinary professionals.
In 2014 the 4th Inter-format symposium is a part of the larger techno-ecologies project (2012-2014) run in cooperation with RIXC (Latvia) and other partners. Besides the symposium Nida Art Colony hosted long-term residents dealing with the topics of Techno-ecologies. This year during the symposium will come together over 50 artists, curators, scientists and researchers from Canada to Latvia.
Topics, questions and keywords in the symposium:
MAN AS ECOSYSTEM: Exploring liminal passages through interplay of man and nature.
BRACKISHNESS: Challenges found by probing (dis)balances caused by human impact on sweet and salt water conditions.
MOVING SANDS: Case studies on local histories of Curonian Spit, from sand dessert, with XIX century dunes fixation and buried villages to forestation of dunes and green cube.
TECHNOLOGY-MADE NATURE: Predictions and scenarios of XXII century futurological forecasts with historical XIX century interventions in mind, nature as critical inspiration instead of romantic with questions of technological bridge and divide.
SEASONAL DRAMAS: coastal survival strategies with Nida as exemplary case to experience desert and frozen landscapes. Both as seasonal phenomena and by manmade interventions (like UNESCO programs).
FROM COMMUNITY TO COMMUNE TO COLONY: Coping and coexisting with invasive exotic species, both human and natural, as settlers, artists and cormorants (birds), issues of isolation, living in (presumed) secluded communities.