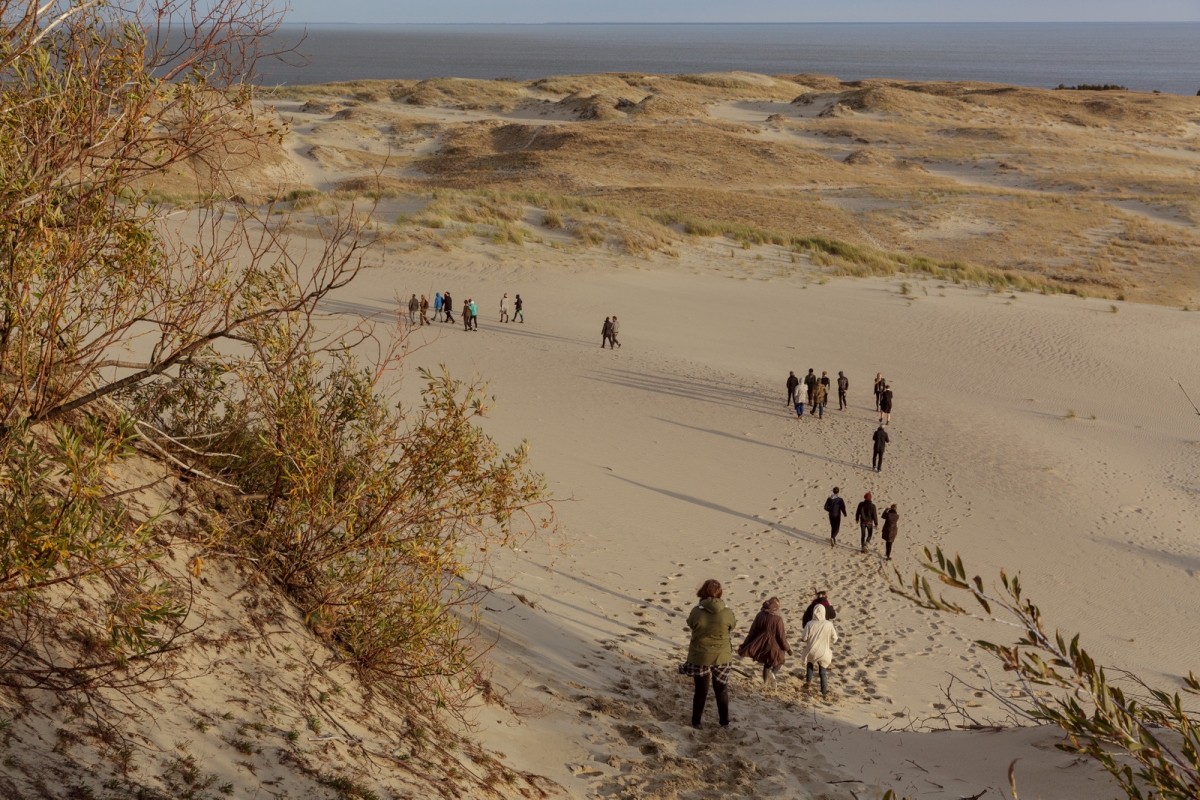 To celebrate the fifth anniversary of its activities, Vilnius Academy of Art's Nida Art Colony will host an inaugural weekend on 21-22 May. It will feature the official opening not only of the new building of the colony, but also an exhibition that will be shown in the spacious exhibition hall in this new facility until 19 June.
Expanded not only in size, but also in the scale of the projects
Nida Art Colony, in Neringa on the geographical periphery of Lithuania, is a branch of Vilnius Academy of Art dedicated to art and education. It has grown up on the foundation of some Soviet-era warehouses acquired by the Academy in the 1990s. The project was realised by the studio of the architect Algimantas Kančas. When the renovation of the third building was completed in 2015, NAC became an integrated building complex, with a total of 2,500 square metres of floor space. It provides opportunities for Lithuanian and foreign artists to hold exhibitions and concerts, as well as to realise other projects using professional audio and visual equipment.
In recent years, Nida Art Colony has expanded, not only in size, but also in the scale of the projects it implements. Since 2011, when the artist-in-residence programme was started, about 250 artists and other professionals from the field of culture have stayed at Nida Art Colony. The main areas of activity of Nida Art Colony – international artistic research and educational projects, and a residency programme for professional artists – are complemented almost every year by several important projects. Last year, the Colony looked after the Lithuanian Pavilion at the 56th Venice Biennale, with a project entitled Museum by the Lithuanian artist Dainius Liškevičius.
This year, Nida Art Colony's two-year-long collaborative residency and exhibition project between six institutions in three countries (Iceland, Lithuania and Norway), entitled Climbing Invisible Structures, has approached the exhibition stage.
During the inaugural weekend, an exhibition will open in the new exhibition hall, where it will be shown until 19 June.
The opening of the "Climbing Invisible Structures" exhibition
"Climbing Invisible Structures: Ritualised Disciplinary Practices in Social Life. Part 2: Nida" is the second part of an exhibition project comprising four venues, and the first one to include works by all ten artists. The idea of "climbing invisible structures" invokes something hidden, something to be discovered, but also something vertiginous and inaccessible. It invites us to engage and reflect on the complex relationship between references and meanings that pervade our social life. The works in this exhibition point to a wide range of practices, connecting actions carried out by people who lived a long time ago with contemporary rituals, ranging from social and spiritual practices familiar to everyone, to contemporary strategies structuring the conditions of art production and management. The works explore, question, disrupt, modify and fictionalise established beliefs, disciplines and mundane habits, and outline directions for new ones.
During the opening of the exhibition, Augustas Serapinas (LT) will carry out a performance, and a radio programme produced by Tanya Busse (NO/CA) will be broadcast.
The next venues will be in Žeimiai (30 July to 28 August 2016) and Lillestrøm (Nørway, 10  February to 12 March 2017).
Live concert by a Latvian duo and a sound performance with sugar
The Latvian duo Dora (electronic, indie pop) is coming to the inaugural weekend at Nida Art Colony on 21-22 May, together with the Icelandic artist Berglind Jóna Hlynsdóttir. The band, which has performed in the biggest arenas around the Baltic, and participated in various European music festivals, will play live at Nida Art Colony.
The studios of the current artists-in-residence will also be open during the festive weekend. One of the residents, the Taiwanese artist Wen Chin Fu, will present a sound performance involving a percussion instrument made from crystallised sugar, called Tang.
Nida Art Colony seeks to be an open and active centre of culture and art for holidaymakers and tourists in Nida during the summer season. The inaugural weekend will be continued in another exhibition of work by returning residents entitled Hybrid Landscapes (curated by Vytautas Michelkevičius), scheduled for 23 July to 28 August, and the forthcoming session of Nida Doctoral School (curated by Justė Kostikovaitė) on 22-28 August. With this celebratory opening of its new building, Nida Art Colony is entering a new stage of activity, and hopes to attract visitors to Nida with interesting and high-quality contemporary art projects even after the summer is over.
Photo by Andrej Vasilenko.