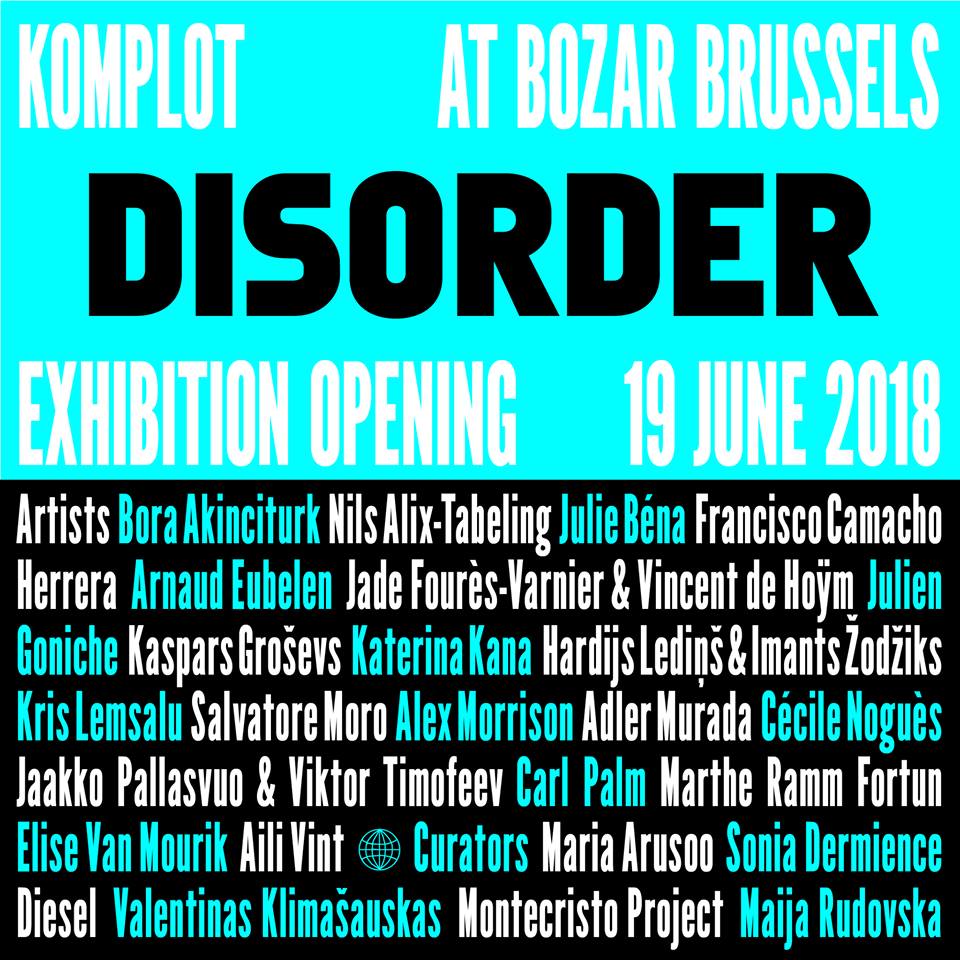 Somewhere in Between: Contemporary Art Scenes in Europe
19 June '18 — 19 August '18
BOZAR
Etablissement d'en face
Galeria Bunkier Sztuki
KASK & CONSERVATORIUM School of Arts Gent
kim? Contemporary Art Centre
Komplot
La Loge
have the pleasure of inviting you to the opening of the exhibition
SOMEWHERE IN BETWEEN
CONTEMPORARY ART SCENES IN EUROPE
> bit.ly/SomewhereinBetween-opening
on Tuesday 19 June 2018 at 7.00 pm
Centre for Fine Arts, rue Ravensteinstraat 23, 1000 Brussels
The opening will be followed by DJ sets from Baltic Interior, DJ Flora and Abel Auer.
Five independent artistic players (Etablissement d'en face / La Loge / Komplot / KASK, School of Arts Ghent / Bunkier Sztuki Gallery of Contemporary Art / kim? Contemporary Art Center) are given carte blanche in the spaces of the Centre for Fine Arts, BOZAR. They present a selection of work by artists and curators from their extensive international network.
104 works, 74 artists, 25 curators
The exhibition brings together the multiple realities of art practices from all over Europe. It is both a meditation on Europeanness and an attempt to gather stories, experiences, relations and encounters from a wide range of artists, curators and other engaged individuals. BOZAR gives carte blanche to five artistic constellations: Brussels-based art spaces Etablissement d'en face, Komplot and La Loge; KASK School of Arts (Ghent) and its Kunstenbibliotheek and students of Curatorial Studies; and the Orient project presented in collaboration with Kim? Contemporary Art Center (Riga) and Bunkier Sztuki (Kraków). Together they engage in a journey seen from a point in space and time, constructed with artists chosen not upon nationality but via relation. Somewhere in Between provides a unique window on today's artistic hotbeds of Europe, it's developments and conversations across the continent, from Brussels to Riga, from Prague to Athens, from Kraków to Lisbon, from Tbilisi to Rotterdam,…
These alliances are indicative of today's European art scenes where artists roam freely, without the geographic restrictions or institutional constraints that once defined the continent.
Artists: Abel Auer, Steinar Haga Kristensen, LIFE SPORT, Dan Perjovschi, Apparatus 22, Bebe Books (Ruud Van Moorleghem & Mert Şen), Goeun Choi aka Chego, Karol Radziszewski, Doireann O'Malley, Jean-Samuel N'Sengi, JF. Pierets, Jurgen Ots, Marie-Fleur Lefebvre, Marijke De Roover, Megan-Leigh Heilig, Mikolaj Sobczak & Nicholas Grafia, Simone Gad, Aline Bouvy, Mathias Prenen, Ugo Woatzi, Kiwanoid, Andris Indans & Laura Ziemele, Kara-Lis  Coverdale, Jelena Glazova, Gundega Graudina, Patrick Tubin McGinley, Raul Keller, Kaspars Groševs, Lisa Rave, Ana Vaz, Tinne Zenner, John Smith, Maxime Jean-Baptiste, Raoul De Keyser, Albert Setola, Balder (Boudewijn Van Hoecke), Roger Raveel, Pol Mara, Willy Plompen, Johan Mahieu, Willy Van den Bussche (ed.), Dirk De Vos (ed.), Natalia Kozhukhovskaya, Bora Akinciturk, Nils Alix-Tabeling, Julie Bena, Francisco Camacho Herrera, Arnaud Eubelen, Jade Fourès-Varnier & Vincent de Hoÿm, Julien Goniche, Katerina Kana, Hardijs Lediņš, Imants Žodžiks, Kris Lemsalu, Salvatore Moro, Enrico Piras, Alessandro Sau, Alex Morrison, Adler Murada, Cécile Noguès, Jaakko Pallasvuo & Viktor Timofeev, Carl Palm, Marthe Ramm Fortun, Aili Vint, Elise van Mourik, Jan Brož, Adam Kokesch, Jiří Kovanda, Alice Nikitinova, Vlad Nancă, Jasanský & Polák, Julius Reichel, Jiří Skála, Romana Drdová, Matei Bejenaru, Jiří Černický, Darja Bajagić, Veronika Bromová, Anetta Mona Chişa & Lucia Tkáčová, Matyáš Chochola, Aurora Király, Dragana Sapanjoš, AВДeЙ Тeр-ОганЬян (Avdey Ter-Organyan), Mark Ther, Christian Steiner, Jana Želibská, Marge Monko, Habima Fuchs, Zsófia Keresztes, Pavla Malinová, Atis Jākobsons, Ioana Nemeş, Adéla Součková, Petr Štembera, Pavel Brăila, Piotr Bosacki, Václav Litvan, Adrian Kiss, Jerzy Truszkowski, Piotr Łakomy, Gizela Mickiewicz, Jimena Mendoza, Richard Nikl, Emöke Vargová, Martin Vongrej, Wojciech Bąkowski, David Maljkovic, Pakui Hardware, Anežka Hošková, Andreas Angelidakis, Andros Zins Browne, Hanne Lippard, Michaël Van den Abeele, Cave Club, DIK Fagazine, feeelings, Sabrina Chou, Juliette Le Monnyer
Curators: Maria Arusoo, Griet Bonne, Hilde Borgermans, Nathalie Cohen, Romuald Demidenko, Christine Denamur, Sonia Dermience, Maaike Descendre, Liliana Do Nascimento, Eva Dobbels, Maxime Gourdon, Laura Herman, Antony Hudek, Hélène Jacques, Valentinas Klimašauskas, Alice Lefebvre, Xavier Mary, Marta Masiero, Alicja Melzacka, Michal Novotný, Enrico Piras, Bert Puype, Els Roelandt, Maija Rudovska, Alessandro Sau, Anne-Claire Schmitz, Benedict Vandaele, Etienne Wynants, Anna Zhironkina
FREE entrance.
Places are limited so so registration is required: http://bit.ly/2tcopHs
BOZAR
Centre for Fine Arts
Rue Ravensteinstraat 23, 1000 Brussel
+3225078200
Opening hours:
Tuesday — Sunday : 10 am — 6 pm
Thursday : 10 am — 9 pm