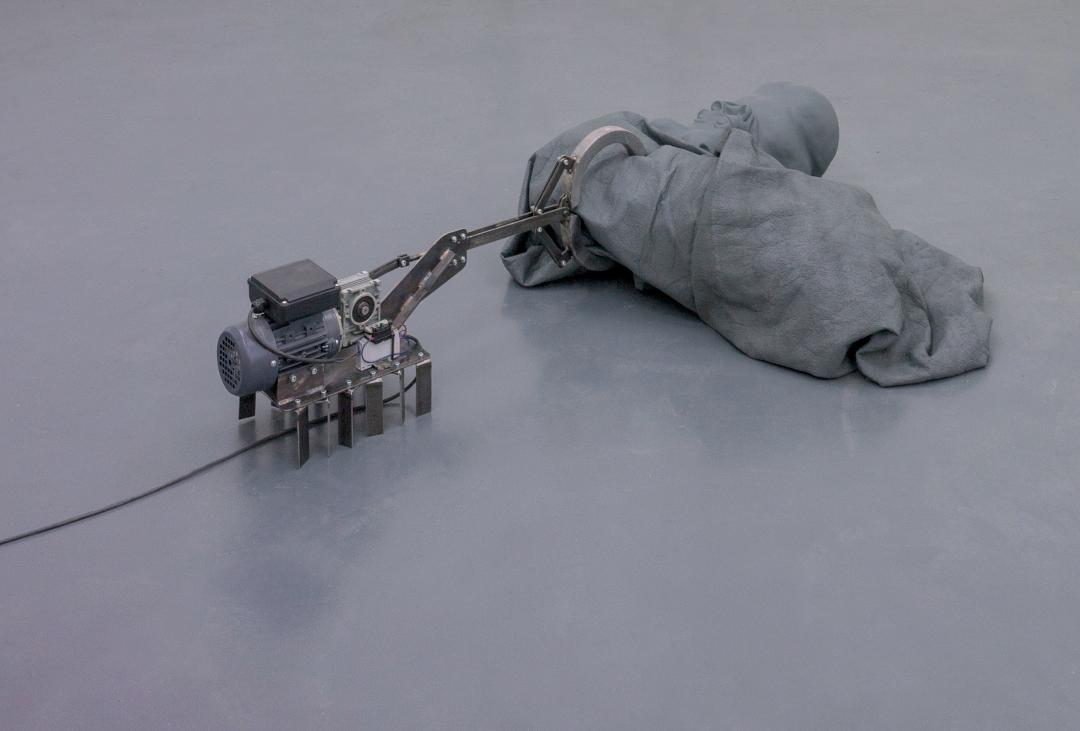 'Great Memories (sizewise)' is Kristaps Ancans first institutional solo show in Latvia. The new body of work consists of kinetic sculptures and two-dimensional objects, some of the artworks on view are site specific.
Kristaps Ancans views preliminary given interpretations of artwork as rather distrustful and this criticism reminds the borderline ilustrated by Susan Sontag, when she argues: 'What we decidedly do not need now is further to assimilate Art into Thought, or (worse yet) Art into Culture.'1 Artist compares his work to 'a game that has a nature of artificial intelligence'. His manner can be seen already in the title of the show, where by using capital (Memories) he saturates the word with excitement in the same way as Sontag does. As in his previous shows, Ancans plays with the concept of 'artificial nostalgia'. Emotionality and its social tradition is a counterpoint of the exhibition.
Kristaps Ancans was born in 1990 in Livani, Latvia. He attained a Bachelor degree in Painting from the Art Academy of Latvia in 2014 and a Master of Arts degree (with distinction) in Fine Art from the Central Saint Martins College of Art and Design in 2016. His most recent group shows include: Seep, PEER, London (2017), Creekside Open, selected by Alison Wilding, A.P.T Gallery, London (2017), Less Tight Limes, Mafa Chelsea Gallery, London (2017), performance 'Impositions' Tate Exchange, Tate Modern Blavatnik Building, London (2017), UKYA National Biennale: Derby 2016, Museum and Art Gallery, Derby (2016), Industrialism, Contemporary Art Gallery Livani, Livani, Latvia (2016), Inside/Outside, House on Patriarch Ponds, Moscow (2016).
In his artistic practice Kristaps Ancans employs elements of painting, sculpture, installation, designe and ready-made in experimental fusion. The titles of his artworks are often figurative and descriptive, examples from current exhibition would be: 'The mechanism that grabs is watched by the hippopotamus', 'The duck finds two balls in a box, which over time has been surrounded by grass', 'It is easy to assume most activities are pretty awkward for a giraffe'. Artworks have been created in two countries – in Latvia and the U.K. Curator of the Art Station Dubulti and current exhibition – Inga Šteimane.
The solo show by Kristaps Ancans 'Great Memories (sizewise)' is supported by the forthcoming art centre Zuzeum in Riga founded by the Zuzans family. Art collectors Dina and Janis Zuzans own the largest private collection of Latvian art in the world, including works by Kristaps Ancans.
The programme of the Art Station Dubulti is supported by Jurmala City Council. Artists have received stipends from the State Culture Capital Foundation. Art Station Dubulti is open for visitors daily from 8am to 6.45pm. Free entrance. Contact for free exhibition tours: dubulti.art.station@gmail.com, phone: +37129548719.
Events:
On March 22nd at 12 – press conference, Art Station Dubulti, Zigfrida Meierovica prospekts 3, Jurmala.
On March 23rd at 6 pm – opening of the exhibition, Art Station Dubulti, Zigfrida Meierovica prospekts 3, Jurmala.
On April 1st at 1 pm – artist talk with Kristaps Ancans, Art Station Dubulti, Zigfrida Meierovica prospekts 3, Jurmala.