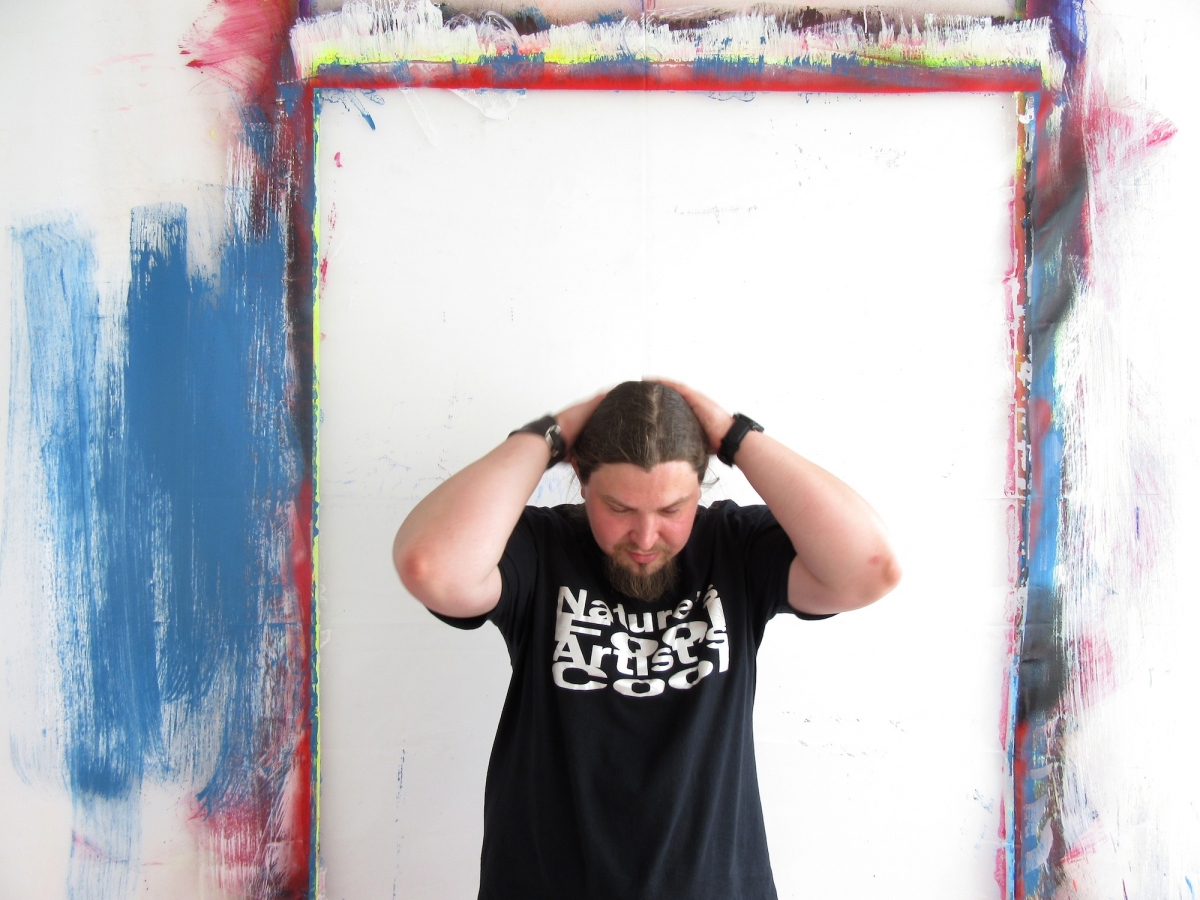 Povilas Ramanauskas (b. 1987) is a young, active artist, who has been improving his vocational levels methodically: since completing his undergraduate studies at the Kaunas faculty of Vilnius Academy of Art, where he also gained his Master's degree in painting, he has been diligently taking part in group exhibitions, showing enthusiasm in holding solo shows, typically creating installations, objects, and paintings. In June 2017, Ramanauskas received the Young Painter Prize at ArtVilnius'17 international contemporary art fair where he presented his oeuvre through the Kaunas-based gallery Meno parkas alongside five other artists. His solo exhibition Nature's Fool – Artist's Cool hosted throughout the entire month of June at Meno parkas received a great deal of attention. In his solo show, as well as ArtVilnius'17, Ramanauskas exhibited his latest works from his Flexible Painting series. The following conversation with Ramanauskas was spurred by the amount of public attention he received over that period.
In June 2017, the gallery Meno parkas introduced you and another five artists (Patricija Gilytė, Marija Griniuk, Robertas Antinis, Rosanda Sorakaitė, and the featured artist Aleksas Andriuškevičius) at the international contemporary art fair ArtVilnius'17, where you received an award as the best young artist of ArtVilnius'17 (artists under 35 years old). The awards were distributed by the committee – which, as I had read in the press, were fascinated with your dimensional painting (I will come back to this topic a little later on). What has this award given you (except for the prize itself)?
I would like to note that, this year, the president of the jury and members of the committee were, in my opinion, extraordinary creative personalities. The president of the jury was art critic Virginijus Kinčinaitis and the committee members were art critics Dr. Virginija Vitkienė, Ernestas Parulskis, and artists Deimantas Narkevičius and Žilvinas Landzbergas. In this case, such an assessment on their part was very pleasant and important to me. The award has drawn more attention to my work, not only from artists, but also viewers from of various fields of art. I must mention how happy I am that the gallery Meno parkas received good reviews, too: ArtVilnius'17 included it in its Top 7 list of galleries to see.
At the opening for Nature's Fool – Artist's Cool at the Meno parkas gallery, you threw a great party with music being played from vinyl records. Atmosphere seems to matter a lot to you. A couple of years ago, on the occasion of your solo exhibition Beyond the Horizon, I remember talking a lot with you about atmosphere. Do you think it can be one of the cornerstones in speaking about contemporary art?
Yes, atmosphere is especially important for me in terms of exhibitions: the atmosphere of the exposition by way of its rhythm and harmony. Also, the unit in terms of the whole, as well as one of the parts, in this case – a work of art, the atmosphere – is very often one of the most significant criteria. In contemporary art, I think the concept and its origins as well as the contexts are more significant, while the very atmosphere remains in the background.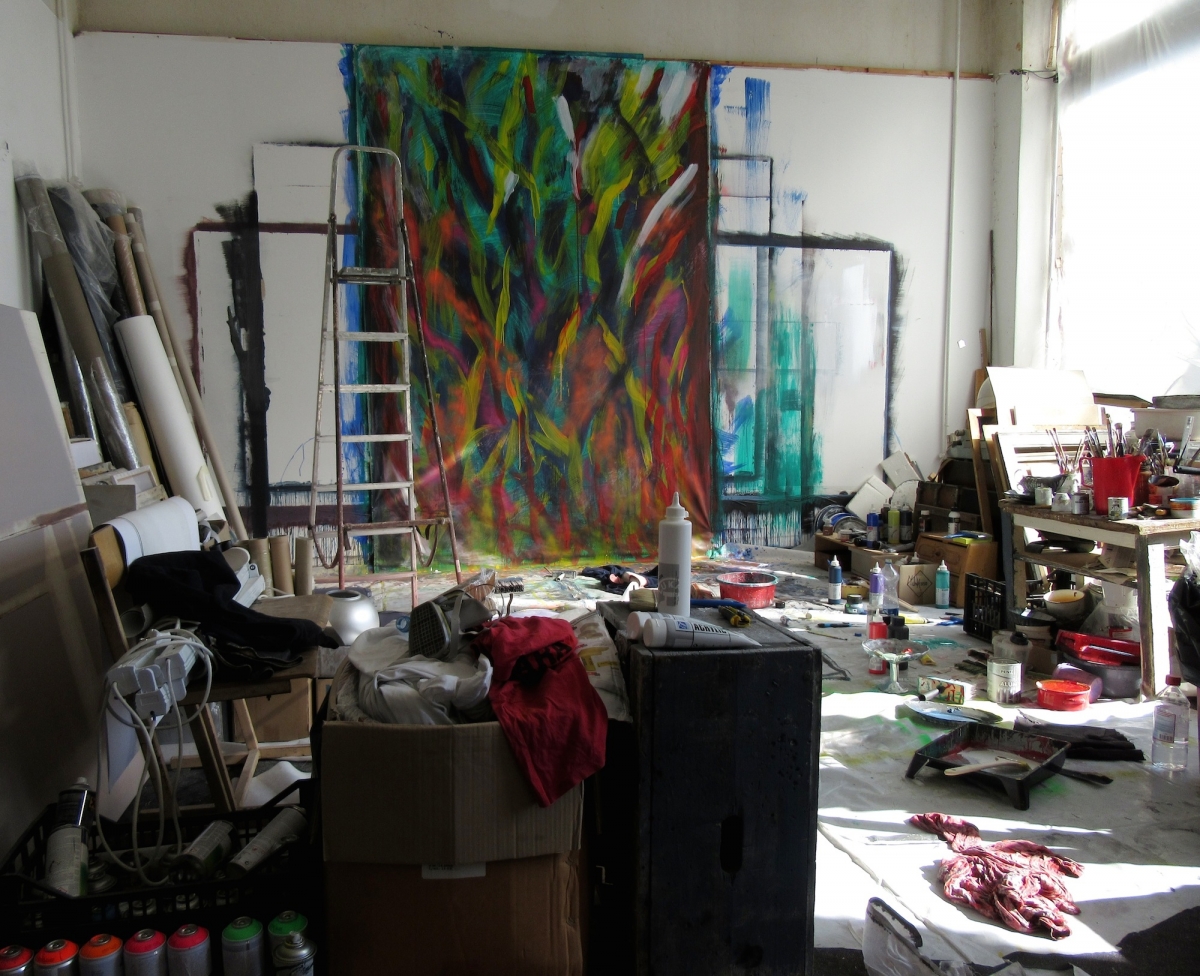 What has brought you to your creations where you have been using painting as a media? And what was your own path like? Do you now feel as though you have found or accomplished something?
My creative path or quest has been rather long, in fact. There have been many different experiments and stages. My practice keeps expanding with each discovery, and with this comes new room for growth. Ever since my years spent studying at the Kaunas faculty of the Academy, I have enjoyed improvising and experimenting with various visual techniques and materials. The series of work I made during my MA diploma, entitled Introspection (2012), was quite prominent. When this work also exhibited at the Meno parkas, it was such a breaking point in my career as it marked the beginning of my search for wider horizons in art. This kind of figurativeness grew as a result of various experiments while searching for a suitable painting surface. Although, at first glance, not all of them are intended to be painted on, perhaps there is no such surface that cannot be used or applied to the media of painting (mirrors, glass, various furniture panels, furniture, plastics, metals, etc.). In my case, I discovered a material that was new to me, a material that I could use in a variety of ways for my Flexible Painting series. And that new material fed me with its own conditions, forms and ideas.
Looking back at Beyond the Horizon and Nature's Fool – Artist's Cool exhibited in the same Meno parkas gallery, there's been quite a bit of distance in time between the two shows. How would you assess the shift in your oeuvre? Back then, you mentioned that you had been developing the theme of the horizon for quite a while, and that it was important to you. You also mentioned you were hoping that your exhibition Beyond the Horizon would mark a certain creative phase in moving from the 'horizon' to 'everyday life'. How has that development been going?
Yes – for a long period, the symbol of the horizon remained one of the main motifs in my painting, and in all of my work, on the whole. After Beyond the Horizon, things changed a bit as I returned to the boundaries of painting – back to my search for the expansion of painting. Later on, more materiality emerged in particular pieces of work, and my main theme became 'mode of life'. Subsequently, I held the exhibition Mode of Life at Pamėnkalnio gallery in May 2016. Now, I am further developing this theme.
Borrowing a question from a friend who knows your art quite well, what has caused your art to turn from darker, gloomier colours to 'extra' chromatic ones?
First of all, I have never used gloomy colours. That word has little to do with colour, than it does about people's attitude towards dark colours, which is inappropriate for my work. There are no cheerful colours or sad and gloomy colours. There are just plenty of colours and even more shades. Another thing is that I don't really like colours. Perhaps that is because of the expressive, colourful painterly education I received in art school which left me feeling exhausted for no particular reason. For a long time, I used a monochrome gamut with a few tones as these were enough to express my ideas. Introspection is mostly white: it simply has a wooden frame with canvas placed on it and tinted in white, while the shape and light create the shadows and tonic nuances to make it enough. Coming back to the appearance of bright colours in my Flexible Painting series, my answer is very simple: it was the plastic itself that prompted the bright colour.
What role does Rosanda Sorakaitė – your wife and distinguished artist – play in your oeuvre?
Both in my oeuvre and all beyond it, Rosanda ♥ Rosanda plays an important role especially in terms of creativity. I often share new ideas with her which we talk about, discuss and even argue about. This becomes very important for my creative process. I do not stop myself from interfering in her creative processes, but her practice is more subtle and secretive compared to mine which is more open, spontaneous, and sometimes chaotic.
What else stimulates your desire to create? I know that you love objects including various old household items. In one way or another, you have interpreted them in your exhibitions (for example, old tables, mirrors, kinescope TV sets, or horse blinkers…).
Speaking of my fondness for old objects, I am just interested in their stories, shapes and surfaces. I hoard them, and keep thinking of doing things with them, of making or remaking them. Sometimes I come up with something, but basically, it is just about accumulating. They keep waiting for their turn to become something new. My desire to create is stimulated by ideas that come to me, and I'd like to put them into practice. I am fascinated by the fact that human beings can make something interesting with their own hands, creating or expressing something or some kind of idea that usually visualises themselves in quite a different way than the mind had previously imagined.
In your exhibition annotation, you explained your Flexible Painting series as referring "both in a direct way, to the physical possibilities of these works, and in a conceptual way, to the wider possibilities of contemporary painting, as well as the versatility of painting as a medium". In the past, we have talked about painting as something that does not stand still, and about painting having its own life. Was this an axis for your exhibition?
Yes. My main idea was to show that contemporary painting, or painting as a medium, is quite versatile on the whole: while absorbing other media, while mixing with other visual expressions, painting still remains. Painting is a very large, flexible and wide-ranging medium.
Still, at the opening of Nature's Fool – Artist's Cool, you mentioned that you had "longed for painting", so the exposition also included a large-scale expressive piece of abstract painting. Does that 'longing' mean that painting on canvas is the closest to your self-realization? Here, I see a contradiction to the evolution of painting that you have talked about.
No. In this case, I just meant the pleasure of the very process of elemental and wild painterly gestures, because the format allows one to enjoy all of the process. I made and exposed this painting as an element of the exhibition more for the context of painting.
In the context of the exhibition and in your discussion on painting, you included Vincent van Gogh who is so important for the history of art. Your annotation described Van Gogh's historical personality as the action man of painting, calling him a symbol of creator. So, I came across a saying by Vincent himself: "I put my heart and my soul into my work, and have lost my mind in the process." Is his symbol a goal for you?
For me, he truly has been a hero of painting, a symbolic figure and a mystified personality (even since the days when I was smaller and would flick through his art in albums). Here, however, I displayed him only from the positive side, and there is no irony in it (at least, not like in the title of the exhibition). But if what you are asking is whether I portrayed Vincent, in this case, for being a little out of his mind, that is not what I intended to express, nor any similar allusions. Again, my installation is more about the painting as media. It shows Van Gogh's self-portrait with a pipe and his hurt ear in a bandage. I am using an old analogue device for viewing a single slide, which consists of a plastic casing, a piece of thin matt plastic and a lens. But the viewer sees this colourful slide (the photograph) only when looking at it through the cotton canvas. In such a simple manner, I reveal the context of the painting's medium. To tell you more about this installation, Vincent van Gogh's Left Ear, it consists of the slide and the left human ear that has been 3D-printed and oil-painted to give it the natural colour of an ear. In this case, the gesture of applying paint originated from a documentary series I had seen: one about 3D printing human organs, disinfecting them, and culturing human cells over them. In my installation, Van Gogh also seems to be in a different dimension, as I have embedded a part of the artwork into the wall. In this case, the whole exposition is in the gallery space, all the objects and works are inside space, everything is visible – but Vincent and his world, his context, are elsewhere in another space. To see this, you need to look through the canvas, through the hole, into another reality. There, you will see him having a pipe and painting his own self-portrait. I really like this moment…
Me too…
As a character, Vincent often 'plays a part' in my work. In one of my exhibitions, I have painted his left ear by applying the oil paint, the very paint texture, to shape the ear relief. I have also made a large painting called Hydrotherapy, (300×200 cm, oil, canvas, 2013), where I depicted the baths from Saint-Paul, Saint-Remy-de-Provence – the psychiatric hospital in which Vincent resided.
The symbol of the artist. This issue has been running in numerous people's minds, at least in mine. I did not intend to talk more about it, but my thoughts on this have returned, so I must come back to this topic in conversation with you once more. Most people still think, the symbol of an artist matches some stereotype of a goofy, airheaded person from a previous epoch ("ah, that's them, the artists")…
Yes, I'm afraid a lot of people tend to think that way, perhaps those who are less concerned with art or are not very interested in it on the whole.
After all, there are a lot of artists who have knowledge and education in other fields (for example, in engineering) who create art by perceiving it constructively and do not ever associate themselves with, say, the edge of madness, where people bounce around some kind of romantic idea.
I do not associate myself with the edge of madness either, but it can be an interesting subject to work with. This approach seems to come from old times, apparently. Perhaps, during those earlier times it was a way for artists to 'portray' and be portrayed, being marginalised or coming from the crazier side of Bohemianism. Nowadays, that's not the case – there are no Bohemians anymore. Maybe a small part of artists, perhaps, but, yes – there may be artists of different specialities and different types of 'mindset' (from the romantic drunk poet to the scientist, engineer or humanitarian ones, etc.).
Perhaps this might sound offensive, but I'd rather legitimise the artist as a speciality, so that those practising it would not look so exceptional… You have a speciality, and you are doing a solid piece of work: you actually sit and think what to do about this and that so as to create something new and fascinating.
Perhaps. It is only our visual thinking and visual expression that is different and distinguishes us. These are the main tools for work and creativity.
What do you think is of greatest importance to you in your work? For instance, some keep looking for certain kinds of unique motifs in their painting…
My main motif is very simple and clear – the painting. The boundaries of painting, the search for its expansion through other media. I have been looking for different ways, surfaces, and shapes to extend painting. My recent development of "Flexible Painting" reaches my own goals both in technical and conceptual terms.
When was it that you found this?
I found it in preparing for the Nature's Fool – Artist's Cool exhibition. I preparing for a solo exhibition at Meno Parkas and for ArtVilnius'17 simultaneously. I had ideas. I tried a new material and saw that it was able to give exactly what I was thinking about. All the things 'boiled down'.
Do you hear remarks like "this is not painting" from older generation artists, more often than not?
Of course, more often they come from the older generation, but there are also young people with similar "horse-blinkered" attitudes. That is how and why the installation Horse Blinkers was born for the exhibition Nature's Fool – Artist's Cool, but it emerged in speaking more broadly than just in terms of painting – in terms of creativity.
Perhaps we have to forget this kind of classifying: that is painting, that is sculpture that is photography that is installation… Should we forget those blinkers? Surely creative students want to get more out of their environment than just the "graduated from"…
Yes, we should. Now is really not the time to close up, especially in terms of creativity. After all, all things are 'mixing' together, which is fascinating and useful, and, at the same time, extends or breaks the boundaries. These are times when everything is possible in art and in painting, it is especially interesting to search where painting is, and where it is not. One can perceive it as a game, or a serious creative process – those two don't interfere with each other.
… those old pieces of furniture also have colour and texture. And in my exhibition, a piece of furniture is an object, an item, a sculptural structure, and it reveals itself in the exhibition space as a sculpture. But I still see it as one more kind of surface.
Well, you have just revealed it to me: what fascinates you is the surface. For I've been thinking about when you 'bring' something, especially some kind of old object into your exhibition, you not only bring the object, you bring a story too.
Yes, various surfaces interest me. Because I am attracted to them I collect them. I see if they are, or might be, good materials for work: plastic has a reflective surface; canvas has texture; brushstrokes have movement; lacquer has gloss; dirty glass has subtlety; remains of a mirror have rhythm; the 'Fine Art' piece with its dirty glass and all of that – all of those surfaces – is painting.
Often, the surfaces become more important to me, as a painter, than the concept. I see 'beauty' in that dirty glass – it is appealing to me.
In order to find something unique, you look and search for it – and sometimes you have to refuse something, so as not to be another storyteller with the same motif.
Yes, I have a serious attitude towards that, and I always try to pick out things so as not to repeat myself or others. But sometimes it happens, a paradoxical thing happens unintentionally – when you have not seen or heard anything, and you create something, do something, and then, you find out that someone else did it. Then you don't want to show it anywhere, or put that idea into action. Of course, it's also fun to see that someone was thinking and reflecting in the same way, too.
Then you have to re-think it. And perhaps you can come up with something even more interesting, but more difficult to achieve.
I think one of the most key things is to be original. The viewer is all the more curious, to see something unseen before. The question is, is that actually possible?
So, are you thinking about the perceiver when you do things?
Not when I am creating – no, I'm only thinking about how to purify and express an idea. But in preparation for the exhibition – yes, I am. Not just by conveying what I mean through a a short, simple text, but in creating the exhibition as a story. To make it clear what I'm talking about, what I want to say by it. I want the necessary storytellers and actors to fit into their necessary places.
What are your next creative plans?
I will look for more solutions to colour and shape variations within my Flexible Painting series.
Thank you for the conversation, Povilas (and Vincent).
Photography: Vytautas Paplauskas, Povilas Ramanauskas.