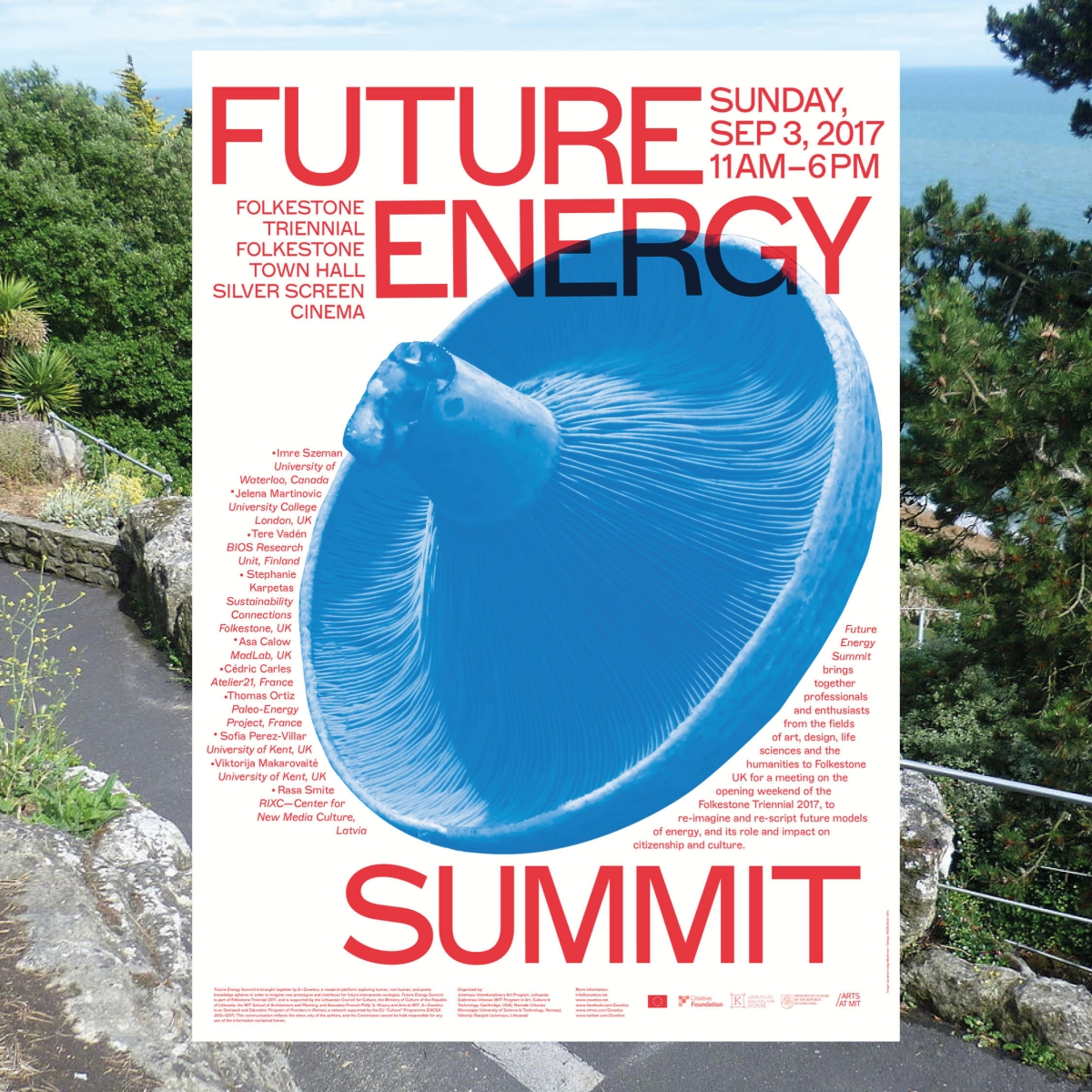 Sunday 3 September, 11am–6pm
Silver Screen Cinema, Cinema 2
Folkestone Town Hall, Guildhall Street, Folkestone CT20 1DY
Future Energy Summit brings together professionals and enthusiasts from the fields of art, design, life sciences and the humanities to re-imagine and re-script future models of energy, and its role and impact on citizenship and culture.
Future Energy Summit engages the emerging field of energy humanities, and the discourses of the future of energy and post-fossil fuel transition, to explore multidisciplinary approaches to energy, including non-human energy production by organisms such as bacteria or fungi, and the forms of energy in an expanded field, from psychotropic plant- or mushroom-induced altered states of mind to hybrid infrastructures
The ever-growing appetite for energy that leads to extreme fossil fuel extraction is being disrupted by a number of revolutionary processes, including the rapid transition to renewable energy, and the digitising and networking of energy production and distribution infrastructures. Massive consumption of energy, demand for new kinds of energy storage, and the development of smart grids are changing the way these networks operate. In this context of increasing demand and the ever-moving target of fossil fuel exhaustion, the future of energy is determined by our capacity to re-programme our energy dependencies.
In order to undo the way in which modernity has dictated energy provision, Future Energy Summit will emphasise two key perspectives: first, relearning the numerous ways that living organisms produce and store energy – for example, microbes producing energy when breaking down glucose with the help of enzymes, which occurs in both human and non-human bodies – and second, reconceptualising energy independence and energy grids by looking at 'maker culture'-inspired production models. Testing these models is crucial to the future of the planet in our era of dramatic climate change because not only do they transcend the role of the passive consumer, they also create alliances and associations across disciplines, fields and ontologies. Future Energy Summit, joined by academics, artists, designers, makers and inventors, momentarily brackets the smart energy monoculture currently emanating from Silicon Valley and looks for productive fictions, prototypes and models that can imagine a new diversity of energy interdependencies.
According to Imre Szeman, one of the contributors to Future Energy Summit, the narrative of fossil fuel-based modernity is already a fiction that made the expansive use of energy invisible for the sake of exhausted models of 'progress' and 'freedom'. Therefore, the key question raised on the occasion of this Summit is: how can we 'rewrite' these fictions, unearthing our relation to energy production processes that are already part of natural systems and reprogramming our relation to our own and other human and non-human bodies?
The invited participants of the Summit include prominent researchers and scholars from the fields of energy and science humanities, such as Jelena Martinovic, a historian of science, who will discuss energy, threat and adaptation strategies, by considering near-death experiences and their relevance in scientific and clinical research in the 19th and 20th centuries; Tere Vadén, a philosopher whose work inquires into the relationship between the humanities, energy and the project of modernity; and Imre Szeman, the author of Energy Humanities: An Anthology and a key figure in these debates. Artists and designers Cédric Carles and Thomas Ortiz of Paleo-Energetique, will discuss their energy archaeology project, amassing an archive of a multiplicity of energy production patents and inventions which have been previously neglected, censored or forgotten. Artist and researcher Rasa Smite (a collaborator with Raitis Smits and RIXC in Riga, Latvia) will introduce the Renewable Network approach of artists in building a 'techno-ecological' perspective, and will demonstrate the findings of RIXC's Biotricity research. Also, discussing the sonic expressions of 'Pond Battery', an instrument that is fuelled by bacteria living in mud, Rasa will give a hands-on workshop on how to make your own mud battery. Stephanie Karpetas, a social entrepreneur and activist, will share her expertise and experience of engaging communities to be part of a local energy revolution, helping people take ownership and control of their own local energy generation, distribution and use. New materiality in battery production will be discussed by Viktorija Makarovaite and Sofia Perez-Villar, research scientists at University of Kent and scientific advisors for the mushroom batteries deployed at the Folke Stone Power Plant, a work commissioned from Nomeda and Gediminas Urbonas for Folkestone Triennial 2017.
Future Energy Summit is brought together by A_Zooetics, a research platform exploring human, non-human and poetic knowledge spheres in order to imagine new prototypes and interfaces for future interspecies ecologies.
Future Energy Summit is part of Folkestone Triennial 2017, and is supported by the Lithuanian Council for Culture, the Ministry of Culture of the Republic of Lithuania, the MIT School of Architecture and Planning Associate Provost Philip S. Khoury and Arts at MIT. A_Zooetics is an Outreach and Education Programme of Frontiers in Retreat, a network supported by the EU 'Culture' Programme (EACEA 2013-1297). This communication reflects the views only of the authors, and the Commission cannot be held responsible for any use of the information contained herein.
Conference and Workshop organised by Folkestone Triennial 2017 artists Nomeda and Gediminas Urbonas
For further information, visit www.zooetics.net
Facebook: www.facebook.com/Zooetics
Vimeo: www.vimeo.com/Zooetics
Twitter: www.twitter.com/Zooetics