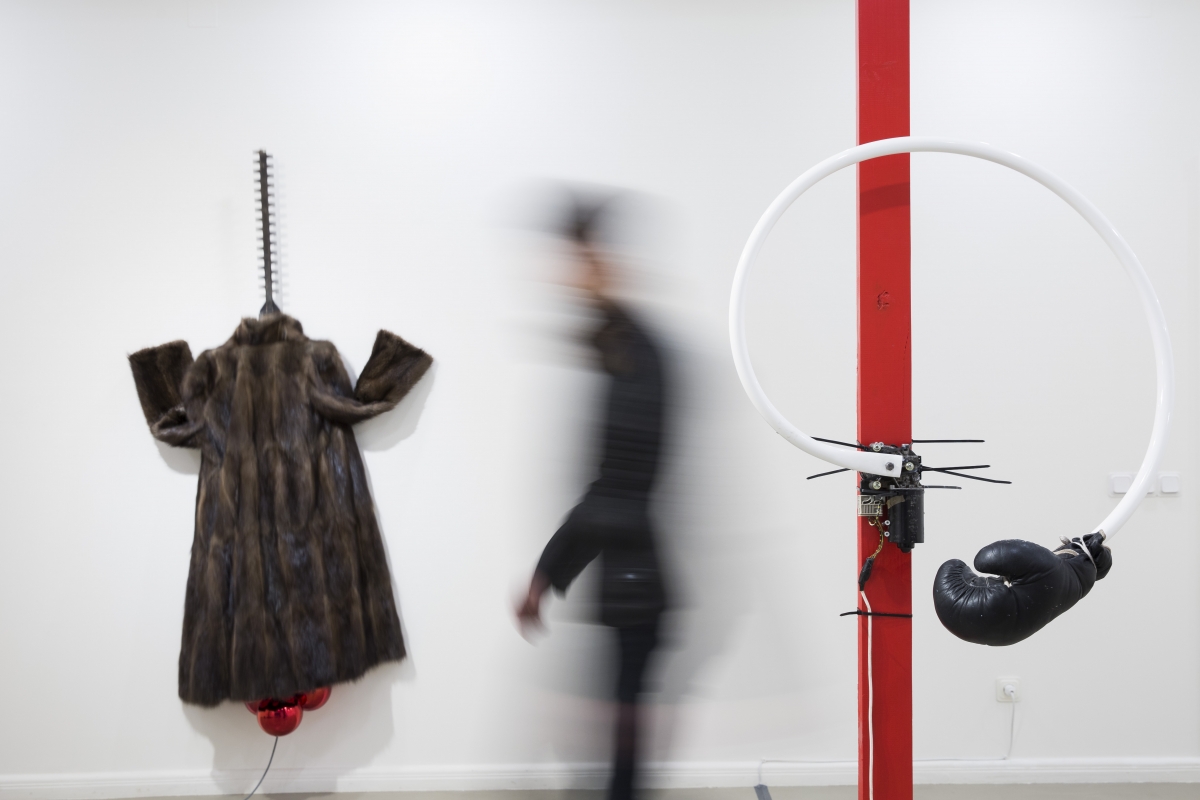 Based in the Old Town of Vilnius, Meno Niša Gallery celebrates the 15th anniversary of its foundation and on this occasion presents a special project. Visitors are invited to view the exhibition "Furs" (ŠERSTIS) by famous Lithuanian artist Kęstutis Svirnelis which is on show until 16 December. As an artist creating kinetic objects and installations, Kęstutis Svirnelis analyses the themes of capitalism, consumerism, liberalism, democracy, the man and his role in the system.
Kęstutis Svirnelis (born in 1976) is residing and creating in Germany. Having completed his studies in sculpture at the Vilnius Academy of Arts, Kęstutis Svirnelis received his MA degree at the Stuttgart State Academy of Art and Design. The artist has already had seven solo exhibitions extending his creative work throughout the world: his works have been exhibited not only in Germany and Lithuania, but also in the United Kingdom, Austria, Turkey, South Korea, Poland and the USA. Svirnelis' works have been successfully presented by Meno Niša in art fairs, such as ArtVilnius, Positions Berlin and the prestigious Vienna Contemporary Art Fair.
Diana Stomienė, director of Meno Niša, is happy to state that during the 15 years of its existence the gallery has successfully seized a role on the international art stage, presenting on it many eminent Lithuanian artists, including Kęstutis Svirnelis. "Having gathered a team of artists representing different areas and media, our gallery has been effectively organising their exhibitions and representing them in world-renowned art fairs in Vienna, Berlin, Brussels, London, Paris, etc.", says Diana Stomienė.
Kęstutis Svirnelis' solo exhibition "Šerstis" again elaborates upon global and universal issues addressed in a plain and understandable language, which is Dzukian dialect this time. While stressing his Dzukian origin (Svirnelis was born in the village of Zervynai in Varėna region), the artist also admits the influence of the Swabian (Germany) culture in which surrounding he has been living for the past fifteen years. Being differently small, both cultures are distinct and recognisable, with their own dialects, traditions and identity. As the exhibition is held in Lithuania, the title of the exhibition, Šerstis, is a vernacularism which is actually Šerscis in Dzukian (pronounced as sherstsis, meaning fur).
"Material plays an important role in the entire creative process of Kęstutis Svirnelis. In this exhibition, it is fur: whether artificial or natural, purchased or found under a bridge, stiff or very soft. In addition to fur, there are plastic figures and motors; moving, kinetic objects that are disturbing and bringing ambiguous thoughts. And this is what the artist is striving for: to put the viewer in an uncomfortable and ambiguous situation", comments Sonata Baliuckaitė, curator of the exhibition.
This exhibition of Svirnelis is specially designed for the spaces of the Meno Niša gallery. Composed of both new and earlier created pieces, the exhibition is seen by the author as an integral installation, consisting of a multitude of objects highly relevant in today's context. The author refers to his works as images and claims creating absurd art for the absurd world.
Photography:  Marius Žičius, Meno Niša gallery