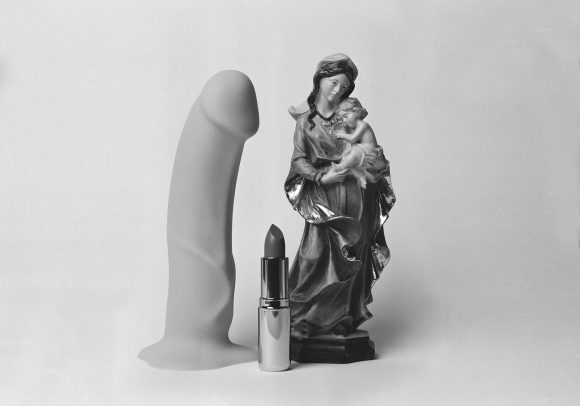 The exhibition "Wool and Silk. The New Erotic" will be displayed from May 10 at the Latvian Museum of Photography. This exhibition is part of Riga Photomonth 2018 opening week programme.
On May 10 at 5.00 p.m. during the opening of the exhibition, audio-visual performance "God Puts on Lipstick" will take place where the lyrics of the poet Jeļena Glazova will interact with the collection of erotic slides by artist Ieva Balode. The main objective of the performance is to highlight the aesthetics and ideological implications of erotica, as well as to critically review its social context.
Is it possible to rewrite the narrative, discarding the old paradigm and introducing equality and intimate justice also in the most private realm of one's life? The exhibition suggests a new definition of erotica where wool and silk become its flagman media. Their tactile qualities not only correlate with the regime of feminine sexuality, but also fills the gap between "me" and "you". In the new erotic dictionary one can find concepts such as care, empathy, responsibility, agency, subjectivity and justice.
The exhibition includes works by classics from the archive of the Latvian Museum of Photography (J. Zandmane, Gustavs Žakerts, Kārlis Lakše, Elmārs Heniņš, Raimonds Rencis, Staņislavs Grahoļskis, a.o.), unknown authors from different periods of time, as well as several contemporary authors (Evija Gruzna, Ieva Balode, Lando Jansone, Reinis Hofmanis, Mētra Saberova, Anna-Stina Treumund, Elīna Eihmane, Anda Magone, Kaspars Beķeris, Eva Vēvere, Valdis Jansons, a.o.).
Curator: Jana Kukaine. Co-curator: Rasa Jansone.
This year Riga Photomonth runs from 7 May until 7 June. The full programme available on http://www.rigaphotomonth.com
WARNING! THE EXHIBITION INTENDED ONLY FOR ADULTS!
The exhibition supported by: VKKF, Rīgas Dome, Ziemeļvalstu un Baltijas valstu mobilitātes programma, Baltijas Foto Serviss, FK Magazine, Rīgas Kino muzejs / Riga Film Museum, Magnumnt, BIRZI, SexyStyle, IR, Zaļā Bāze, Ledus vīni, Pieci ezeri