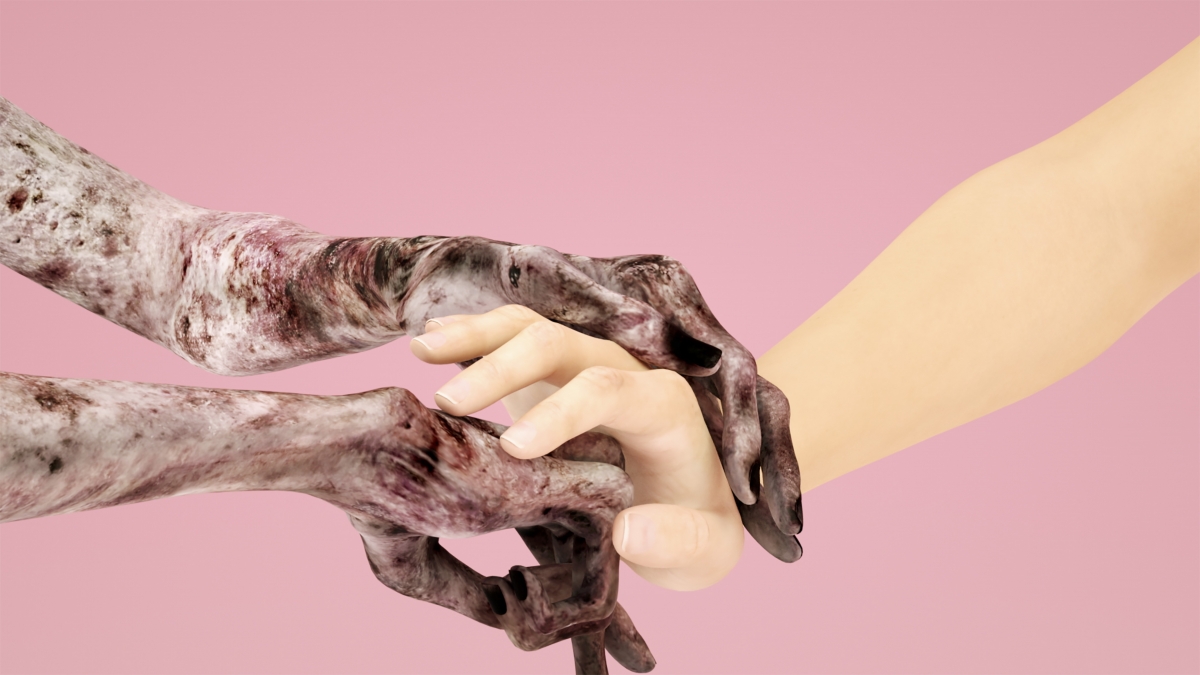 The launch of the main Biennial exhibition 'Screen Age I: Self-Portrait' at Riga Art Space on 12 April at 18:00, curated by Inga Brūvere and Marie Sjovold (NO) in cooperation with the Association of Culture Institutions of Riga City Council and Riga Art Space. The exhibition explores how technologies influence and alter our perception of the self, relationships and nature. Also featuring an awards ceremony and the work of the award winning finalists of Riga Photography Biennial Award 2018 'Seeking the Latest in Photography!' – Diāna Tamane (LV), Taavi Suisalu (EE) and Kristīne Madjare (LV). The exhibition is part of a wider programme celebrating the centenary of the Republic of Latvia.
The participants of the exhibition "Screen Age I: Self Portrait": Juno Calypso (UK), Antoine Catala (FR/US), Kate Cooper (UK/NL), Aneta Grzeszykowska (PL), Kristina Ollek (EE) & Kert Viiart (EE), Paul Paper (LT), Juuke Schoorl (NL) & Frank Kolkman (NL), Līga Spunde (LV), Charlote Thiis-Evensen (NO), Elina Vainio (FI), Hannes Wiedemann (DE), Anna Zett (DE).
The story is about the human beings of 21 st century – who steadily endeavour to order everything in digital systems and prefer to partake in information wars only. The range of issues covered in the exhibition includes several aspects of identity – body, gender, social and historical identity. In their work artists have approached the same question from many angles: how do our emotional responses such as feelings, pain and empathy adjust to the technological space of today?
Scandinavian artists provide a rather direct riposte. Charlotte Thiis- Evensen has focused on children and teenagers who are still forming their identity. A slow, tranquil, meditative movement; a touch; a hug; water being poured onto a naked body can all be perceived as a primer teaching physical communication to those who have learned and adopted digital communication from an early childhood. Elina Vainio's video examines yet another peculiarity of our contemporary society – a lonely man's obsession with comfort gadgets, which further increase the gulf between him and the surrounding environment.
German photographer Hannes Wiedemann has chosen a completely different approach, working in the genre of documentary photography: he has followed the activities of a bodyhacking community in a rural American town. Members of this community illegally develop and implant devices into their own bodies to artificially improve their human capacities, thus becoming a cyborg of sorts. Meanwhile British artist Kate Cooper explores the human body inside virtual reality which is governed by the principles of production and annihilation familiar to capitalism. In her video installation, the three bodies – sculpturally perfect, wounded and damaged – force us to look for a shelter within ourselves.
German artist Anna Zett strives to access the essence of human relationships through symbolic thought. Her video depicts the symbol of a magical ring, a boxing ring and zoetrope, inside which the girls' boxing match fuses with the visualisation of neurons in an optical cable net. The video by Dutch authors Juuke Schoorl and Frank Kolkman, on the other hand, sensitively reveals visual analogies between the digital world and the physical world, and poetically likens the touch-sensitive screen to human skin.
Lithuanian photographer Paul Paper has also devoted himself to contemplating how technologies affect our everyday life. His interpretation is filled with optimism, irony and humour, and he has found unlimited potential for his creative practice in the gap between human vision and artificial intelligence. While analysing the visual recognition system developed by Microsoft which, for example, can recognise students' faces in China, he has concluded that it can easily mistake a lonely dog in the savannah for a dazzle of zebras.
It would seem that French artist Antoine Catala has virtually moved in inside his mobile phone and his work, like a digital doll house, depicts scenes from his childhood – loops of wittily animated psychological traumas in which, by assuming the roles of actor and director, he solves relationship problems to understand the thoughts and feelings of other people.
British artist Juno Calypso is represented by a series of provocatively ironical self-portraits taken from a feminist point of view, demonstrating the feminine beauty rituals in an attractive and visually compelling way. Polish artist Aneta Grzeszykowska's work is in sharp contrast and firmly demonstrates how a female character (image) is de-constructed in erotically enthralling details by the male androcentric gaze.
The video installation by Estonian artist Kristina Õllek touches on the currently trending subject on how to make the old new and exciting again, since now everything can age or appear old within a few hours. Cybertrump by Latvian artist Līga Spunde joins the collective conversation by contemplating information chaos and our data usage habits.
The selected photo and video works in this exhibition diversely reflect the current situation in all its diversity and strive to engage with new patterns of thought about the evolution and the self whilst at the same time pursuing stability.
Please visit www.rpbiennial.com to see the full programme of Riga Photography Biennial 2018.
The Riga Photography Biennial (RPB) is an international contemporary art event, focusing on the analysis of visual culture and artistic representation. The term 'photography' in the title of the biennial is used as an all-embracing concept encompassing a mixed range of artistic image-making practices that have continued to transform the lexicon of contemporary art in the 21 st century. The biennial covers issues ranging from cultural theory to current socio-political processes in the Baltics and the wider European region. Riga Photography Biennial attempts to record changes taking place all over the world and invites us to collectively interpret them whilst translating the complicated and oversaturated contemporary visual language into meaningful relationships between our daily reality, the camera lens, historic material, contemporary art, technologies and the future.
The title of the Biennial 'I Like Your Face' using face as a metaphor highlights the complex processes involved in the formation of identity and meaning. Face as a mask or a role we take on every day and an image we see when we look at the other. On social media we often 'like' something – but what do we really see and what is imagined? Is it possible to convene with the other without categorising and thematising? The biennial examines these relationship issues by questioning how our emotional world manifests itself mentally in the climate that's transformed by modern technologies and how imagined belonging to some fantastical reality co-exists with daily social identities.
The exhibition has been supported by: State Culture Capital Foundation of Latvia, LG Electronics, British Council, French Institute in Latvia, Estonian Embassy in Latvia, Hibnerstudio, AS "Antalis", Rixwell Hotel Konventa Sēta, Lux Express, Valmiermuižas alus darītava, DSV – Global Transport and Logistics, NoRoutine Books,Transeurope.