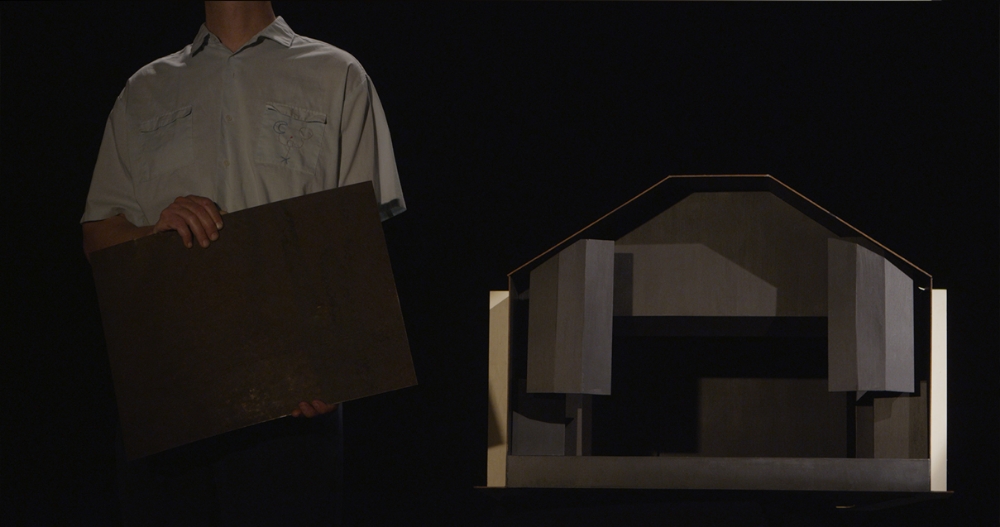 September 14, Saturday we invite you to a show 'Exhibition on Stage God from the Machine', on adress Žygimantų 12-6 which is also a new event hall in Vilnius. During the evening there will be presented a performance 'God from the Machine' (by Jurgis Paškevičius and Monika Lipchitz), Matas Aerobica will share music from his travels and a mini bar will be open. 
'Exhibition on Stage God from the Machine' is conceived as an inspiration coming from a contemplation of contemporary art and theatre contexts. Trying to express the ideas that came during this process, there appears a story evolving around several different entities. Thus the project is composed of a performed exhibition on theatre stage, that was filmed and now is shown as a video work, and another form of exhibition that takes place in a stage model. Together this is two, three or more exhibitions that are happening in the film presented, on a stage model, in a ship, a house, Vilnius and Imagination.
A reference to a 'god from the machine' as used in the title of a show, appeared as a sense of something 'unexpected' – god from the machine, from lat. deus ex machina is a narrative tool that turns a seemingly unsolveable situation towards and expected direction. Deus ex machina literally comes from an antient tragedy, where in the end of the story, the god would appear to determine the end (brought down the theatre stage via mechanical devices). God from the machine in various stories may appear as a comedy element, a new character, event, object, location or ability.
'Exhibition on Stage God from the Machine' reflects a habit of exhibition making. Contemporary art exhibitions might happen anywhere depending on how one perceives the thing. Exhibition curator and author Monika Lipchitz invited several different artists, creatives and doers that all took part and created a role in a different stage of the overall presented (starting from the exhibition filming process to formulation of rhetorical questions).
GEDIMINAS AKSTINAS, GEDIMINAS AKSTINAS JUNIOR, RŪTA JUNEVIČIŪTĖ, VJ SUCKMAFINGER, ONA LOZURAITYTĖ, AGATA ERLACHER, PETRAS OLŠAUSKAS, MARIJA OLŠAUSKAITĖ, DAINIUS LIŠKEVIČIUS, ŠVENTINIS BANKŪCHENAS, ROBERTAS NARKUS, JULIUS KURŠYS, DAVID BERNSTEIN, JURGIS PAŠKEVIČIUS.
After the event is finished you are welcome to see the show for several more days or arrange an appontment/ +370 6722 6757
Image: Exhibition on Stage, video still, curated by Monika LIpchitz, 2013
The event is partially supported by Lithuanian Ministry of Culture Young Artists' program.