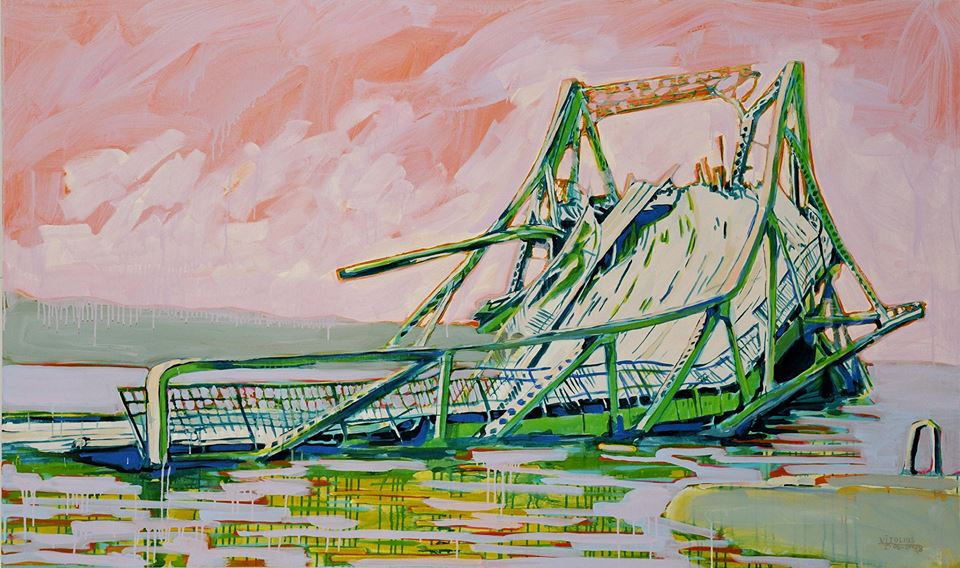 Artist Andris Vītoliņš has said that he is fascinated by mankind, however, he paints not people, but the objects and material world they have created. He is interested in how the world of technology co-exsists and interacts with nature by creating different reality – not better or worse, just different. Vītoliņš has expressed a thought that, as the time passes by, technologies become almost living forms.
The exhibition "Last Decade. Andris Vītoliņš" at Panevėžys Drama Theatre shows works from the year 2005 that depict different objects, including Soviet architecture, bridges, cars, trains and so on. As he admits, there are conceptual ideas hidden in his early works about how technology actually has a soul or a spirit. Sometimes looking at his paintings of different vehicles or abandoned houses gives the observer an even stronger sense of human presence than it might be in the case of figurative paintings.
It is no secret that Vītoliņš uses photography as an inspiration, but experimenting with different painting techniques and perspectives ensures a dynamic and vibrant result. Vītoliņš' paintings are known for bright, almost hallucinogen colors and objective accuracy, which he uses to brighten up abandoned buildings, industrial places and vehicles. He uses sharp contrasts not only by the means of colors, but also by showing the subjective view of places.
Although the works in the exhibition "Last Decade. Andris Vītoliņš" are thematically mainly connected to technology, they seem to leave a nostalgic sense of the time that has passed by. As he himself has said, "I think ours is a digital century. In mechanical objects you see the processes visually; now in digital objects you don't see the process anymore, it's compressed in the parts."
Andris Vītoliņš (1975) is Latvian artist. Having studied in the Art Academy of Latvia, now works there as an Associate Professor and Head of the Painting DEPT. Since 1996 has participated in more than sixty group exhibitions and has had over ten personal exhibitions –in various countries, including the Baltic states, Slovenia, France, Brussels, China, India, USA, etc. Vītoliņš has won several awards and scholarships; his works have been included in many collections such as HangART-7, Red Bull collection, Salzburg, Austria; Schlossberghotel, Graz, Austria; Museum of Modern Art Baku; Hypothekenbank in Essen AG; Swedbank contemporary art collection; Latvian National Museum of Art; Matti Milius' Art collection; DnB Nord Bank collection.