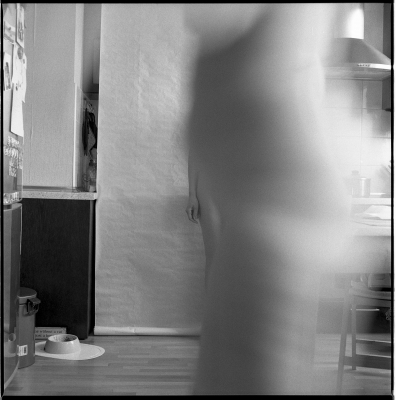 The exhibition "I Touch Myself" will be on show in the Cupola Hall of the main building of the Latvian National Museum of Art in Riga (1 Janis Rozentāls Square) from 9 March to 23 April 2017.
"You become whatever you touch" – these are the words French philosopher Luce Irigaray (1932) uses in her essay When Our Lips Speak Together (1977) to describe the condition of indeterminacy familiar to women: they take other people's words, perspectives and culture like water reflecting everything that comes in front of them. To speak as a man or stay silent as a woman – faced with these alternatives, we cover ourselves in thick veils and follow the path paved by history and culture for centuries. Or, we take the risk and accept the rules of the game which are unfavourable, unsatisfactory, inadequate.
In order to find the ability to speak, Irigaray proposes to review the existing rules of language, discarding the seemingly gender-neutral (so we are taught), but in fact male-oriented grammar. If meaning of language is grounded in the experience and forms of life of its user, then it is only logical that a woman's language acquires a different sound. Speaking not only presents a new intonation, not only creates a new world, but also reveals the speaking subject herself, her living environment, perspective.
The exhibition I Touch Myself can be seen as flashes of the artists' subjectivity, their speech acts here and now, not attempting to represent a universal female artistic language, but rather tracing a specific dialect characteristic of the current cultural environment in Latvia. Nevertheless, in contrast to the traditional concept, language here is not a totality of abstract symbols or expressions. The basic unit of language is not the spoken word, the Greek logos, but rather – touch.
The impulse of touch can be viewed not only in the context of cognition or sexuality, but also philosophically – as a precondition for identity construction. Touch is related to discovery and confession, confrontation and reconciliation. It can be very soft, barely noticeable but also transform into steaming flesh, sweat and blood. A touch can give birth to a child, a person, a subjectivity. This self-knowledge and discovery is based on the acceptance that a woman's body belongs to herself and that she does not have to measure her thoughts, movements and expressions against an external, authoritative standard. Exactly like then, once, does anyone still remember – long before birth, when they/we/me/you touched yourself.
Exhibition participants are Rasa Jansone, Anda Magone (née Bankovska), Inga Meldere, Ingrīda Pičukāne, and Eva Vēvere.
Personal thank you to Ieva and Ilze Dūmiņa, Jānis Frišvalds, Centre of Creative Learning Annas 2, Photo Studio and Andrejs Grants, Andris Indāns, Ieva Lando Jansone, Valdis Jansons, Aivis Jansons, Inga Jansone, Nauris Martinsons, Kristīne Bicāne, Modris Mičulis, and Jānis Taurens.
Curator: Jana Kukaine