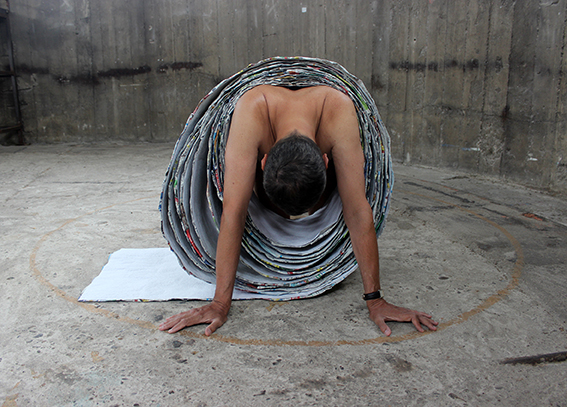 On 23rd of November (Friday) at 7pm at gallery "Meno parkas" in Dusseldorf (Dorotheenstrasse 22) will be opening of exhibition "Fast as Ever" by artist Almyra Weigel. Artist will participate at the opening. Inviting!
In today's digital world, when news are spreading in a speed of light, newspaper as medium stays in antiques role, it's the relic of our times, a prior way to reach global society.
Almyra Weigel – Lithuanian artist living in Berlin, in her installations and objects, consciously using newspaper as a prime medium, by changing its form and initial purpose and recreating its content into threads and long stripes. In this way, she changes perception of the chosen medium, and reflects traditions of Lithuanian textile art.
For the artist are more important to discover new forms related to traditional ways of weaving, spinning or binding, than methodical execution of an artwork. The process of creation equates to the process of thinking, which from ideas, memories and notions creates new concepts, that at the same time, in different ways emphasizing and presenting itself. Thus, the newspaper symbolically and materially serves as the main artistic and communicative tool. The artist turns an image and text of the original material into anti-narrative global information weave, into an abstract, monochrome, sculptural surface of a body (world). Almyra Weigel, at this point when technological and economic progress gaining its momentum, with her minimalist artistic expression, creates a slow, tangible, close but uncountable aesthetic.
Enchanted by the speed of modern information flow, the artist is looking for ways to slow down and reveal herself more.
Almyra Weigel (*1964) – artist, docent, curator. Lives and works in Berlin.
Exhibition organized by: "Meno parkas"
Partner: "gleixnerart"