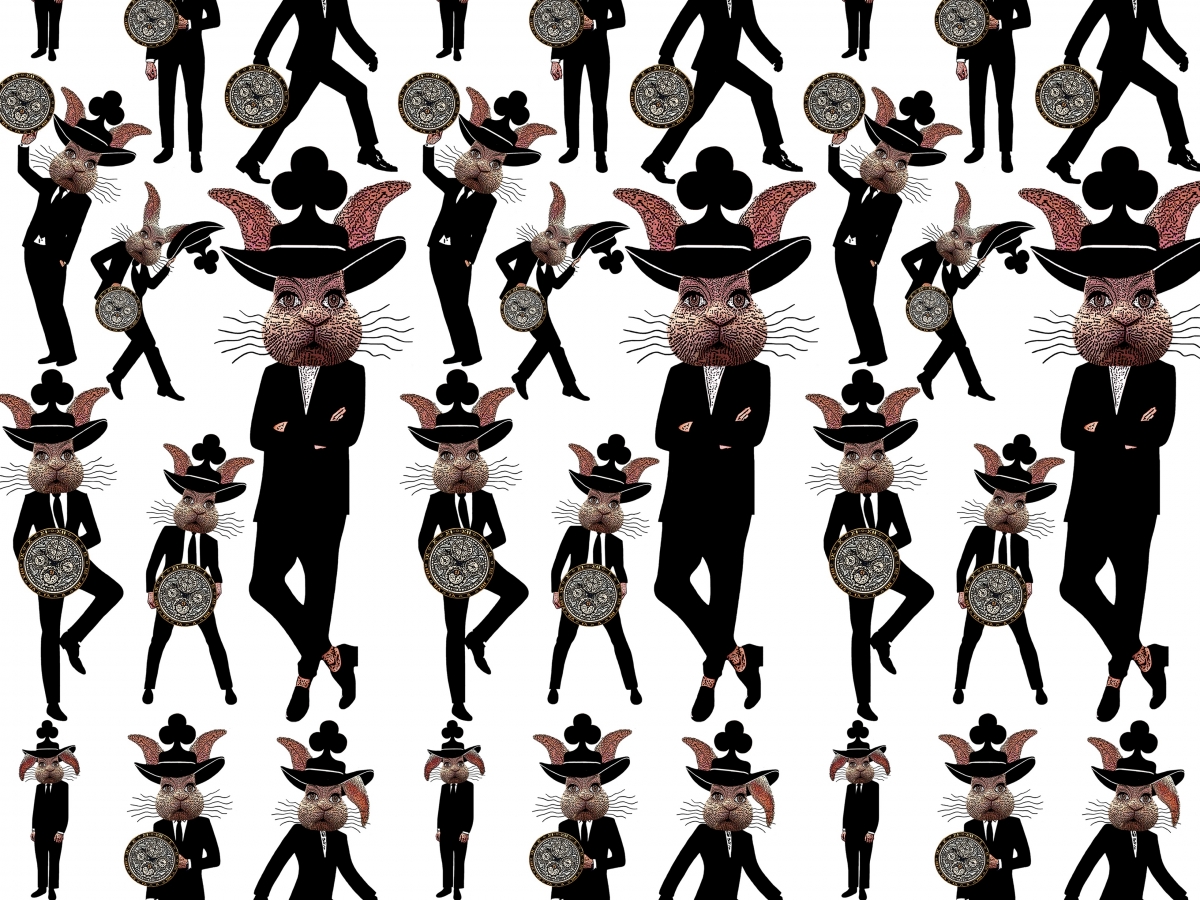 Gintare Kuznecovaite is a designer of textile, interior, clothing and book illustrations. An artist present an art works based on the story of Charles Lutwidge Dodgson (better known by his pen name Lewis Carroll's) books "Alice's Adventures in Wonderland" (1865) and "Through the Looking-Glass and and What Alice Found There" (1871). Gintare Kuznecovaite represents her own interpreted fairy-tale characters in her works: Cheshire Cat, White Rabbit, twin brothers Tweedledee and Tweedledum, Queen of Hearts, Mushrooms, Talking Roses. Fun, playful and brightly colored drawings were resettled by sublimation printing onto a glossy satin fabric and the exposition becomes more vivacious and more unique.
According to the artist of the exhibition, the fact that she chose to interpret L. Carroll's literary pieces in her works was determined by several factors: "First of all, these pieces are interesting, fun and versatile. Secondly, the fairy-tales associates with the negligence of childhood, lightness and adventures. Third, the tales intrigues me with hidden symbols, metaphors, and ambiguity. Fourth, these fairy-tales perfectly reflects that everyone has his fantasy world, a country of wonders, a kingdom – that's what the person creates for himself.
Kuznecovaite reveals this fairy-tale in her own works in various aspects: humorous, self significative, identifying and childhood images. The artist creates a kind of world of miracles, when everything changes around and every time you can perceive it differently. In this exposition, the characters of fairy-tale seeks to return the viewer back to childhood and involve us into a world of wonders. The author identifies her self with the characters of the fairy tale and invites the visitor of the exhibition to look at artworks through the eyes of Alice. G. Kuznecovaite wants to bring joy, colors and more interesting compositions into people's outfits and homes.
Installation includes a part of author's MA project (Vilnius Academy of Arts, Kaunas, Textile Department, leading professors:  Jūratė Petruškeviečienė,  Loreta Švaikauskienė).
ARTIFEX gallery
Gaono St. 1, Vilnius.
II-V: 12-18. VI: 12-17