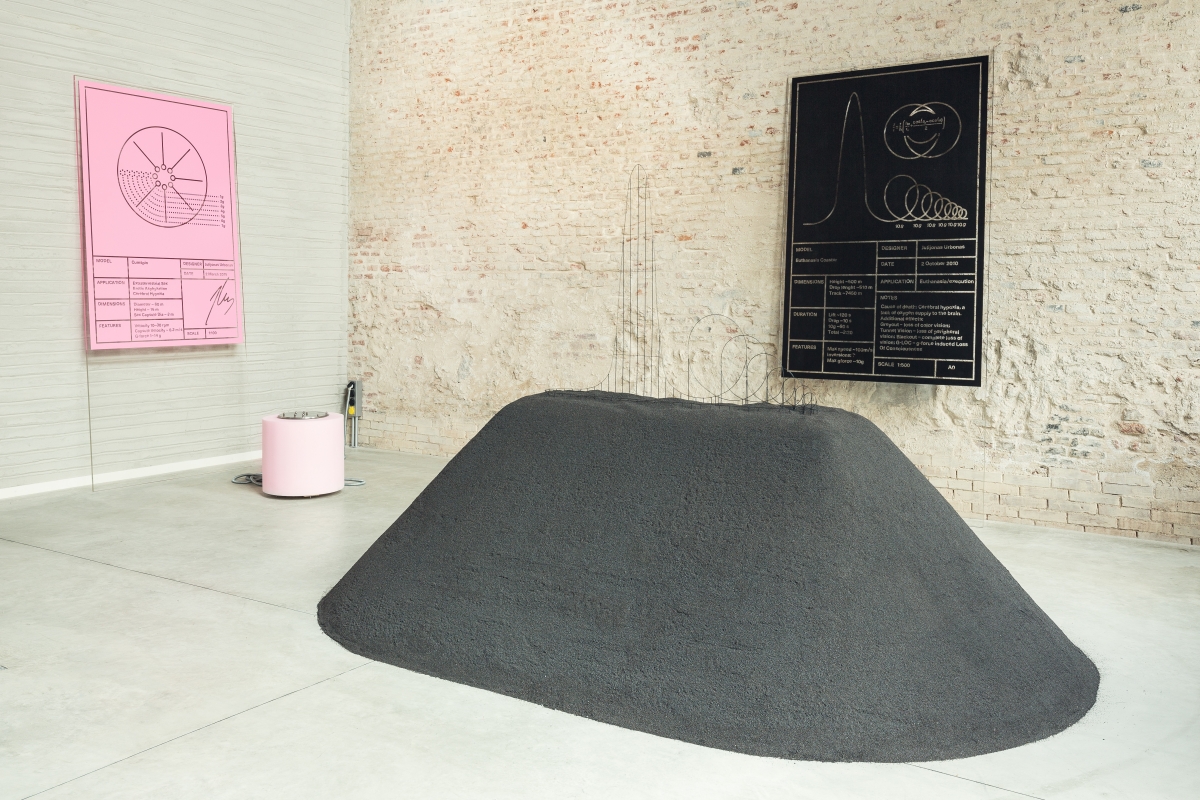 Critical techno art is still tragically scarce in Lithuania. The word "tragically" comes up involuntarily when stopping to think about how much one's life is majorly governed by technology today, and how relevant this topic has become in the international art scene. Whilst most Lithuanian artists reflecting on today's techno-world live abroad, Julijonas Urbonas returned to Lithuania, although in fact he lives on a global scale. Until recently, he was virtually unknown in the Lithuanian art scene. Because his works were out of tune with the local minimalist neo-conceptualist trends, most of his resonant exhibitions took place elsewhere in the world, from the USA to Japan. Many people could have also been misled by his work's resemblance to design and engineering, i. e. its seemingly "applied" nature and lack of mystification. As a result, there seemed to be no appropriate niche for Urbonas in the Lithuanian art scene for quite some time. Recently, the situation has become considerably different with his works and projects being shown in Lithuania more often.
Works by international artists criticising technological fetishism and information capitalism are usually decidedly political, with their authors openly declaring the influence of left-wing ideologies on their rhetoric. On the surface, Julijonas Urbonas' works appear completely apolitical, and do not offer any particular value-based critique of the phenomena he reflects on. Yet when one considers them more closely, it becomes clear that his "social science fiction" scenarios and alternative realities are deeply dystopian, regardless of their ultra-rational charm and streamlined glitter.
All good science fiction, which takes place in the future or in some imaginary world, is actually concerned with the here and now of the world we inhabit. Similarly, Julijonas Urbonas' alternative realities are not so alternative or distant from the "real" reality. Whilst he indeed constructs extreme conceptual cases and hyper-concentrated prototypes of phenomena yet to come, it is easy to identify similarities with processes already in existence and affecting us. When gathered in one space, Urbonas' works act like a spatial sci-fi novel or movie, reminding me of The Time Machine (1895) by H. G. Wells, an older classic of dystopian science fiction literature.
The novel's protagonist, referred to only as the Time Traveller, arrives in the year 802701 to find himself in a world where it seems as though scientific progress has solved all humanity's material and social problems. On the surface, this paradise-like place appears comfortable and idyllic without any need to work. Life basically consists of slacking and never-ending pleasures. The dwellers of this paradise are beautiful, yet physically and intellectually degenerate, human-like creatures. However, this future paradise inevitably has a dark side to it, one which functions both as a threat to its existence and as the material foundation upon which it is able to function. Beneath the Elysium of the ineffectual post-elite is an underground world inhabited by a species of mutated and degraded post-proletarians who do the maintenance work necessary to keep it running, whilst also coming up to the surface to prey on its very dwellers at night. The Time Traveller is gradually able to comprehend the likely scenario of development that this disabled polarised society is a product of, in a plot which reflected Wells' own socialist views at the time.
This dark side is often hidden and repressed in Urbonas' scenarios, but is nevertheless implied even if he does not specifically talk about it himself. His speculative designed objects and situations seem as though they have come straight out of a deceptive hedonist Wellsian paradise, which, notwithstanding a degree of hyperbolisation, is the world we live in by proxy. Most of his devices reflect the worldviews and desires of their intended users in a society hooked on adrenaline, endorphins, the pursuit of happiness and other pleasure-inducing substances where there is a constant need for more extreme pleasures, entertainment and even greater gravitational escape from the surface of the physical world. This is because one may surmise that the latter belongs to a different species, much less visible in the optimistic and hedonistic techno-society. The incessant expansion of the horizon of pleasure and other euphoric experiences leads to an increase in human incapacity, for the more radical these experiences are (e. g. gravitational sex or unbearably pleasant death), the more one relies on external mechanisms to enable them. Hence, the atrophy of our own ability to feel pleasure without mechanical assistance grows stronger.
Still, shadows of an inconvenient reality can be seen through the seams of our world of intelligent design, especially when one pauses to think that these pleasure-providing mechanisms have to be serviced, a function usually delegated to someone other than the end user. Here, one could also think of another work of dystopian socio-political fiction by Michel Houellebecq titled Elementary Particles. It is also obvious that a society which desires to turn death itself into a spectacular and euphoric amusement ride down the loops of Urbonas' Euthanasia Coaster which provides one final ecstasy concluding a sequence of a thousand other ecstatic moments possibly aided by his Cumspin ride, and even seeks to manipulate dreams in ways that only bring levitation-induced pleasant sensations, undergoes certain mutations, the consequences of which one can only speculate about so far.
One should also not mistake the artist's frivolity around the nature of "abject" things like vomiting (aided in one of Urbonas' earlier projects by a special elongated finger-shaped instrument hypothetically used to assist with emptying one's stomach before indulging in another feast), death or sex for a mere peculiar individual sense of humour. It is also a symptom of a world of technocratic biopolitics and positivist scientific progress where things are becoming increasingly managed, choreographed and engineered. Their "abjecthood" does not disappear but is seemingly neutralised, concealed under designed surfaces. In a sense, a pleasant death becomes a luxury enabling one to safely escape from reality, leaving an ordinary experience of death to poorer "castes" who cannot afford a pleasant one. One can certainly observe this repression of an inconvenient, unpleasant, unaided  experience everyday without any science fiction, if only we look under the surface of our techno-society and realise that its pleasures and comforts come at a price – the atrophy of our own capacity and our subjugation as the prostheses for intelligent devices.
Julijonas Urbonas' solo exhibition Airtime, curated by Justė Kostikovaitė, is on show in the Lithuanian Pavilion at the XXI Triennale di Milano until September 12, 2016
Photo reportage from Lithuanian pavilion at the XXI Triennale di Milano, 2016. Photography by Delfino Sisto Legnani: