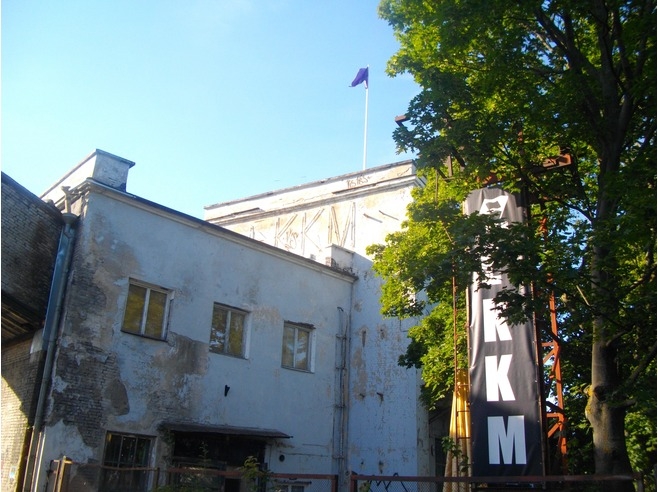 When, in the fall-winter of 2006, Marco Laimre and Neeme Külm started to clean the trash out of the former Tallinn Heating office building at the top of the loading dock of the old boiler house at Põhja pst. 35, the idea of the Culture Cauldron was already in the air and Kumu had already opened. The first exhibition in the squatted spaces took place in May of 2007 (Work Nourishes, curator Elin Kard). The first exhibition under the aegis of the Estonian Museum of Contemporary Art (EKKM) took place in June of the same year. (Dream Economy, curator Marco Laimre)
A total of 18 exhibitions have taken place during five years, as well as one visiting exhibition at the Pärnu City Gallery and another at the Tartu Art House, along with several auxiliary events. Since the museum can operate only during the summer months (it is somewhat paradoxical that there is no heat in a building that used to belong to Tallinn Heating Company), this is currently setting time limits on the exhibitions and other activities. To date, EKKM has reached a short term contract with Tallinn City Government a legally stopped being a squat. EKKM had In 2010 – 2011 and will have also in 2012 regular exhibition program from April to October, consisting of five exhibitions. The management board of the EKKM includes Marco Laimre, Neeme Külm, Elin Kard and Anders Härm.
The primary motivation for the development of the Estonian Museum of Contemporary Art was the closing of the Art Museum of Estonia's exhibition hall for contemporary art in the Rotermann Salt Storage, and the opening of the Kumu in 2006; whereby contemporary art was consigned to the hermetic altitudes of the top floor – between heaven and earth – in the already confused mixture of national gallery and modern art museum. In the direct sense, an exhibition space hovering at such a height lost touch with the earth and reality. Therefore, the EKKM got its start as a protest against the inability of Estonia's cultural policy to create two separate institutions for contemporary art and the national heritage – the paths of which cross ever less frequently. Since no one seemed to covet it, the Estonian Museum of Contemporary Art trademark was available and we just grabbed it.
Address:
Põhja pst 35, Tallinn
Opening hours:
April-October, II-VII, 1-7pm
FREE ADMISSION!
Contact:
E-mail: info@ekkm.ee