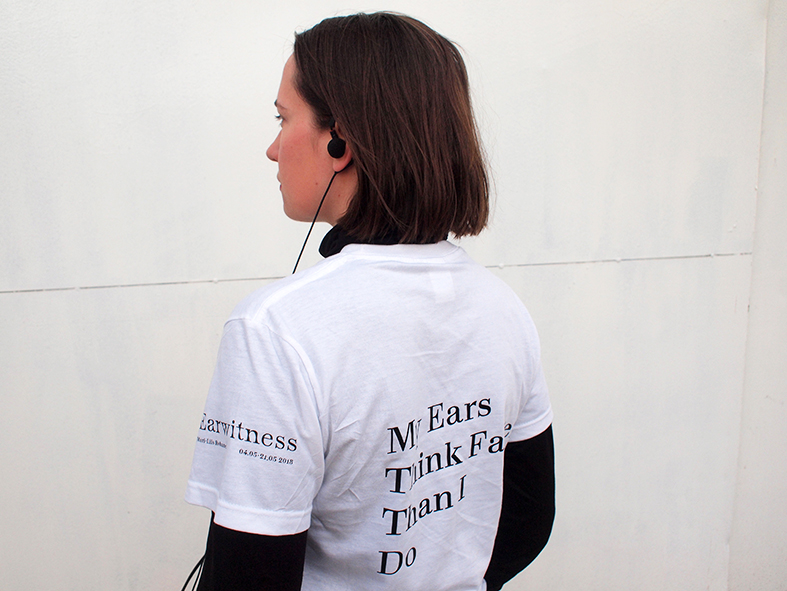 MARI-LIIS REBANE (1988) will open her personal exhibition Earwitness in Hobusepea gallery at 6pm on Friday, May 4th, 2018.
Earwitness is a project collecting and observing sound recordings while regarding environmental sound as a research material. Besides audio material the artist presents everyday objects and visual material as artefacts supporting her sound-based study. The word "earwitness" refers to an event and its witness. Mari-Liis Rebane focuses on sound-related material as a possible source of narrative building where the sound itself becomes a subject of study and a piece of evidence.
The central work of the exhibition is the sound piece "Earstream" that the gallery viewers can experience while identifying themselves with the artist or following her activities. The artist's movements in a changing sound environment are live broadcasted to the gallery space. This piece is simulaneously documentary and accidental yet staged as the directions, places and spaces where to move around the outer environment are controlled by the artist herself. "Earstream" that is using data transmission and field recording provides an opportunity to relate oneself to various sound environments, situations and timings while using the potential hidden in continuous transmission and movement. Thus, Mari-Liis rebane refers to the ephemeral and occurrent qualities of sound that is ever changing in space and time. She examines the ways how various evidence, hints and indexes influence formation of a narrative and how one can use these while manipulating our auditory attention.
Current exhibition as a whole won't create a separate narrative – the artist is contemplating and studying the ways the construction of a narrative is being created with the help of information that is auditorily perceptable yet visually associative. The audience can episodically partake in the exhibition's sound events, depending on the moment of their stepping into the gallery. The exhibition also includes textual and visual references.
Mari-Liis Rebane has been an active co-thinker, conceptualist, curator and critic in the field of audiovisual culture. In 2013-2015 Rebane was the head of the biggest international festival of animation film in the Baltic States. She considered her main objective to extend and redefine the concept of animation while interconnecting animation with other fields of art. Mari-Liis Rebane has reinforced her skills in several countries of Europe and taken part in audiovisual festivals as an outside expert (member of jury at Ars Electronica 2016; moderator of the panel discussion at The Prix Forums of Radical Atoms Festival). In 2015 she started her studies in the department of new media at the Estonian Academy of Arts while focusing on sound art (supervised by Raul Keller). "Earwitness" is the artist's first public project as an independent gallery artist. In her artist practice, Mari-Liis Rebane examines sound as a diverse material while interweaving interaction, documentation and fiction. As an artist she is intrigued by sound as a tool initiating narratives, by the onthological qualities of sound and by manipulating with auditory attention.
Thanks to: Raul Keller, Silver Liiberg, Marek Jarkovoi, Aimi Etverk, Robin Pilk, Krõõt Mõttus, Maret Mara Aranovich, Märt-Matis Lill, Kärt Hammer and the artist's family.
Exhibition will be open until May 21st, 2018.
Supported by the Estonian National Culture Foundation and the Cultural Endowment of Estonia.
Exhibitions in Hobusepea gallery are supported by the Cultural Endowment of Estonia and Estonian Ministry of Culture.